36 Kickass Squarespace Church Websites: Make the Best Site!
Inspiring church websites built on Squarespace and hacks to beat them.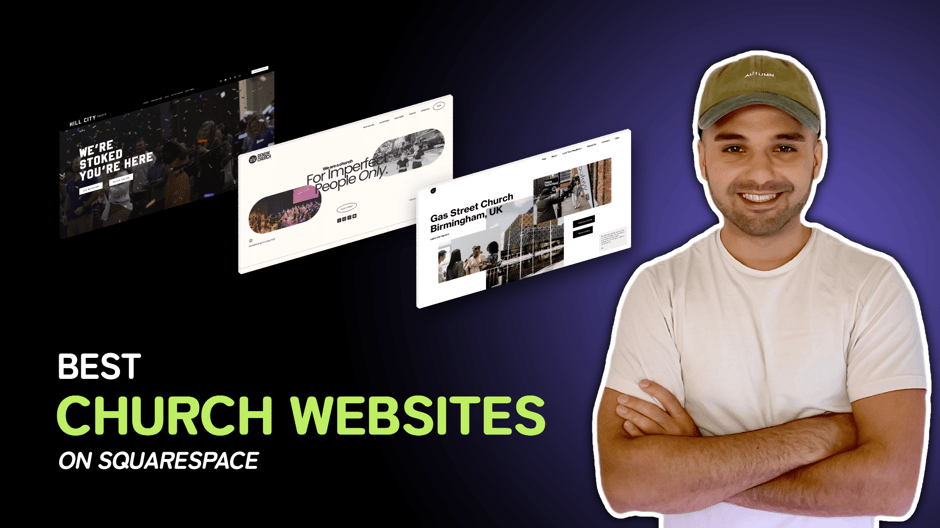 Looking to build or update your church's website? Need some inspiration?
See what works (and what doesn't) with these examples that include all the features, pages, and bits and pieces that make Squarespace websites work.
But hold onto your horses for just one second.
How the website for your church looks isn't the only important factor to consider. You can't just grab a good lookin' theme and consider the site done.
There are tons of important factors to make good church websites, including:
The copywriting is spot-on, and the text reads well
The website and its content are optimized for SEO
All the information someone would need to know is there
There are plenty of great call-to-action links (CTAs)
And it looks good! (I can't discount how important this actually is)
So, without further ado, let's jump into the many church websites on Squarespace to get inspired when building your own.
Hack Alert! Start With One of My Fav Squarespace Church Templates
With Squarespace, it's very easy to customize the templates. These templates are a great starting point for a church website, even though they don't have church content in them yet.
Ultimate List of Best Church Websites on Squarespace
Tips for Creating the Best Church Squarespace Website
If you want to create a church website that people have faith in, you've got to get the website down to a tee. I've already covered loads of points in this post, but to summarize and bring everything together, here are the top tips you need to know to make church websites look their freshest and most successful.
Avoid WordPress. WordPress is usually the wrong tool for the job when it comes to building church websites. You can spend hours choosing themes, installing plugins, and ordering custom code and still have a site nowhere near as good as you want it to be. There are better options out there, like Squarespace.
Get your copywriting down. Every successful church website has punchy header text that draws you in. Text like 'Come as you are' or 'You are welcome here.' It's short and sweet mission text like this that has the biggest impact.
Include location data. You're not selling products all over the world, but instead, want people to travel to your church community and ministry from your local area. This means you need to rank on Google to the people in your local area. This means your headers need to include your town and city information, address, and phone number, and you should absolutely claim your Google My Business profile/Google Business Profile.
Images are key. It won't do naught if you don't have pictures on your website. Your images, or video content, create the vibe of your church community, and it's what newcomers will be basing their first impressions on. Include lots of happy, smiley people and relate to your mission.
Text must be easy to read. Make sure the color doesn't blend into the background, so the content is unreadable, and ensure the text uses a nice font and is a readable size. Also, make sure the headers are big and eye-catching!
Use the .church domain. Only churchs are really going to have the .church domain name, so use it! It makes your website URL really memorable and far more attractive to people than the standard .com addon.
Focus on attracting newcomers to the community. The truth is, your church website is going to be used by people who are already members and want to either contact the church or get a date for an event, so make sure this info is clearly available. However, it's primarily going to be used by people who are new and are looking for a new church to go to.
Design your Squarespace site with this in mind to attract these new people, create a good first impression, and guide the community into you in whatever way works best. 'I'm New' tabs, and pages are great for this.
Happy website building, don't forget to use my Squarespace templates, and best of luck with your ventures!