How does the agency side of Duda work?
You know how Duda gives you all the tools needed to manage a single website? Well, they knock it out of the park with their agency features to manage a suite of websites and clients. But beware, Duda doesn't give you everything you need.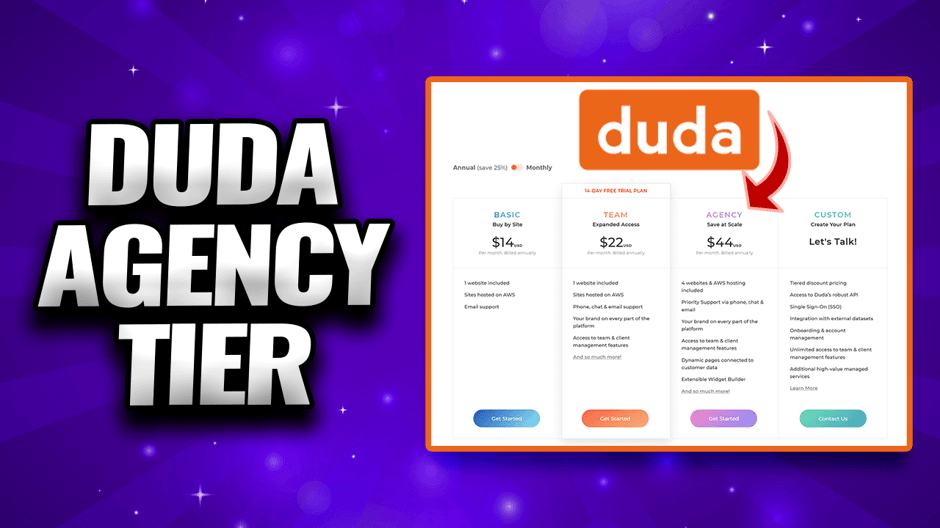 I've talked a lot about how Duda performs for building and managing a single website, but what about if you want to manage a suite of websites on Duda?
In short, the agency side of Duda solves many of the problems web design companies face. But there are some things they don't solve, so let's go over how Duda performs for agencies.
The Agency Pricing Plan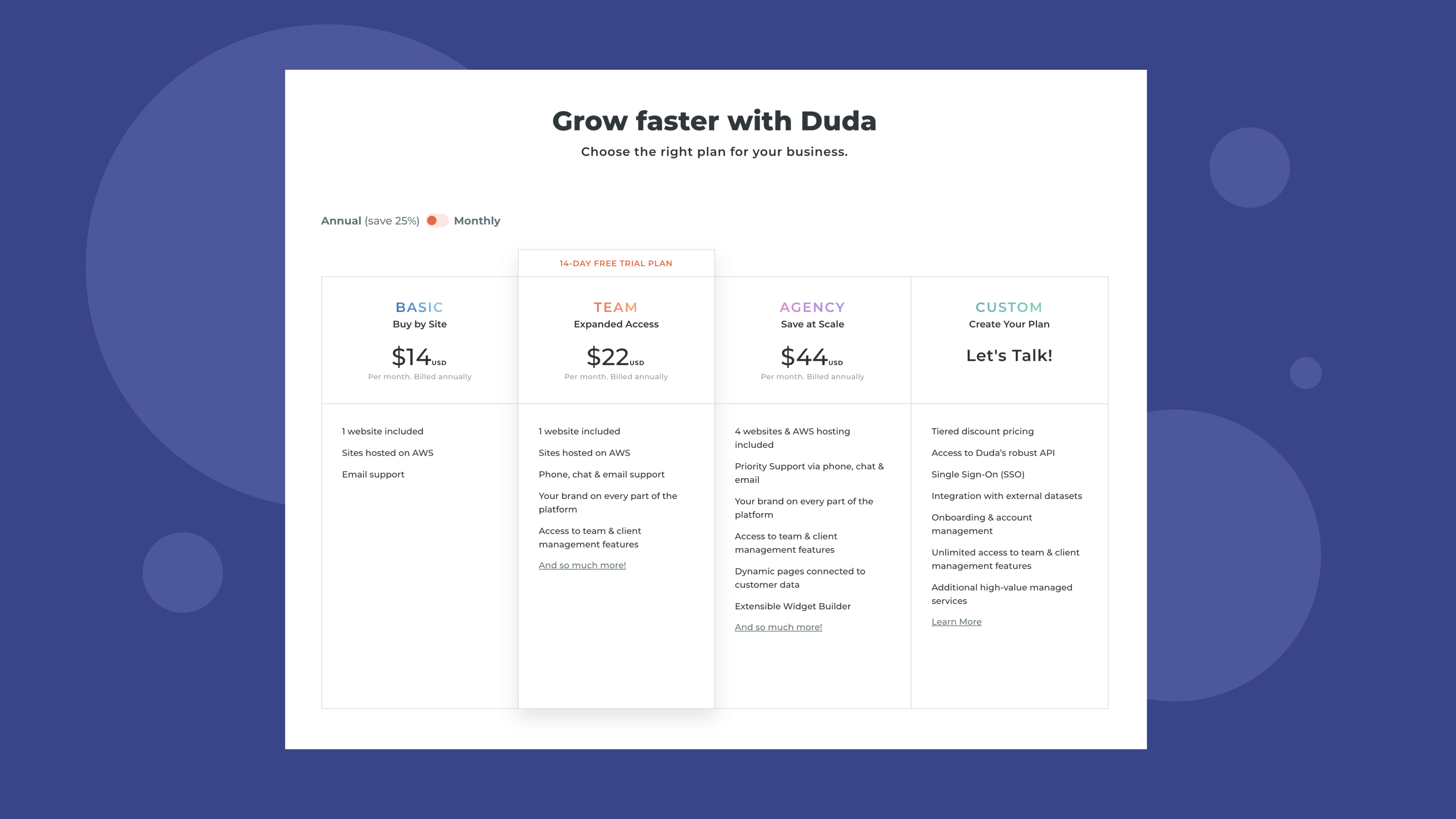 Duda provides a unique pricing plan for agencies that runs $44/month (billed annually).
This plan includes four websites that you can use however you want (maybe one for yourself) and a discounted price for additional sites as you scale, which runs $12.99/month or $119/year. There is no limit on how many websites you can have in this tier.
Discount: Readers of my blog get 10% off Duda by signing up via this link and using code "createtoday".
Additionally, the Duda Agency tier offers priority email, chat, and phone support. Their support is outstanding, and I highly recommend having priority support.
The other notable feature on the Agency tier is Dynamic Pages and Internal collections. This is essentially the content management part of their system. I use it on almost 100% of the websites I build on Duda as it delivers easy management of data and efficient maintenance of data.
All in all, Duda's pricing plans are very attractive.
Features Duda Provides for Agencies
First, let's go over the various features and functionality Duda provides for a web design/development company in the order they are available within the Duda agency dashboard.
Sites Overview
When you first log in, you are taken to the Sites Dashboard. In one view, you get a birds-eye look at all the websites you manage, the ability to edit them and take other actions, and see which subscription (if any) the websites are on (e.g., none, annual, or monthly). Each website above the included four can be on separate plans. Sometimes I subscribe annually to save some money and other times monthly.
White Label
Next up is the ability to White Label on Duda. I love this feature. It makes all of the client experience centralized around your brand, not Duda. From logging in on your own domain to sending client invitations, it's all about your brand. In fact, "Duda" isn't mentioned anywhere in the experience. There are some references to "multiscreensite.com", which Duda uses for parts of the system that aren't currently available for White Label, but it's still not explicitly Duda.
There are two notable features of white labeling Duda:
Custom Domain
Custom Branding
Team
Roles
Duda understands that you may have a team of people with different responsibilities in your company. The Team section in Duda allows you to add your internal team and assign them roles and permissions.
Duda has out-of-the-box roles sufficient for most scenarios. These roles include Admin, Blogger, Designer, Sales, and Store Manager. Each of these roles has relevant permissions.
Note: I like to assign roles on a per-need basis. Obviously, I trust everyone at my company, but there's no point for a salesperson to have access to publishing a website. This strategy reduces things that can go wrong.
You can create custom roles for unique scenarios if the default ones don't cover what you need.
Templates and Sections
Templates are fully pre-build websites, and sections are pre-built sections you can insert on any website. Duda and their team of professional designers create both of these for us. You and your team also can create custom templates and sections to expand the library of options
Widget Builder
You also can create custom widgets. I've made several myself and purchased several from third-party companies.
Clients
The Agency plan would not be complete without the ability to manage clients. The Client interface is very smooth. It lets you create clients, assign them permissions and sites, and send them an invitation.
There are 19 available permissions you can assign to a client. They range from "full editing capabilities" to "blog" to "republish". All in all, they are dynamic.
Note: We've had the use case of assigning permissions on a per page or per widget basis, but this is not available at this time. There is a feature request Duda has accepted but has not worked on yet.
Once you add a client and assign them permissions, it's time to invite them to the platform. You have two options. The first is clicking a button that sends an invitation. The invitation's email contents are configurable in the White Label section. The second method is by copying the invite URL and sending it yourself.
In either case, the status of the invitation is visible in the dashboard. This enabled you to track if the client has accepted the invite yet.
Features NOT Available for Agencies
Hats off to Duda for including so many useful tools to manage a suite of websites. They haven't included everything, though.
The main feature that is missing is the ability to bill your clients. The platform only accepts one credit card, which must be used for all websites. However, they are adding this feature (I'm writing this on Aug 7, 2021). I know this because the Duda Ideas board shares the status of various feature requests, and the Client Billing feature is "in progress".
We bill our clients through our accounting software, making it easy to track revenue and expenses.
The billing aspect of Duda is a grey area. The only accepted feature request is "Client Billing Functionality" with the description, "offer a billing integration for our agency partners. Something like FreshBooks or QuickBooks to enable them to manage payments from their clients."
I'm not entirely sure what this will entail. Additionally, there are about a dozen other feature requests that are in the "consideration" state, meaning Duda is figuring out if the feature aligns with their visions and ultimately if they will take it on or not.
Beyond the billing functionality, there isn't much missing at all. 
I hope this article has helped you in your web agency endeavors.
Duda Agency Tier (Video)
‍