How to Find Content Ideas (FREE & EFFECTIVE)
Finding quality content ideas will help you achieve your goals at a faster rate. I have a trick that'll show you the best content ideas.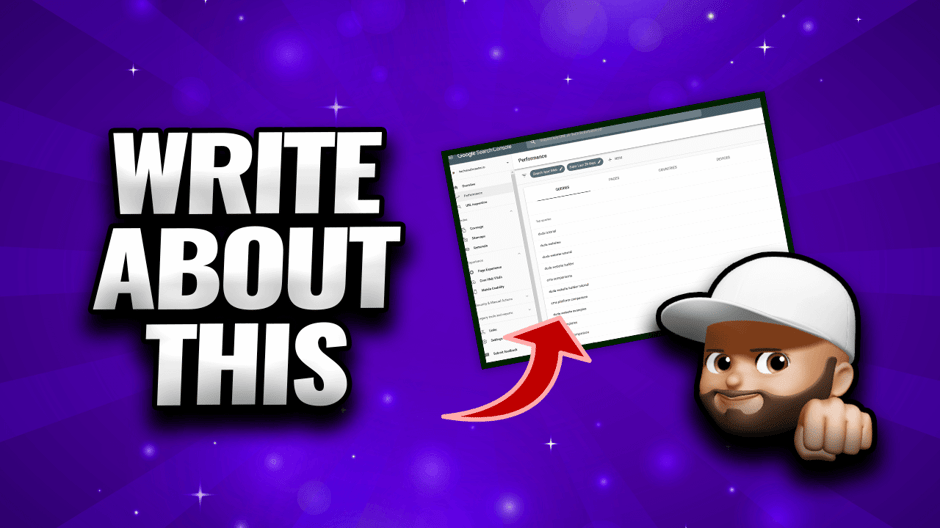 Finding quality content ideas will help you achieve your goals at a faster rate. I have a trick that'll help you get more business or build your audience by finding content ideas that people search for and that you can rank for.
The trick I will share with you is my favorite way to grow my website's traffic.
It is both free and highly effective.
There are two requirements to use this trick to find content ideas for your blog:
You have an existing website
You have content published within the topic you are seeking inspiration
It's okay if you don't have either of these because establishing them is not difficult but still required to move forward.
Watch my video or read ahead below.
Using Google Search Console for Content Inspiration
Google Search Console (GSC) is a free tool from Google that gives us insights into our website's performance within the search results. It lets us know how many clicks we received from search, how many "impressions" or times we showed up in search results, and the search queries/keywords people used to find our website (or at least for the website to show up in the search results). It provides a lot more than that, but these metrics are what we need for this trick.
Websites in the Top 10 Pages
When we search for something in Google, it doesn't seem that Google lists as many results as it can that are precisely relevant to your search term.
If you couldn't find what you were looking for in the first two pages, then listing similar results in the next eight won't help.
There is probably a disconnect between what you're searching for and what Google is showing.
I think Google mixes in related results that aren't exactly relevant but similar to your search query. After all, why give 100 results on the same topic?
How to Use this Information
On this website, I wrote an article called "Duda Website Builder Tutorial". Shortly after, I saw the query "Duda website builder tutorial" and "Duda tutorial" show up in Google Search Console. Seeing these results means that people were typing those keywords in, and my website was showing up.
What also started to show up was "Duda website examples", which was nowhere in my content. Seeing that result means that when people searched for examples of Duda websites, my website showed up even though I had not written about this topic - just a tutorial.
That keyword was a glaring content opportunity for my blog.
I searched this term and found only one website which gave examples of Duda websites.
So I wrote an articles called "Duda Website Examples". As my website builds credibility, that article should rank #2 and drive a bunch of traffic.
More Opportunities Grow from This Method
As you output more content, your queries in GSC will continue to grow. Not all of them will be good opportunities, but many of them will be! You can research each of the keywords to see how competitive they are and then use these ideas to write content for your blog. The more you write, the more opportunities will show up.
Drive that traffic!
Google Search Console is my favorite place to turn to for SEO. I hope you generate a lot of traffic using this simple, free, and effective trick!