Top 6 Duda Features Coming Out in 2022
Duda is releasing some absolute gems in 2022. Check out my top favorite 6 Duda features coming soon.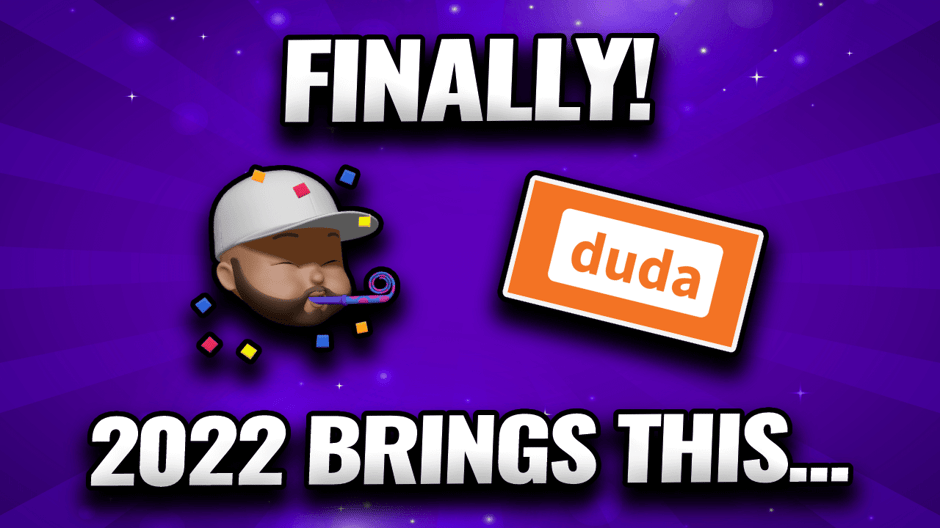 2021 was an outstanding year for Duda. So many amazing features were added to this rapidly growing platform. My two favorites are the addition of Flex Sections and the ability to filter and sort collections.
But what does 2022 hold?
Well, I took a deep dive into the Duda Ideas Board and went through all the "In Progress" items, and isolated my most desired ones.
Here they are (the last two are my favorite).                                                                                                                                                                                                          
6. Member Subscriptions

In late 2021, Duda released their very own membership feature. This feature enables you to build gated content, so visitors must log in to view content. Perfect for employees, vendors, and lead generation sites.
But it's missing a lot.
Namely, the ability to charge visitors to view the content on a recurring basis.
Here's what Duda has to say about that:
"There are still many exciting features on the way. We know that many of you want to build sites that offer subscriptions, different membership groups, personal areas for your members, and more. We are working hard to have these capabilities available for you as fast as possible."
5. Client Billing

Next up is a big one for many of you guys - the ability to bill clients directly from the platform.
Currently, one credit card is behind all the websites in a Duda account, and there is no way around that. For me, it's not a big deal because I like to use my invoicing software to bill my clients.
But for many people and certain scenarios, it would be nice to charge a site directly to a client without going through third-party software.
Well, it's currently in the works and should be out in 2022. It's still a bit unclear exactly what the feature will entail, though.
4. Vertical Widget Alignment

Tired of dragging a widget down and eyeballing where the center is (or using the not-so-pixel-perfect snap to grid alignment)?
Supposedly Duda is currently working on a feature that would enable a widget to vertically align to its parent. I say "supposedly" because I question if this was a feature meant for the Flex Sections (which is currently released).
But I hope not to have to use a Flex Section for small stuff (although I realize flex is what will vertically align it behind the scenes). I like the Flex Sections, but it would be nice to have the feature on regular rows too.
3. Advanced Animations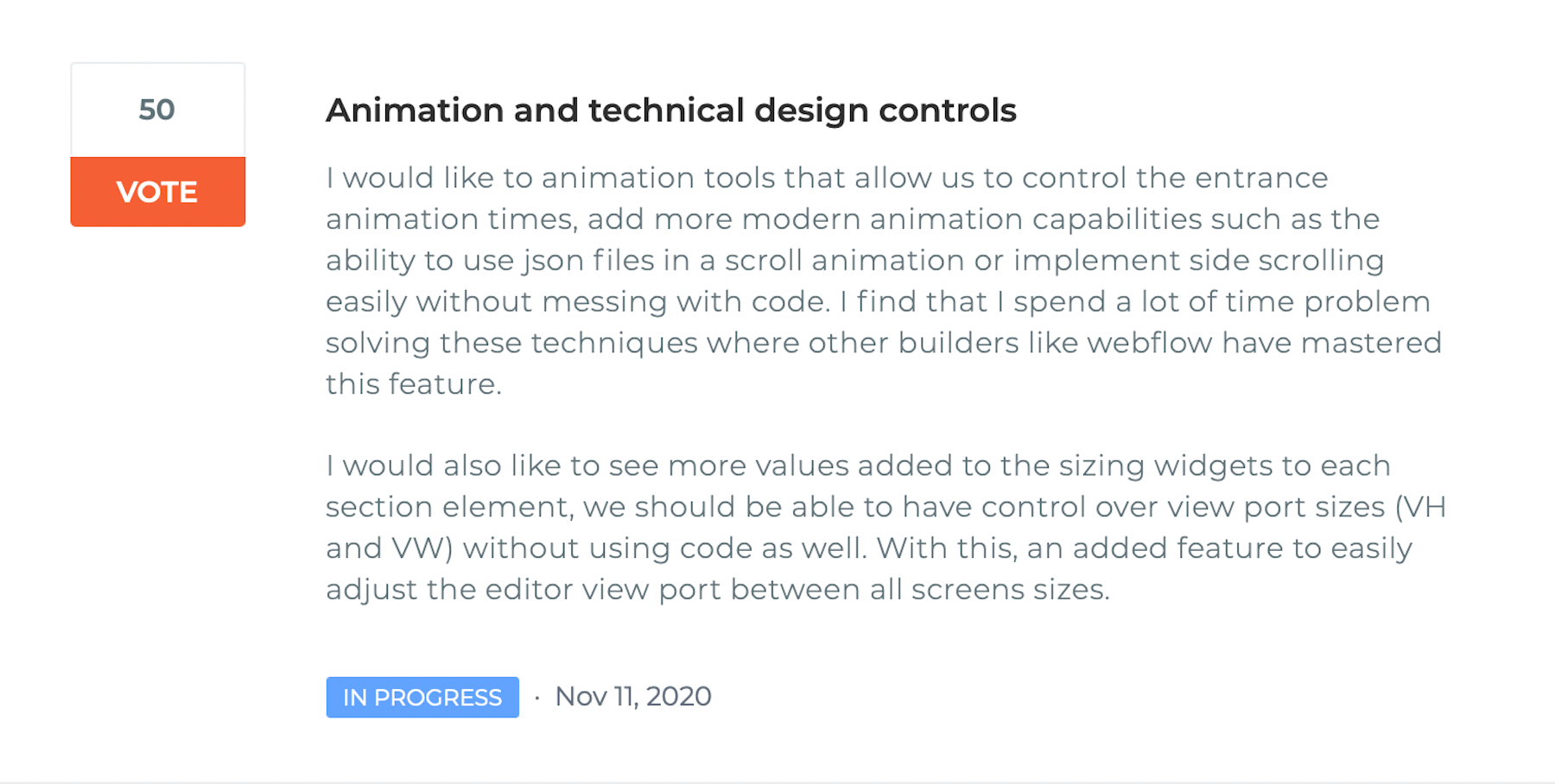 First off, hats off to Duda for what the animation system already does. And double hats off for them wanting to make it even better.
A design system that allows for more custom animations is in the works right now.
Here is a fragment from the feature request that is currently in progress:
"I would like animation tools that allow us to control the entrance animation times, add more modern animation capabilities such as the ability to use JSON files in a scroll animation or implement side-scrolling easily without messing with code."
2. In-House Chat Widget

This is going to be awesome! Almost all websites that have customers should have a chat widget. Duda is working on creating its own native chat widget.
My guess is it's going to be free for us to use too!
Duda currently offers a chat widget, but all chats require a third-party solution like Facebook Messenger. The new Duda tool will work standalone without lousy Facebook.
If you are an agency, having this feature will be another tool to enable you to sell websites.
1. Separate Tablet Styles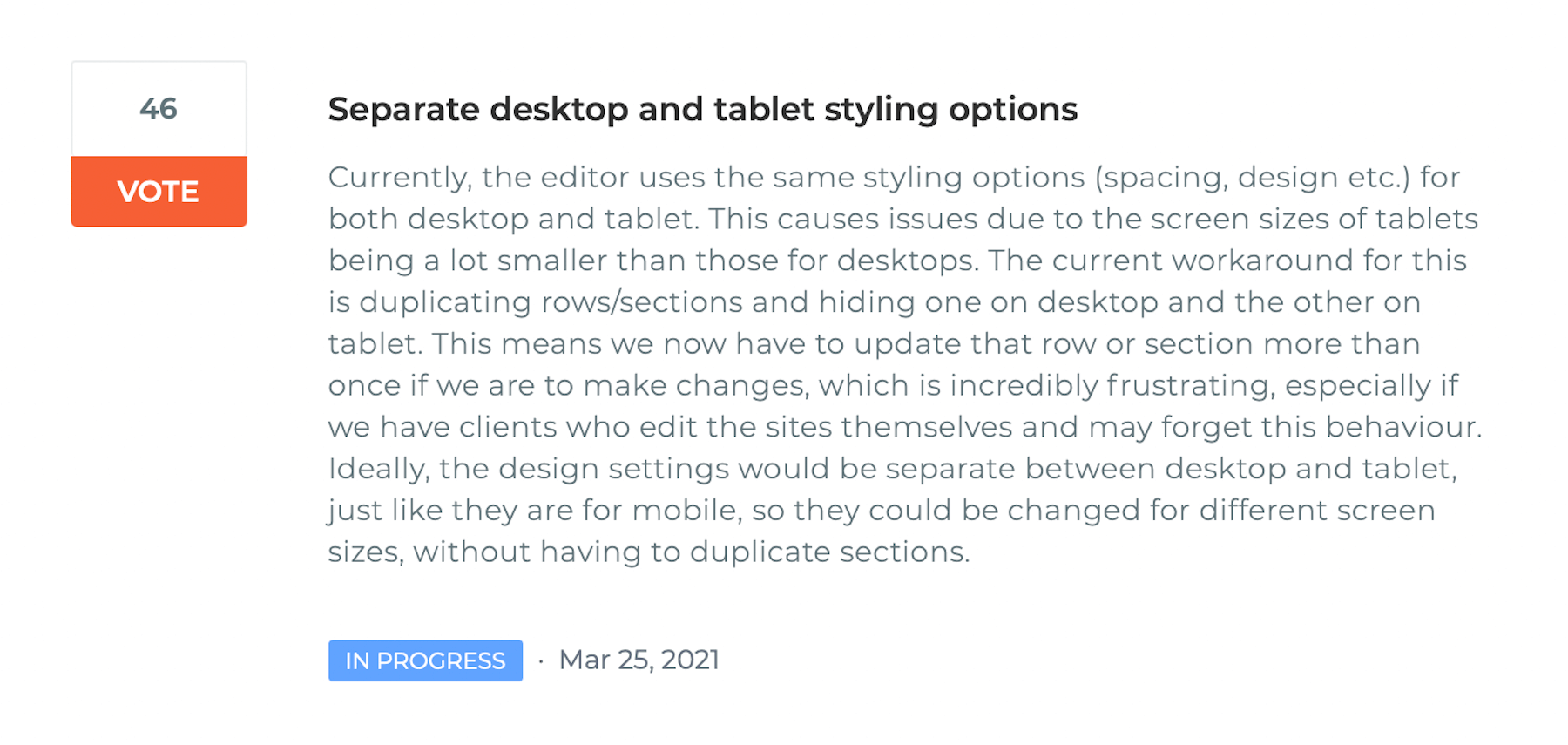 Last and definitely not least, Duda is working on the ability for desktop and tablet to have separate styles (just like desktop and mobile do).
It's super frustrating to create responsive websites on Duda when it comes to creating the tablet view. Currently, any style change to desktop effects tablet.
There are many instances where the screen size on a tablet needs to accommodate different font sizes or widths, but it's not possible without the workarounds I mention in this article.
What are you most excited for?
My Video on These Features
Note, the names of the people who submitted the ideas were removed in this article. Credit goes to them for creating the ideas. You can view those ideas and many more by logging into the Duda Ideas Board.