7 Kickass Squarespace Templates for Artists
My favorite Squarespace artist templates ranked.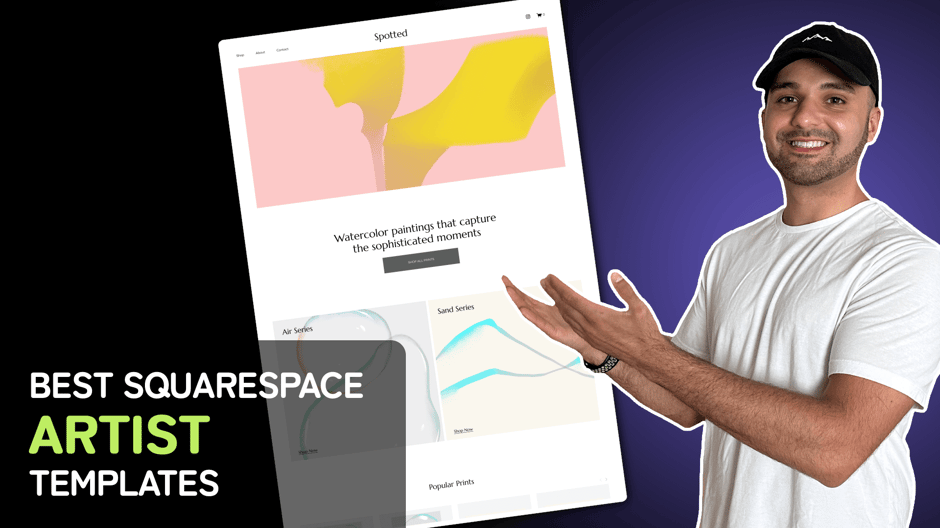 I went through every Squarespace template and found the best ones for artists.
Use these Squarespace artist templates and you'll stand out from the rest.
You'll have:
A beautiful online portfolio
A place to attract potential clients and sell your work online
Something to be really proud of (after all web design is in art in-itself).
Alright let's dive into the best Squarespace templates for artists (and I'll break down each one giving you guidance on which one to pick).
And as a head's up, all the Squarespace templates discussed here are powered by Squarespace's 7.1 Fluid Engine. I'll dive into this a bit later!
The Ultimate List of Best Squarespace Templates for Artists
Top Squarespace Artist Website Examples
Get inspired by looking at the best Squarespace artist websites!
The Comprehensive Guide to Building the Perfect Artist Squarespace Website
Right, let's really get this creative party started.
With a collection of the best Squarespace templates in mind, it's time to get down and dirty with the nitty-gritty details of Squarespace. You've got the talent and the art, and I'm here to help you package it into a captivating online presence that will help your career to thrive.
We all know the importance of an online portfolio, but it's not just about throwing your work up on any old website. 
It's about creating an engaging, intuitive, and visually stunning platform that showcases your art and tells your unique story. 
And that, my friends, is no small task.
Fortunately, we've got a strong head start with Squarespace's user-friendly tools and gorgeous website template options. when it comes to displaying your professional work perfectly.
But to truly build the perfect artist's website, there's a lot more to consider - think design, structure, functionality, and a sprinkle of SEO magic.
Sounds complicated?
Fear not. I've been down this road before, and I'm here to share my insider tips and tricks. I'm serving up a comprehensive guide to building and masterfully crafting a Squarespace website that perfectly reflects you as an artist.
Step 1: Define Your Goals and Brand Identity
It's important to know what you want to achieve with your online presence before you build it. When you're clear on your direction, you can then make purposeful design decisions that will help to create a successful space.
So, what are you trying to do with your website?
Do you want to explain who you are and what you're doing? 
Are you trying to sell prints or products? 
Do you want to offer artistic, creative, or web design services? 
Consider your website's purpose, target audience, and overall image you want to convey. Having a clear vision will guide your design choices and content creation.
Step 2: Choose the Best Squarespace Template
As is kind of the point of this guide, you know that selecting the best Squarespace website template is crucial for a visually stunning website. Not only design-wise but functionality and aesthetics.
Look for templates that showcase your creative work effectively and align with your brand aesthetics.
Fortunately, all the best Squarespace template options mentioned here run on the 7.1 Fluid Engine, so you can easily customize them using the "Blocks" feature to ensure the site fits your needs.
That said, if you just want to get on with it and spend the least time fiddling around with settings, then try to pick the best Squarespace template as close to what you want as your final product as possible.
And don't worry, you're never locked into just one template, nor do you need coding skills to make any changes.
All these templates run on the Fluid 7.1 engine, which basically gives you access to uniquely designed blocks for your website that you can add and take away as you, please.
Step 3: Create a Visually Engaging Homepage
One of the most important things to remember is that your homepage is the first thing most visitors will see, so you must ensure your first impression counts.
In most cases, the homepage is your virtual gallery, so make it visually captivating. 
Use high-quality images of your artwork to grab visitors' attention. Consider incorporating a large image header or a slideshow to showcase your best pieces. Keep the engaging design clean and uncluttered, allowing the artwork to take center stage.
Step 4: Build an Impressive Portfolio
Next, when people like what they see on the surface, they're going to dive deeper, and they're going to want more, so you need to give it to them. Therefore, you need to create a dedicated portfolio page to display your artwork in an organized and visually appealing manner. 
Best advice - categorize your visual artists artwork into relevant collections or series to help visitors navigate and explore your creations. Provide concise descriptions for each piece, including mediums, dimensions, and inspirations.
You may also want to take time to build a landing page for any events you're hosting, any sales you have, or any key information you want to share (like starting a new exhibition, etc.), and this is easy by simply adding a page and building it up using the Fluid engine.
Step 5: Incorporate an Online Store
You don't need to be a starving artist. Remember, you should always be paid for the value of your work, and until you start doing this, you won't be able to make art sustainably.
Fortunately, you can make this easy by offering a simple store through your Squarespace website. Squarespace has many features that allow you to easily upload products, add images, allow for payments, handle shipping information, and so much more.
It's all built-in and very simple to use. I'd recommend playing around with it, uploading some test products to get familiar with what you need, and then starting to put real products up. If you're using platforms like Redbubble and Printify to produce your products, then you'll be happy to know you can integrate the services very easily.
Top tips for running a store include using high-quality, clear product images, writing detailed and enticing descriptions, and including fair and competitive pricing information.
You may also want to offer various sizes and editions for things like prints and ensure your checkout process is as smooth and as simple as possible.
It's all about giving your customers a streamlined shopping experience - the best it can be!
Step 6: Implement Contact and Inquiry Forms
As an artist who's offering their services, you need to make sure your customers can get in contact with you. They may want to discuss a certain order, place a commission, or invest in your services for a project they're working on.
Whatever the query, it doesn't matter if they can't get a hold of you in the first place, and you can bet that most people will be trying to go through your website.
This means you absolutely must include contact and inquiry forms throughout your website.
Place these forms strategically, such as on the home page or the "Contact" page. Also, don't forget to collect essential information like name, email, and message to streamline communication and follow-ups.
Step 7: Tell Your Artistic Story
Humans are natural storytellers.
You already know this in your art and how you can connect to people through the tales and emotions of your subject or scene, and it very much applies to your website and online space.
Don't be afraid to be yourself and to put yourself and your story out there. Be vulnerable with your audience and let them know you're a human who's on a journey, and invite people to join you.
Even if you're a creative person, like a web designer, the same approach applies.
This is why so many of the best Squarespace templates for artists come with an "About" section. Create one of these pages that showcases your artistic background, influences, and artistic process.
Add a professional artist statement that conveys your artistic vision and purpose. Including your achievements, exhibitions, and publications can further establish credibility.
Step 8: Optimize for Search Engines
Okay, while SEO may seem like it's reserved for marketing execs and tech gurus, the truth is that everyone who wants to run some kind of online business should know a bit about SEO.
SEO (Search Engine Optimization) is basically the art of getting your website to rank number on search engines like Google. So, when someone searches "Best Artist in New York," you probably want to show up to get traffic if you're a New York artist.
You can increase your rank by offering a quality experience to your visitors (through everything we've discussed above) and by implementing a few technical strategies.
These strategies include things like including relevant artistic and locational keywords in your content. For example, if you're an AI artist, you should include keywords like:
AI Art Generation
Generative Art
AI Art Tools
Neural Networks in Art
Deep Learning Art
Machine Learning Art
Pixel Perfect Downloads
AI-Assisted Design
Digital Art
For example, but these will change depending on the niche you're in. Make sure you incorporate them naturally into your page titles, descriptions, headers, and content.
Also, add alt text to your images to make them searchable, and regularly update your blog articles or news section with relevant and informative content about your art online.
Step 9: Incorporate Testimonials and Social Proof
When do you ever go online and buy something on Amazon that has one or no stars in its rating?
Probably never.
You wouldn't if you were investing in a service either, like that of web designers, visual artists, or doctor's services. You want to know you're in a reliable place where you won't get scammed.
Social proof is everything nowadays, and prospective clients like to go with what's trendy and what people already know is a good thing. That's why you need to boost your credibility and build trust by incorporating testimonials and social proof.
This means showcasing positive reviews or testimonials from satisfied clients on your website, as well as displaying any awards, project pages, media features, or collaborations you've received.
This instills confidence in potential buyers and art collectors.
Step 10: Continuously Update and Maintain Your Website
Unfortunately, building a website is not a one-and-done process.
A successful website requires ongoing maintenance and regular updates, which means keeping your portfolio up-to-date with your latest artwork and refreshing your blog post or news section with relevant articles, artist insights, or behind-the-scenes content.
Regularly check for broken links, update contact information, and ensure your website is mobile-friendly. Upload new products, add more pages, and continuously grow your website over time to create a stunning online space that people love spending time in.
Do all this, and follow the rest of these tips, and people will know you mean business, and you're an artist that's serious about what you do.
Final Thoughts
And there we have it, everything you need to know when building your artist website on Squarespace as creatives, web designers, AI generators, or painters.
As you can see, choosing the right Squarespace template can transform your website from a simple online presence into a thriving digital art gallery. Whether you want a bold, dynamic display or prefer a minimalist template with a serene aesthetic, Squarespace has got you covered.
And remember, your online platform is an extension of your creativity.
Take your time to choose the best Squarespace template that highlights your work and provides an engaging and enjoyable browsing experience for your visitors. After all, the goal is to inspire, connect, and make your artwork accessible to art lovers worldwide.
By carefully selecting and customizing your Squarespace template, you're not just building a website – you're curating a digital art experience, setting the stage for your career's growth and success.
Happy creating, and good luck with your online ventures!