15 Kickass Resume & Personal Websites: Build Your Own! 🚀
Inspiring resume and personal websites and hacks to beat them.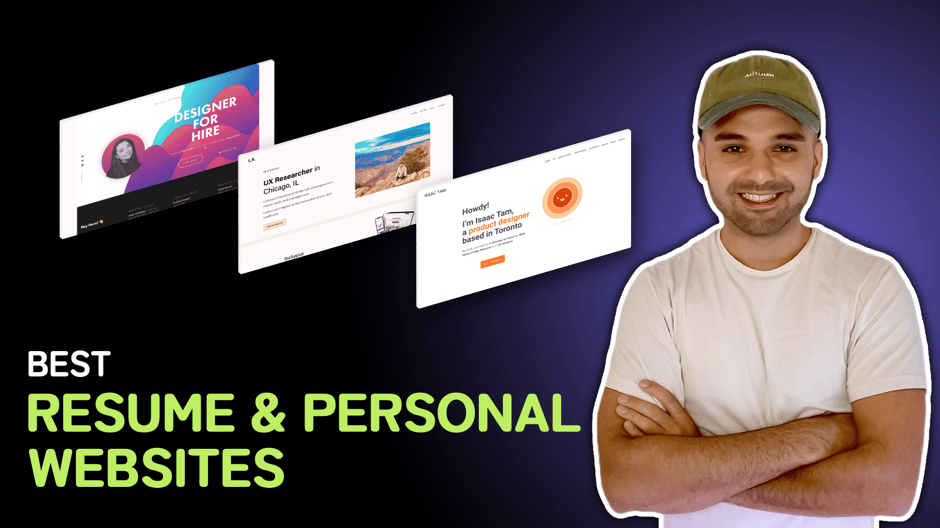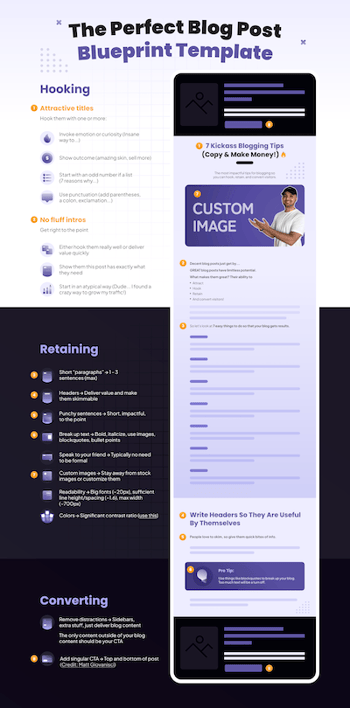 Craft the Perfect Blog Post That'll Convert Your Visitors
Download the FREE Perfect Blog Blueprint and know exactly how to hook, retain, and convert your visitors.
Download Blog Blueprint
Having your own personal resume website is the best way to rocket-propel your career to the next level.
These personal resume website examples will show you exactly what I mean.
Let's be real, everything nowadays is on the internet.
All your fav shops, businesses, supermarkets, blah blah blah.
It only makes sense that a professional like yourself is also advertising yourself online.
The problem is everyone's on social media, and it's all so messy and saturated. 
What if you had your own online space? Your own digital headquarters. A place where potential employers, clients, and customers could go and hear all about you and only you, with no risk of scrolling on and forgetting about you.
Well, that's what a personal website is all about.
Whether you're trying to create a resume, portfolio, or a personal website that sells your services and products and cements you as an authority in your industry, you've come to the right place.
Today I'm taking you on a dope journey through some of the best and most killer resume website examples for you to draw your inspiration from. I'm packing this post with all the info, tips, and tricks you need to ensure your website is a smashing success. 👊
We're going to break down these sites, giving you a short description of each, highlighting the main reasons why they're successful, and even pointing out a couple of things that could be improved. 
(We're all about constructive criticism here! 💁‍♀️)
Finally, I'll wrap it all up with a comprehensive guide on building the best personal website that'll make you the envy of your peers. 
Let's dive into the best resume and personal websites!
Hack Alert! Start With One of My Fav Resume and Personal Website Templates
Hold up ✋
Before we get into the resume website examples, I need to run you by a bit of insider advice.
Web designer guru to up-and-coming web designer (hey, that's you!)
It's incredibly difficult to build your own resume website from scratch and have it do well. Quite frankly, that's just because designing a website is really hard, and it takes a lot of knowledge to make it look good, work well, and to bring everything together.
Because you have a career to take off and perhaps not enough time to build a website yourself (and you should almost certainly be focusing on your work in other aspects of your career, here's a way to make your life easier.
Templates.
A resume website template can easily be installed onto your website. You fill out the boxes of content to make it your own. Upload your images and portfolio. Change the links to your email address and social media pages. And there you have it.
Once fully designed website ready to publish within a few hours while looking like one of our best personal website examples you'll find here!
Here are my favorite templates for a personal website or traditional resume website that you can use for your own website. Enjoy!
Now, on with our regularly aired programming, kicking off with the best personal website examples to help you land your dream job!
The Ultimate List of Personal and Resume Website Examples
Alright, now that we've gone through all these fantastic personal resume websites, let's get back to the guide on building your own successful personal brand website!
The Ultimate Comprehensive Guide to Building Your Own Successful Website
Now we've dissected some kick-ass personal website examples, it's time to get cracking on your own! 
But don't worry, while there's no hard and fast way to build a successful website (you can be as creative as you want to really connect with potential and upcoming audiences), but there are some rules and guidelines you can follow to help maximize your chances of success.
Even if you're not a web developer or have any web development skills or experience in building a website, you are as good, if not better, than any of our personal website examples.
Here's a comprehensive guide to help you build one of the best personal websites you can to make jaws drop and opportunities come knocking. 🎉
Define your purpose and target audience
Before you start designing your website's personal branding, figure out your website's main goal and the audience you want to attract. This will help you create a site that resonates with your target users.
A great example of this would be if you're an animator, you'll probably be looking at video studios and businesses interested in animation marketing.
Choose a visually appealing design
A great design sets the tone for your website. Select a color scheme, typography, and layout that reflect your personality and brand. Don't be afraid to think outside the box and create a unique visual experience. 🎨
Also, bear in mind there are several approaches you can take for your web resume. You could opt for a one-page resume, a multi-page design, a personal blog, or a simple yet professional website where you sell services and products.
The best personal website is one that represents you and your business, so don't be afraid to do that. Just because you find a great example of a website you like, that doesn't mean it will fit your business, so don't try and copy it exactly.
Instead, create the best personal website you can by collecting website examples, and website templates, then piecing all the good bits together with your own spin.
Make it easy to navigate
A user-friendly personal brand website is crucial to keeping visitors engaged.
As you can see from our personal website examples, it's important to organize your content into clear sections or categories. Then, use a clean layout that makes it easy for users to find what they want.
The best personal website is one that understands the power of an impressive resume and online portfolio.
After all, you don't want potential customers getting lost in your structure on the job search, being unable to find what they want, and then simply heading off elsewhere.
Showcase your work
Your portfolio and online resume are the heart of your website, so make them shine! Just like a traditional resume, present your projects in an organized, easy-to-navigate manner, and include detailed descriptions or case studies to demonstrate your expertise. 🌟
Add a personal touch
Share your story, background, and skills on an about page to connect with your audience on a deeper level.
Adding fun facts or a personal bio can make your website more memorable, which is what all the best personal websites succeed at doing!
It's all about drawing visitors in and having them connect with you!
Include engaging content
Consider adding a blog, resources section, or behind-the-scenes content to share your thoughts, insights, and experiences. This can help establish you as an expert in your field and keep visitors coming back for more. 📚
And on that note, it really doesn't matter what your career or value is, whether you're a graphic designer, freelance writer, software engineer, product designer, or whatever, write content that draws readers in, as well as potential clients.
And try to play to your strengths.
If you're a copywriter, have great copywriting.
If you're a designer, have a good design.
If you're a content creator, show off your content creation.
If you're an animator, show off your slick animations.
If you're a speaking coach, maybe show some videos.
Whatever it is you do, add detailed information and show off you and your professional work.
Make it easy to contact you
Include a simple, user-friendly contact form, or make your contact information readily available. A clear call to action can encourage visitors to get in touch or hire you.
You could add a contact form to your home page, website footer, sidebar menu, or anywhere your potential clients will see. Make it easy, and they'll be able to contact you frictionlessly.
Optimize for mobile devices
Ensure your website looks great and functions well on all devices, especially smartphones, and tablets. A responsive design will help you reach a wider audience.
This is also vital for SEO and ranking high in the search engine results, so make sure you do it!
Collect feedback and testimonials
Include client testimonials or feedback to showcase your credibility and build trust with potential customers. People don't like to take a risk when using a new service and like to see that others have already taken the risk and are happy with the results.
A great example of this is when you're shopping for products on Amazon. You always look for the reviews first!
Promote your website
Share your site on social media, network with other professionals, and use search engine optimization (SEO) techniques to increase your online visibility. The more people who see your website, the greater your chances of success!
And there you have it! 
With these tips in hand, you're ready to conquer the digital world with your very own kick-ass personal or traditional resume website.
So, what are you waiting for? Get out there and show the world what you've got with an interactive resume that gets results! 🚀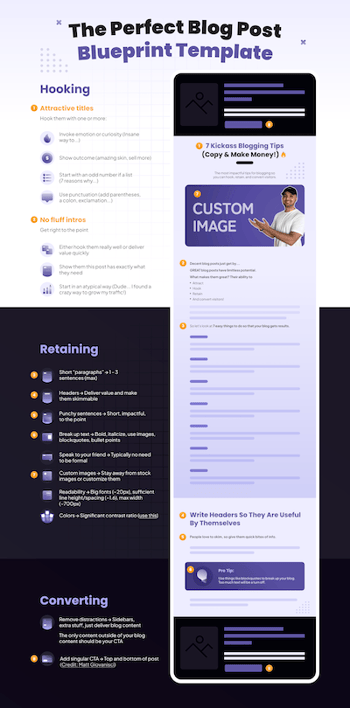 Craft the Perfect Blog Post That'll Convert Your Visitors
Download the FREE Perfect Blog Blueprint and know exactly how to hook, retain, and convert your visitors.
Download Blog Blueprint