15 Kickass Shopify Jewelry Stores (+3 Themes): Blow Up Sales!
Inspiring jewelry websites built on Shopify and hacks to beat them.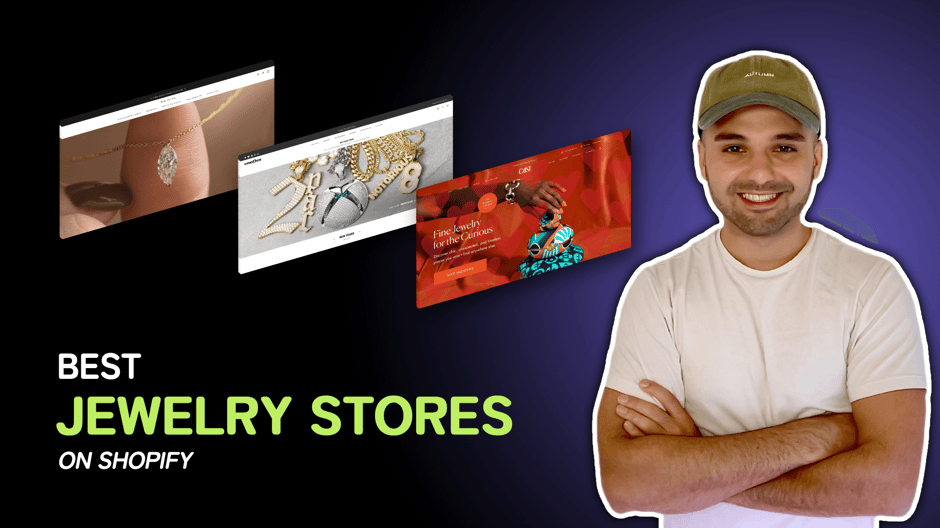 Designing your own Shopify jewelry store?
And you're out here looking for inspiration so you can build your website in the best way possible?
A site that entices high conversion rates and lots of happy customers?
Well, you've stumbled across a little treasure chest of a guide that will help you learn everything you need to know about building your jewelry store on Shopify.
Hey, I'm John 👋 and welcome to the Create Today blog!
I'm a big fan of well-designed Shopify stores, and as a website creator, I love going over websites and breaking them down to see what works, what we love, and what practices should be avoided.
Today, we're doing this with jewelry stores, and I'll show you some of the most kickass Shopify jewelry stores out there, plus three great themes that will help boost your sales!
So, are you ready to get started? Let's dive right in to the websites first then the themes after.
🔥 Sweet Pricing Deal!
Hey, quick note!
If you haven't signed up for Shopify yet, they're running an EPIC deal.
👉 Click here to pay only $1 a month 👈
The Ultimate List of the Best Shopify Jewelry Stores
Hack Alert! Start With One of the Best Shopify Jewelry Themes
Hold on, you can't build your Shopify jewelry store from a blank slate.
Shopify runs on themes.
So you need to choose a theme that you like. While they can be customized to an extent, much of the features available will be theme specific (e.g., a masonry grid or tabs).
You can fast-track your way to a successful online store by using a Shopify theme tailored to jewelry stores to lay the groundwork for your website's design.
Simply fill in the gaps with your own content, upload your own images, and you're ready to go.
Shopify prices start around $29 per month, and you can buy a theme for your online store as a one-time purchase. That's all you need to get your website off the ground.
Not sure what theme is best for Shopify jewelry stores? These are three beautiful themes to get you started.
Simply install the theme, adjust it to fit the branding of your business, and you can launch! Then you can continuously tweak and adapt your website until you're satisfied with it.
And if you're still looking for inspiration on what makes the most successful Shopify jewelry stores so successful, bookmark this page and reference it!
How to Build the Best Shopify Jewelry Store Website Possible
So, if you're looking to make it as one of the best jewelry sellers and grow your own store to become one of the best jewelry stores on Shopify, here are a few tips to help you create the best website possible.
Use a modern design
Make sure your website looks attractive and modern. Use big visuals and keep the design simple but stylish. This is so customers can easily browse your products and find the perfect one for them, all while ensuring your website looks its best.
Provide plenty of information
Make sure that all of your product pages have plenty of information so customers know exactly what they're buying before committing to a purchase. You could also include any unique selling points or stories behind each item to make it even more enticing.
Refine your product descriptions
Focus on providing detailed descriptions for each product. This will help customers make informed decisions when choosing items from your store. Also, don't forget to include keywords in your descriptions – this will help boost your store's search engine rankings and make it easier for customers to find you online.
Optimize images
It's important to ensure that all of your product images are optimized. Not only should they be high-quality, but also the correct size. This will ensure they look great on any device and won't take too long to load. This will improve your SEO and ensure positive ranking potential on Google.
Use social proof
Finally, don't forget to use social proof!
This could include displaying customer reviews, showcasing awards you've won, or highlighting your most popular products. This will help build trust with customers and give them the confidence to purchase from you.
Conclusion
And that brings us to the end of this guide!
Thank you so much for joining me on the journey of how to build a successful jewelry store website. It takes time and effort, but it's worth it in the end.
Follow these tips to help create the best Shopify jewelry store possible and watch your sales rise!
Good luck! 😀🚀
FAQs
What makes a successful ecommerce jewelry store?
While web design and aesthetics are important, the key to a successful store is having a good product and offering a positive experience to your customers. Make sure to use big visuals, provide plenty of information, refine your product descriptions, optimize your images, and utilize social proof.
What makes a Shopify jewelry store stand out?
A great way to make a Shopify jewelry store stand out is to add unique elements like motion graphics or interactive features. There are also a ton of  apps on the Shopify app store you can install to offer a customized experience with extra features.
For example, you can add a chatbot to answer customer questions or install an email marketing plugin to send out special offers. If you have an extensive collection of high-quality jewelry, think about how you'll organize everything to create the best, most uncluttered experience.
How can I make my Shopify jewelry store more successful?
The key to making your store successful is ensuring excellent customer service and building trust with customers. Offer rewards, free domestic shipping or low shipping costs, loyalty programs, or find a unique selling point that sets your business apart from the rest.
For example, are you selling jewelry from a unique location, or have you been creating jewelry yourself? Do you specialize in fine jewelry, metal jewelry, and semi-precious gemstones, or are you an accessory business with various product lines, or do you sell just jewelry?
Are you a stay-at-home mother who's incredibly passionate about what you do?
When growing and refining your ecommerce business, you should always consider what makes you different from other Shopify stores, what your store sells, and how you can make this idea look attractive in the eyes of your customers.
Is running an online jewelry ecommerce site profitable?
Yes, going along the online business journey to make it in the jewelry industry can be very profitable. You have the potential to reach a large audience and make sales from all over the world.
Plus, with the right marketing strategies in place, you'll be able to maximize your profits even further and can certainly become a full-time business.
How do I market my Shopify ecommerce store?
There are various ways to market your Shopify ecommerce store. You could run paid ads, use social media, build an email list, partner with influencers, or even start a blog. All of these methods can help you reach more customers and increase sales.