21 Kickass Squarespace Coaching Websites: Make the Best Site!
Inspiring coaching websites built on Squarespace and hacks to beat them.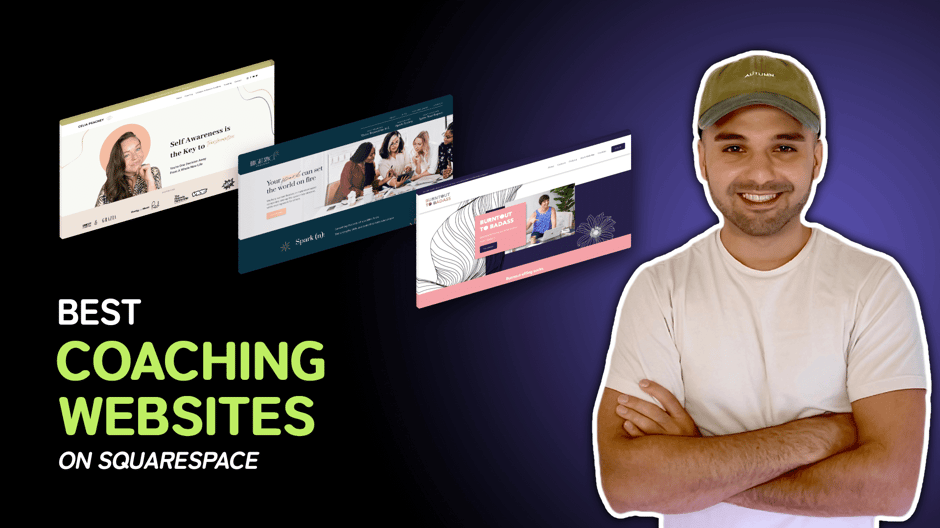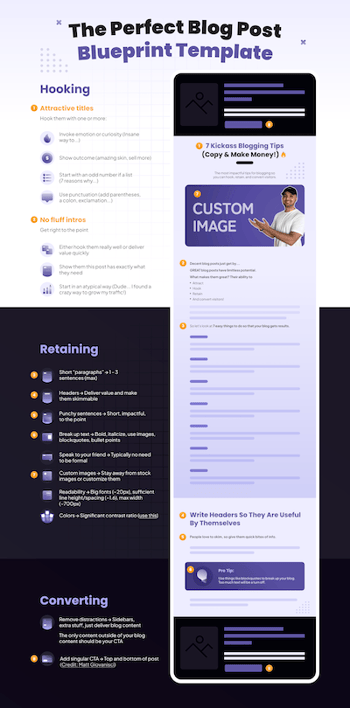 Craft the Perfect Blog Post That'll Convert Your Visitors
Download the FREE Perfect Blog Blueprint and know exactly how to hook, retain, and convert your visitors.
Download Blog Blueprint
As a coach, your website is one of your main tools for securing clients and getting paid work.
Sure, social media, word of mouth, and the content you put out surely have an impact. However, while these channels get your name out to the masses, it's your website that will show truly interested clients what value you provide, as well as hosting the tools for them to get in touch and book that all-important session.
So, how do you actually build a functioning, attractive website that gets those clients in your books?
While you may think getting a lovely-looking theme with some cool designs is the main priority, it's not the only thing you should be thinking about. Your look is super important, true, but tons of other features go into making a professional coaching website that actually gets results.
I'm talking about things like:
The copywriting
The imagery
The color scheme
The fact you talk about your clients, and not just yourself (more on this shortly!)
Necessary information to contact you or book a meeting
To make this even easier, right here, right now, I'm breaking down some of the best coaching websites on the internet. We'll talk about what makes each website great and how you can use each one as inspiration to build your own successful Squarespace website. 
Let's get into it.
Hack Alert! Start With One of My Fav Squarespace Coaching Templates
Building your Squarespace website doesn't have to be a mission. In fact, there are plenty of Squarespace templates designed to make your life easy. Sure, there are many Squarespace templates out there, many of which are free, but check out these to get started!
Psst, template #2 is my personal favorite Squarespace template. 😉
The Ultimate List of Coaching Websites Built on Squarespace
Tips to Making the Best Coaching Website
And there we have. Some of the most beautiful Squarespace websites around to get inspired by when building your own site. There are obviously a lot of different bits and pieces to think about here and many features that will help your online presence succeed when working for you.
Yeah. A lot to think about. I hope you were taking notes of everything you need to remember.
You weren't?
Well, that's okay; here's a rundown of what goes into a good coaching website!
Focus on Value
First, above anything else, your coaching website needs to provide your readers and traffic with value. This means providing them with relevant and helpful information that will help solve their problems.
Listen to this;
"Hey, I'm John, and I'm a coach. I spent five years in the office grind before becoming a monk, and now show you how to live. I used to be a jealous person who wasn't very compassionate but would always let others take advantage of me, and then I thought no, I'm not taking this anymore,"
I'll stop. It's boring. It's not going to win clients. Try this instead;
"Hey, I'm John, and I'm here to help you change your life. How often do you go to bed, thinking tomorrow will be a different day? Tomorrow, you're going to start working on all those goals you've set for yourself, and you're going to make your dream life a reality. How many times have you been in that cycle? Now is the time to do it for real."
Phew. I got shivers.
When writing your website content, remember to make it about the person reading, not you. That's what they're there for, after all.
Develop Great Copywriting
Using great copywriting is essential for any and all successful websites, especially one focused on coaching. As a coach, you must make sure you have a clear message in your copy and organize it in a way where people can easily find what they need quickly.
Use Visuals
Using visuals on your websites is great for two reasons. It can help break up the text and make it easier to read, but it also adds a layer of trust. People are more likely to stay on your site if they see you have taken the time to invest in professional-looking visuals. Try to avoid stock photos, though, as these can feel far too generic.
Optimize SEO Data
Search engine optimization (SEO) is all about optimizing your website for the best possible rankings in search engines. This means adding relevant keywords to the content, structuring your pages with headings and subheadings, and making sure all links are working correctly.
Make It Easy To Use
Your website should be easy to use and navigate. Make sure all the sections are clearly labeled, that your text is easy to read and understand and that there are no broken links or pages. Also, make sure there are clear buttons to book an appointment or get in contact with you.
Include Testimonials and Reviews
Having testimonials from past clients on your websites helps build trust with potential visitors and clients. It also gives them a better idea of what they can expect from you and your services. And, if there are good reviews, it shows that previous clients have been satisfied with your services.
Get Mentioned in the Media
Getting media mentions can build credibility for your brand and help you gain more exposure. So make sure to use press releases and social media to get your name out there and be shared by others. Make sure you display these mentions front and center on your websites for the most impact!
And that's it!
It's going to take a bit of work to get started. Still, with a bit of elbow grease and thoughtfulness, some leading inspiration, and some beautiful templates, you'll have a powerful, impactful, and client-ready Squarespace website in no time at all.
Then your coaching clients will be booking by the bucket load!
All the best, and Happy Coaching!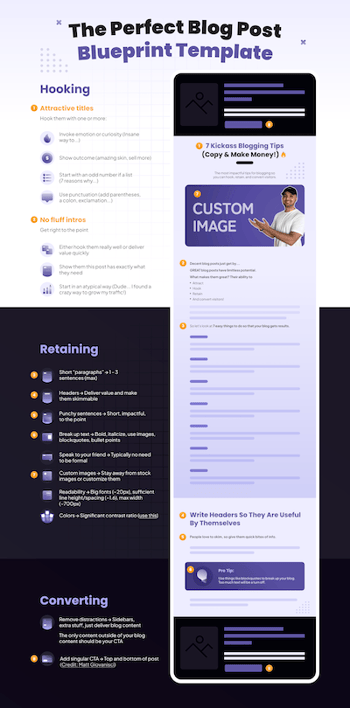 Craft the Perfect Blog Post That'll Convert Your Visitors
Download the FREE Perfect Blog Blueprint and know exactly how to hook, retain, and convert your visitors.
Download Blog Blueprint