16 Best Squarespace Real Estate Website Examples
Building a new real estate website? Check out these 16 amazing real estate Squarespace websites for all the inspiration you want or need!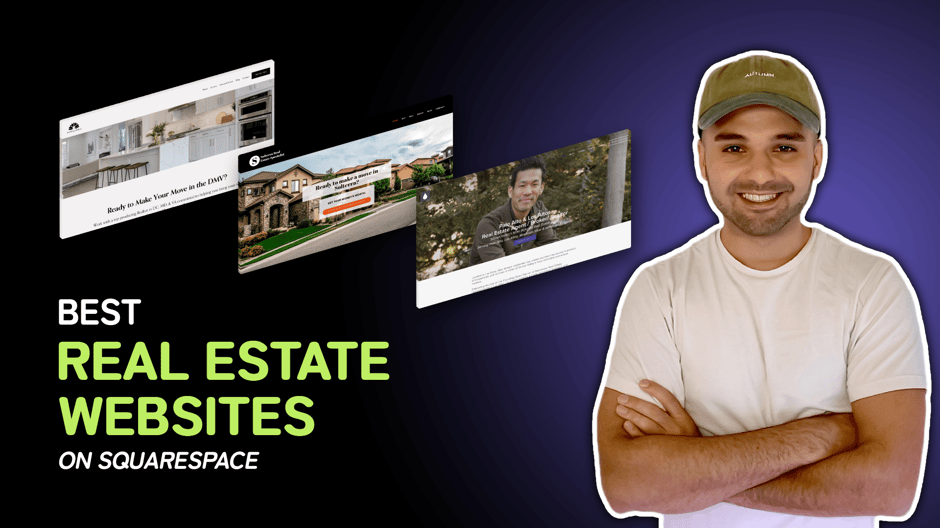 You're in the process of making your very own best real estate Squarespace website. Your new online HQ is on the horizon. You're about to be up there with the best real estate professionals in the game.
But hold up.
Do you know how to create your website in a way that's going to help your business succeed?
After all, real estate professionals are renowned for building, well, less-than-desirable websites that are broken and look, quite frankly, terrible.
That being said, the truth is that website design only plays a tiny part in the journey of creating a website. There are lots of factors to consider if you want your Squarespace website to pop off.
It's about more than finding an excellent real estate website and simply copying it.
It's more about elements that include;
Design (okay, it does have to look good!)
The text and copywriting (words paint a thousand pictures or something like that)
Information (are you actually including the information people want to know?)
SEO content so you rank on Google
Using the right photos that brand your business
Choosing colors that work with said brand
This guide will go through the best Squarespace real estate websites, breaking them down into what makes them tick, what holds them back, and ultimately what you need to know to build the best website possible.
Let's get into it.
But first...
Hack Alert! Start With One of My Fav Squarespace Real Estate Templates
When choosing a Squarespace real estate template, know that you can always customize it to your liking.
Note: I included Squarespace templates that aren't necessarily real estate based, but solid layouts. It doesn't really matter what content the Squarespace template has as you are going to customize it with your own.
Alright, onwards to the best real estate Squarespace website examples!
The Ultimate List of the Best Squarespace Real Estate Website Examples
Tips for Building the Best Real Estate Website
Considering everything we've spoken about, there are certainly a few tips you can take with you when building the very best real estate website possible.
Work on your copy.
Copy refers to everything text, header, and headline related. Keep things short and sweet, concise and to the point, and only convey what you need people to know.
The best way to go about this is to put yourself in the shoes of your ideal customers, think about what they want to know, and then give them that as precisely as possible.
Think about things like;
Are they buying or selling?
What kind of properties are you experienced with?
Are you servicing new buyers or on-chain buyers?
Are you looking for investors?
Are you representing sales or rental?
Niche your business
Incredible as it would be for everyone to use your business, the truth is that your business is just not for everyone. Instead, you have to narrow down and define who will be interested in what you're offering and then market to them.
Think about demographics and data points like;
Age
Income
Position on the housing ladder
What services do you offer?
Imagery
Imagery is so important because it drives home the style of your business and what you're working with. They're essential for branding your business, and highlighting your property listings, so you want them to be the stars of the show.
Putting a header photo of a modern house or a tree house matters because it says what properties, and therefore what kind of person, you're working with.
Make it count.
Also, consider the color scheme and whether there are opportunities to add custom images or video content.
Colors should be neutral and not too overwhelming, at least not to the degree that they steal the show. However, they should be clear enough as a background to display your text and frame your images clearly.
Image and video wise, stock images can feel a better samey, although they do the job. However, getting custom images will always help improve the credibility of your website, and recording video content will help you do this tenfold.
Local SEO
Let's say you're an online store and you're selling paperweights.
You want as many customers as possible, and you can sell worldwide. Therefore, you want to rank on Google as high as possible, no matter where people are geographically.
However, you're not a paperweight enterprise, you're a real estate business.
This means you want to rank highly on Google when potential clients are searching for real estate services in your local area, and this means you need to add keywords to your website content of your local area. This could be your town, city, or state names, and you want to ensure this data is included several times throughout your copy.
ESPECIALLY IN YOUR MAIN H1 HEADER!
Can't overstate that enough.
After that, focus on testimonials and social proof.
Social proof, or people reading reviews from your past customers, is the currency that makes the business world spin these days, so you have to be offering examples of what you have to offer.
Nobody wants to work with real estate agents without reviews because they don't want to take the risk. Seeing reviews and testimonials alleviates that risk because new customers can see other people have had a good experience.
This means taking the time to get reviews and sticking them somewhere fancy on your site.
Calls to Action
A CTA is a button or phrase that tells people what you want them to do next, like calling a number, sending you an email, or scheduling a meeting.
Make your buttons crisp and clear, so people see them, click them, and you get business from them! This is what it means to make a user-friendly website.
Bonus Tips
Here are some final tips for sealing the deal on an excellent real estate website;
Have a blog to attract more traffic to your website and boost your SEO ranking
Don't forget a contact page and contact forms so potential clients can get in touch quickly
Contact information must also be visible, especially links to your social media pages!
Make sure your website is mobile-friendly and responsive, as most people will view it from their phone or tablet.
Thanks for reading!
Don't forget to check my dedicated Squarespace real estate templates at the top of the page, and good luck building your website! I hope you're feeling inspired enough to create the best website possible.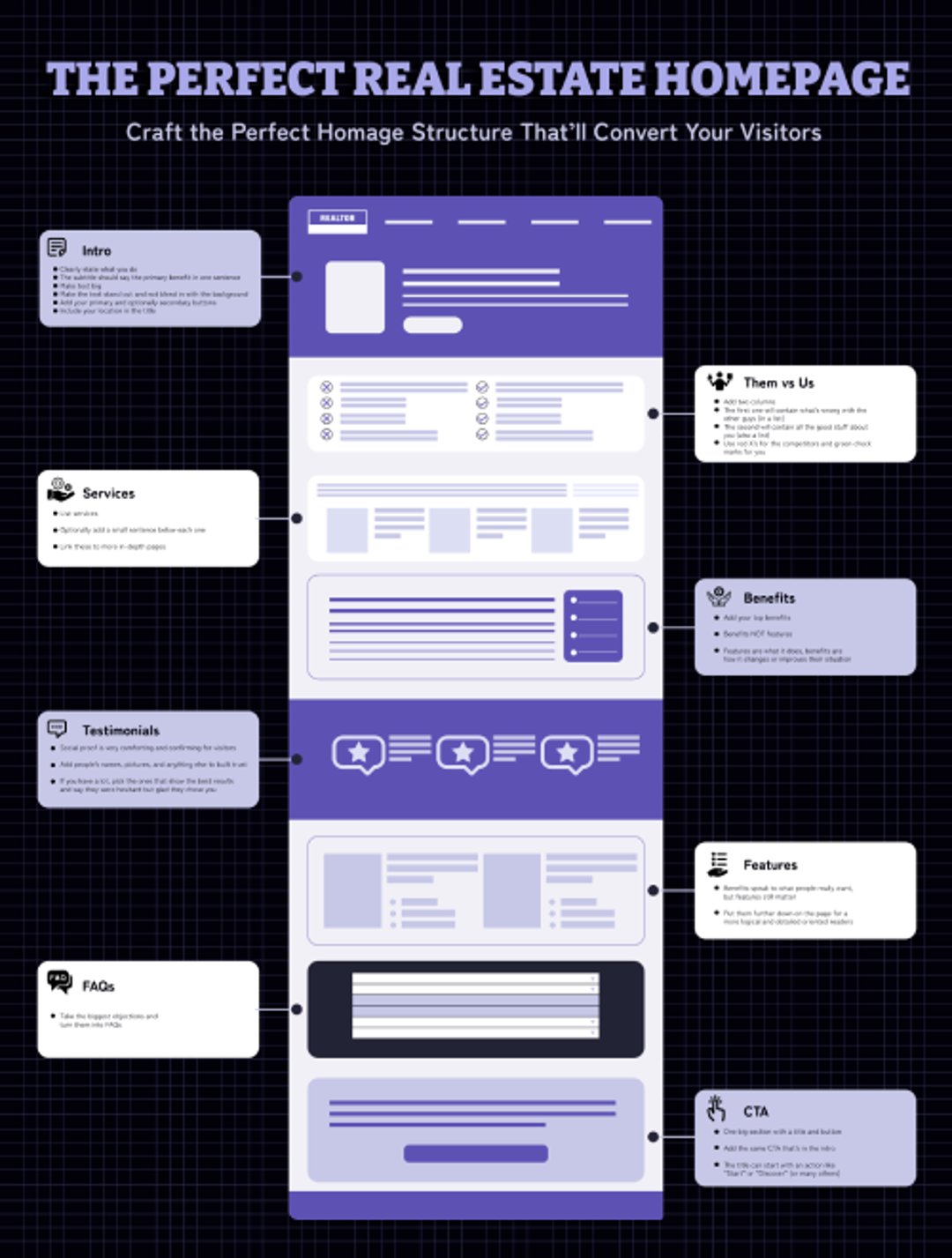 Craft the Perfect Real Estate Homepage Structure That'll Convert Your Visitors
Download this real estate homepage cheat sheet and know exactly which sections to add in what order to increase your rank, leads, and clients.
Get the Free Cheat Sheet