17 Best Squarespace Restaurant Websites
Inspiring restaurant websites built on Squarespace and hacks to beat them.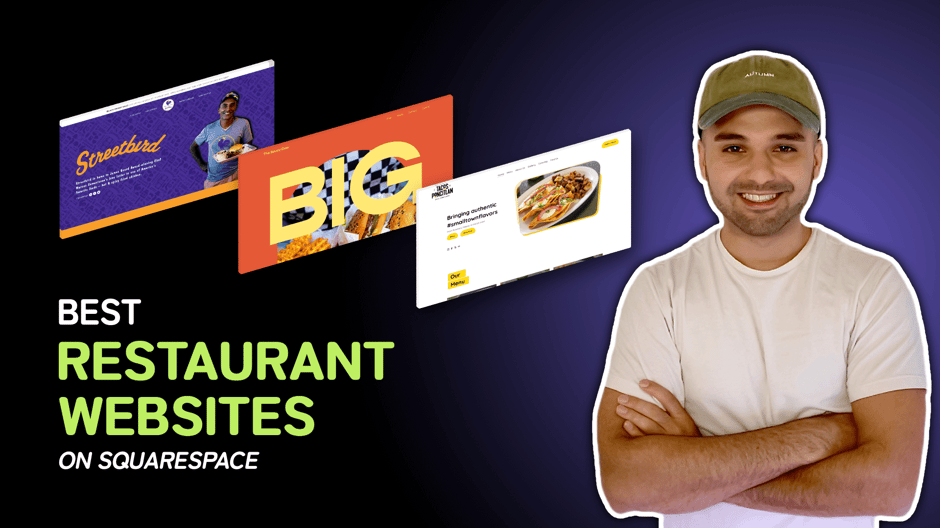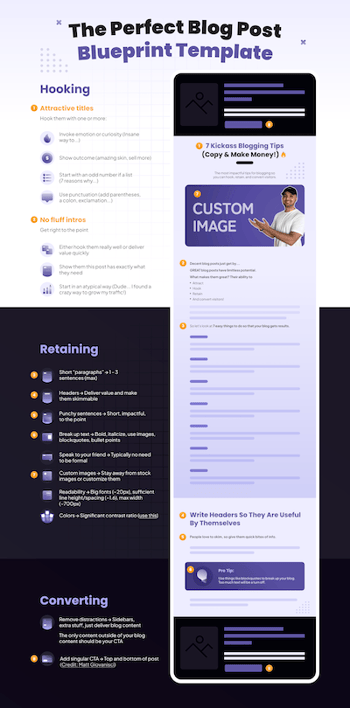 Craft the Perfect Blog Post That'll Convert Your Visitors
Download the FREE Perfect Blog Blueprint and know exactly how to hook, retain, and convert your visitors.
Download Blog Blueprint
As restaurant owners, you know that having an online presence is key.
Nowadays, people look for restaurants online before making a reservation, checking out your menu, prices, reviews, and basically everything else that goes into choosing a nice meal out.
If these explorers like what they see, then you've got them. They'll come to you and your business will thrive. It's that simple. The problem is that if your website looks outdated or unprofessional, or doesn't give the potential customer the info they're looking for, you risk losing out on their business.
All this being said, the visual design of your restaurant website isn't the only thing you need to think about. Sure, it's important to make sure your website looks good and appeals to potential customers, but there's so much more that goes into building a restaurant website that will draw people in.
I'm talking about things like:
Location SEO data so you rank in your local area
Photos of your restaurant and food so there are no surprises
Access to your menu so people can see what's on offer
Highlighted deals; people love a good saving
Contact and location information
The ability to book a table or make a reservation
Great copywriting
I can (and will) go on and on. 😉
To make building your restaurant online headquarters a little easier, this guide will break down some of the best restaurant websites, so if you're looking for some inspiration when building a Squarespace-powered restaurant website, look no further.
Let's dive in and take a look at some of the best restaurant websites around right now.
Hack Alert! Start With One of My Fav Squarespace Restaurant Templates
Here are four of my favorite Squarespace templates for restaurants. Note, you can customize them however you want. They're just a great starting place.
Ultimate List of Restaurant Websites Built on Squarespace
Tips to Building the Best Restaurant Website on Squarespace!
There you have it – some of the best restaurant Squarespace websites on the web. No matter what style of food you're after, there will be something in this list that suits your taste. Remember, when creating a website for a restaurant, make sure to focus on more than just design, as features such as menus and professional imagery will help create an engaging, user-friendly experience with proper functionality.
And to finish off in style, here are some top tips for building the best Squarespace restaurant website possible.
Put your menu front and center
Okay, not physically front and center, but customers want to see what your menu offers when choosing where to eat out, so make sure you're making it as easily accessible as possible.
Optimize the content
Good copywriting can go a long way here. Make sure you're using keywords to optimize your website for search engine rankings, and make sure it's easy for customers to read. This is how you get restaurant websites to rank highly and receive more organic traffic.
Include professional photos of food & restaurant
This is especially important if you're in an industry with visually appealing dishes. Not only will this look great on the website, but it'll also help entice customers to visit your restaurant. What's more, showing pictures of the restaurant can also build trust with customers is key and having good photos of your location goes a long way in doing so.
It means there are no surprises when they come to visit, and they can make sure they'll feel at home. Remember, you're not going to be everyone's flavor, but that's okay. Lean into your target market for the best results!
Use a smartphone for pictures
While on the subject of photos, don't think you need a professional photographer to get your snaps. Smartphone photos will do amazingly. They don't need to be perfect and can be used with great effect. If you can use customer photos, that helps as well. Most people will love to have their photos shared by you.
Include reviews, testimonials, and media mentions
Customers trust what other customers say, so use reviews and testimonials to your advantage. Not only do they help potential customers decide whether or not to visit you, but they also boost your website's SEO rankings. Media mentions will also have a similar effect and are great for adding credibility to your restaurant.
It may also pay to have a blog if you're really involved in the local community and have a lot of information to share.
And there you have it – a guide for creating the best restaurant Squarespace website possible. Implement these tips, and you'll have a great website that will bring in customers in no time.
Good luck and happy restaurant-ing! 🍲🦐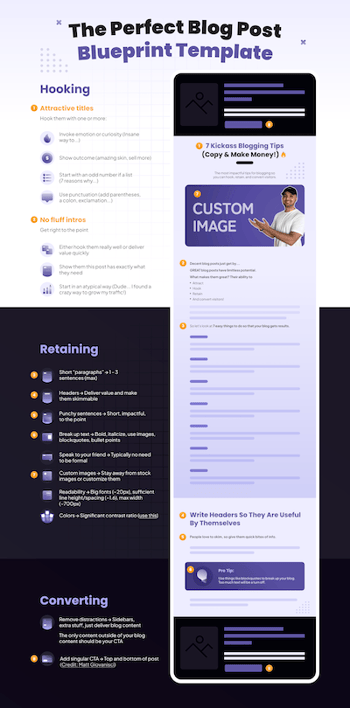 Craft the Perfect Blog Post That'll Convert Your Visitors
Download the FREE Perfect Blog Blueprint and know exactly how to hook, retain, and convert your visitors.
Download Blog Blueprint