11 Webflow Blog Examples (+ 4 Templates to Clone)
Building a Webflow blog and can't think how to design it? Check out these Webflow blog examples that will blow you away!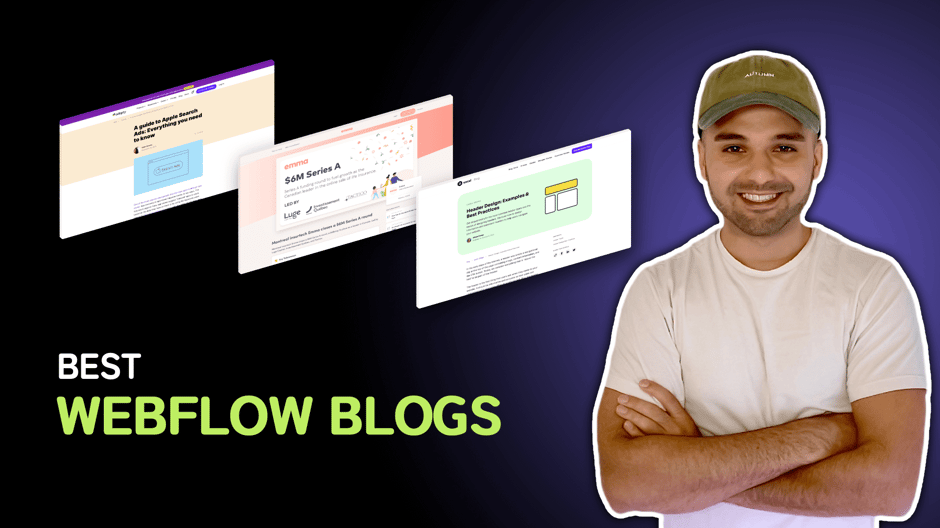 Want a blog that not only looks amazing but performs very well?
Well, you've come to the right place!
Choosing which platform you want to grow on can be a tricky one. Massive platforms like WordPress, Squarespace, and Wix have dominated the landscape over the past few years.
Yet, one platform towers above them all, and so few people seem to know about it.
I'm talking about Webflow.
Webflow is the best no-code website design platform in the world.
Webflow offers a variety of powerful tools, allowing you to create professional websites with ease. 
In fact, it's so good it's used by many SaaS companies and professional blogs (like the one you're reading ✌️).
Webflow is used by over 3,500,000 web designers and businesses worldwide. Basically, I'm saying Webflow knows what's up.
Whether you're starting a hobby blog, a lifestyle blog, or a website for your business, Webflow certainly makes for a great platform to get your online presence into the spotlight in the best way, and today, we're deep diving into the top Webflow blogs to prove it.
If you're in need of some inspiration when it comes to making your own site, you'll find plenty of examples below.
Let's get into it.
Hack Alert! Get Your Blog Up and Running FAST With These Webflow Blog Templates
Starting a Webflow website (or any website for that matter) from scratch can be hard work, which is why using a professional template is recommended. A blog template allows your website to look and work perfectly right off the bat and gives you space to customize your online space to represent what you have to offer.
Get up and running fast with these beautiful Webflow blog templates!
The Ultimate List of Blogs Built on Webflow
Tips for Building a Successful Webflow Blog
Hopefully you're feeling inspired after exploring these blogs and websites and have more of an idea of what works and what doesn't when building your own Webflow website.
To finish up, here are some of the top tips to takeaway, acting as a rule of thumb to help you build a successful blog.
➡️ Focus on the user experience: When creating a Webflow blog, focus on making sure your visitors have an enjoyable experience as they navigate the site. Your entire creative process should be centered around giving your readers what they want and having fun while doing it!
➡️ Present your content beautifully: A Webflow website works best when the content looks good. Follow all the basic web content essentials, like breaking up paragraphs, using headers and sections, placing high-quality imagery, and avoiding huge walls of text.
➡️ Optimize your text display: Make sure you use a big, clear font that's easy to read and format your text in a narrow column rather than using a widescreen approach when you create blogs. It simply performs better.
➡️ Design for mobile users: Make sure your website looks just as good on mobile devices as on desktop. As more and more people are using their mobile phones to access the internet, your website must look just as good on both. This is also essential if you want an SEO-friendly website!
Final Thoughts
That's all from me today, and I hope you've enjoyed your deep dive into the world of Webflow blogs.
By following these tips, using the recommended Webflow templates, and feeling encouraged by these existing websites, you'll be well on your way to creating a successful Webflow blog that looks great and is easy for visitors to use.
Good luck!
You can sign up for your own Webflow account here!
And head's up! CreateToday is actually built on Webflow, too, so feel free to look around and see how I've made the most of its features, functions, and capabilities!
FAQS
Q: Is Webflow good for blogs?
A: Yes, Webflow is an excellent platform for creating custom blogs. It's versatility and flexibility make it an outstanding solution for creating blogs. Not only can you design the most beautiful blog, you can also customize the fields your blog has to create truly unique experiences.
Q: Can Webflow be used for ecommerce?
A: If you're building an ecommerce store, then Webflow can absolutely be used as your website platform of choice. Webflow allows you to create store pages, manage baskets and product inventory, and manage sales in one place!
Q: What are the benefits of using Webflow?
A: The main benefit of using Webflow is it's ability to create the best websites without any code. Additionally, with powerful features like a robust CMS, custom animations, responsive design, and more, you can create a truly unique website that stands out from the competition.
What's more, with plenty of great Webflow templates out there, you can get up and running with your brand-new blog in literally minutes!
Q: How fast is a Webflow website?
A: Incredibly so. In a real-world data test, Webflow dominated other web platforms regarding speed, including Squarespace, Wordpress, and Wix. Almost as much as 20%, which is just outstanding. The CMS of the platform is also incredibly flexible and can easily be adjusted to suit your needs, and the templating system is out of this world!
Q: Is it easy to update content on a Webflow site?
A: Yes, updating content is extremely easy with Webflow. You can quickly add, edit, and delete new content using the CMS, which makes it super easy to keep your website up-to-date with the latest information. Plus, with the visual editor, you can make changes to your site without ever having to touch any code.