9 Kickass Webflow Ecommerce Examples: Build the Best Store
Inspiring ecommerce websites built on Webflow and hacks to beat them.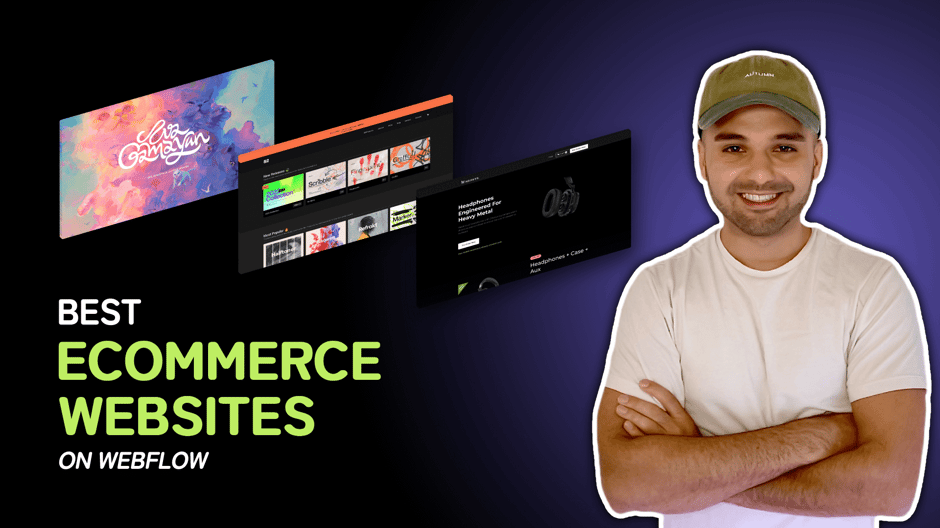 Wondering what you can do with a Webflow ecommerce website?
Outlined here are a list of Webflow ecommerce examples – from sustainable products to posters, this list of examples has you covered for inspiration and tips and tricks.
So if you're thinking about building your own ecommerce website with Webflow, check out these inspiring Webflow ecommerce examples first to help detail what you need to know when building the most successful website possible!
I'll even chuck in a seven-step guide to help you build your ecommerce site as successfully as possible!
Let's go!
WAIT! 4 Eye-Catching Webflow Ecommerce Templates to Boost Your Sales
Hold the phone. Is some cases, it makes sense to start with a Webflow ecommerce template.
Let's say you don't have the time or you want to start with something that already looks amazing.
Starting with a template can get you launched in days rather than weeks or months.
So here are my four favorite Webflow ecommerce website design templates you need to know about!
The Ultimate List of Webflow Ecommerce Examples
How to Design the Best Webflow Ecommerce Site
Bringing everything I've covered today, you should feel inspired when building your own store. However, to round this guide off nicely, here are seven important tips and tricks you need to know to ensure that your upcoming website is as good as it can be.
#1 - Define your target audience
First things first. Before you start to build your ecommerce store, you need to know who your target audience is. Knowing this will help you decide on the design and structure of your web store and ensure that the user experience is tailored to their needs.
It doesn't matter whether you're selling food items, great living or interior design plans, skincare products, digital products, women's clothing, gift sets, or you're a Midwest mutt shop, your website sells products, and you need to sell them to the right people to get the best results.
#2 - Take your time with the design
Whether you're working from a template or from a blank slate, take your time to perfect the design and ensure that it looks perfect. After all, first impressions are everything when it comes to websites.
Also, focus on your backend and what can make your services better. For example, will you use shipping software to automate order tracking? Are you going to allow digital products to be downloaded instantly? The best ecommerce websites think about this and will integrate these features into their designs fluidly.
#3 - Use great imagery
Imagery and visuals are a key part of any website, so make sure to use high-quality and well-thought-out images throughout. Don't forget that font (shape, size, color, and copy) also matter so much!
#4 - Keep it simple & clean
When it comes to your website, less is often more. Keeping things simple and clutter-free will help your customers find what they're looking for in a flash. The easier your navigation, the better success your website will have.
And I mean everything.
Your product categories should be well-organized and on brand. You should offer order tracking, so customers know when their products are on their way. Transactional emails should be sent automatically. Your product pages should be easy to find.
#5 - Add extras to entice buyers
Nowadays, online shoppers are always looking for something a little extra. The truth is, there are probably a dozen or more ecommerce stores that sell the same products you do, so you need something to help you stand out. One of the best ways to do this is by offering something extra.
For example, you could;
🚀 - Offer custom delivery options
🚀 - Accept multiple payment platforms, like Google Pay and Apple Pay
🚀 - Offer increased functionality
🚀 - Offer a free gift with every purchase
🚀 - Allow access to bonus services, like 24/7 support
#6 - Optimize for mobile
In this day and age, it's essential that you optimize your store for mobile devices. Ensure that your website works flawlessly on mobile (known as being fully responsive), as it will help you reach a wider audience and, ultimately, more customers.
Fortunately, Webflow makes this easy, especially when you're using templates, because everything, from animations to page design, is optimized right out of the box.
#7 - Test, test, and test again
Finally, once everything in your ecommerce space is up and running, make sure to thoroughly test your website before making it go live. Test everything from design to analytics and ensure there are no bugs or errors before making it available for customers to view.
Summary
And there we have it!
Everything you need to know when it comes to creating and building your very own Webflow ecommerce website. Sure, you can use other platforms to code your website design, but Webflow is clearly such an excellent platform for creating great-looking websites that hit the mark every time.
And so few, some with so many beautiful templates to help you get up and running as quickly as possible.
One final tip from me: don't be afraid to get creative and think outside the box.
There are between 12 and 24 million ecommerce stores estimated to be out there in the world, so being different is key to standing out from the crowd. Find how you offer the most value, and give it to the people who are interested in it.
Simple.
Good luck, and happy designing! 😊🚀