15 Kickass Cleaning Service Websites (+How to Build Your Own!)
Inspiring cleaning service websites and hacks to beat them.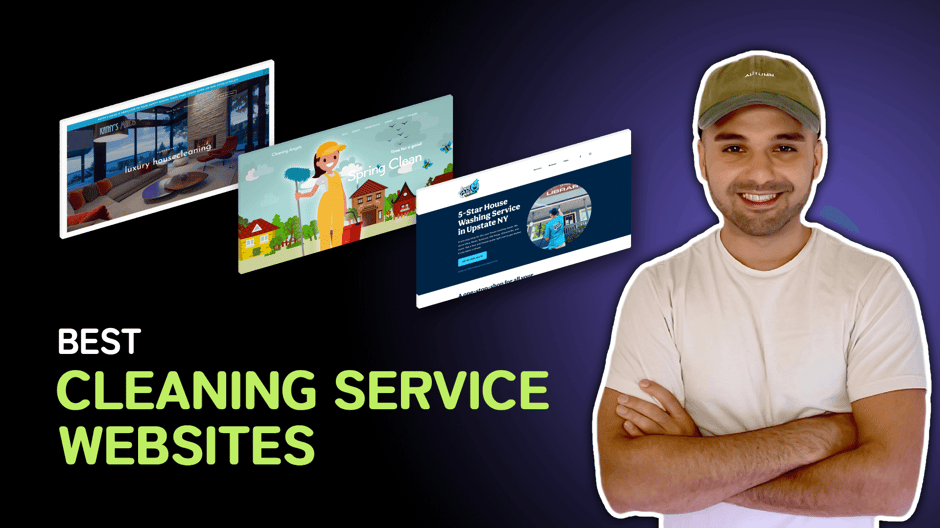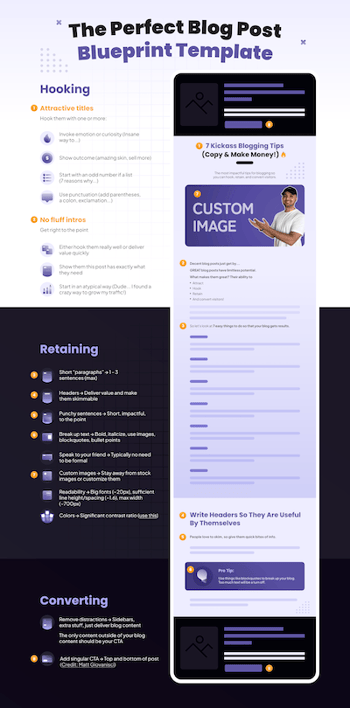 Craft the Perfect Blog Post That'll Convert Your Visitors
Download the FREE Perfect Blog Blueprint and know exactly how to hook, retain, and convert your visitors.
Download Blog Blueprint
What's worse than a dirty house or business?
A cluttered website! (Or maybe even worse, not having a website!)
I've crawled the web, dusted off the grime, and unearthed the best cleaning websites for your inspiration.
The question is, how can you build a kickass cleaning service website that'll sweep customers off their feet?
You'll see the best cleaning website examples around and what makes them great, but also where these cleaning websites could y'know, not suck.
You'll get descriptions of each cleaning services site, a takeaway (because who the hell has time to read everything?), and everything detailing the good, the bad, and the ugly. 
And just when you think you're about to drown in a sea of suds, I'll save your ass with a complete guide on building a successful cleaning business website for your cleaning company!
Let's dive in!
Hack Alert! Start With One of My Fav Cleaning Services Website Templates
Wait for just a second. ✋⛔
Before you load up a blank page and start trying to design your house cleaning websites from scratch, just think about how much time you'll spend learning how to design a cleaning company website.
If you're not familiar with how to build the best cleaning websites or even the basics of web design, it's going to take ages to piece together a design you love and one that actually works. This will detract from actually running your business, and everything becomes a mess so quickly.
Instead, save yourself some time by using a template based on the best cleaning websites around. Simply start with a template, change the contact details and site content to match your brand, and publish.
Using a template means you get access to a fantastic-looking website that's SEO'd and ready to go in mere hours, rather than struggling to do everything yourself and still not guaranteeing a great result at the end.
Not sure where to get started? 
Check out these fantastic templates to help you quickly develop one of the great cleaning websites to ensure your business thrives!
Now, let's get into our list of the best house-cleaning websites around! ✅
The Ultimate List of Cleaning Services Website Examples You Need to See
The Ultimate Guide to Building Successful Cleaning Service Websites
Now that we've explored the world of cleaning service websites, it's time to break down the essential ingredients for building your own kick-ass site. Here's a step-by-step guide to help you create professional cleaning websites that are as spotless as the homes you'll be cleaning.
Choose a Clean, User-Friendly Design
First impressions matter, and all house cleaning websites need to look fresh and clean, just like the results of your services. Typically, opt for a minimalist design with a simple color scheme and easy-to-read fonts.
Nobody wants to navigate a cluttered site – it's a total turn-off!
That being said, a cleaning business can be a personal affair since many cleaners and homeowners develop personal relationships over time. So, if that's the approach you like to take, don't be afraid to inject a little personality into your website.
Having creative web design in this way is a great way to draw people in and have them get excited about what you have to offer. Ensure you have consistent online branding across your website to avoid confusion.
Clearly Outline Your Services
Don't leave potential clients guessing what you offer. Be straightforward and concise when listing your services. Make it easy for users to find and understand what you provide so they know exactly what they're signing up for.
The best way to approach this is to think about the value you're offering. This is what customers are looking for. They're searching through all the cleaning business websites they can find on the hunt for the business whose value matches what they're happy to pay for.
Therefore, you must put your value front and center and showcase what someone can expect working with you. Ask yourself;
What's your cleaning process? Is it clean and quiet?
Do you offer eco-green services?
Do you abide by a custom service request a homeowner may have?
Are you locally owned?
Do you offer a worry-free guarantee?
Can you help with unique tasks, like holiday lighting installation?
Do you dedicate to a single service, like shine window cleaning, or do you handle every odd job around?
You can offer whatever you want. Just make sure the information is crystal clear throughout your website so potential customers can quickly and easily understand what makes your business sing!
Showcase Your Skills with Before-and-After Photos
People love seeing transformations, so include before-and-after photos of your work. This not only provides social proof but also highlights the quality of your services. Plus, it's just satisfying as hell to see a dirty room turn spotless.
Just don't forget to use high-quality photos that really help your work shine. Blurry, low-quality photos are just not going to cut it these days.
Include Testimonials and Reviews
Positive customer reviews can do wonders for your credibility. Include testimonials on your site to build trust and showcase your commitment to customer satisfaction. Happy clients are the best marketing tool you could ask for!
Fortunately, this is easier than you may think.
You can easily display embedded customer reviews using a website plugin that pulls reviews from places like Google Reviews and Trustpilot. This keeps reviews fresh and up to date, ensuring you come across as the trusted cleaning team you are!
Incorporate an Easy-to-Use Booking System
Don't make potential clients jump through hoops to book your services. Incorporate a seamless booking system into your website to make it easy for users to schedule appointments. The smoother the process, the more likely they will become repeat customers.
The best approach is to make everything nice and easy on the website since no one will jump through hoops to book through any old service. The less friction your online service form has, the more customers you'll get.
All you'll want to do is offer an easy-to-find online booking form or, at the bare minimum, your contact details which means you're just a phone call away. If you can install an automated chatbot plugin, that will work amazingly!
Add a Blog or Resources Section
A blog is a fantastic way to share your cleaning expertise and offers helpful tips to your clients. Regularly posting useful content can also improve your site's ranking on search engines, making it easier for people to find you online.
Once again, just make sure the language and tone you use have consistent branding for the rest of your cleaning websites pages.
Optimize Your Site for Mobile
These days, people are glued to their smartphones, so make sure your website is mobile-friendly. A responsive design ensures your site looks and functions well on all devices, so you won't miss out on potential clients browsing on the go.
Even the most basic website builder plans should offer mobile responsiveness these days, but you'll need to ensure this is the case because you could miss out on a ton of business otherwise.
Connect with Social Media
All the best cleaning websites will integrate their social media accounts, making it easy for users to follow and engage with you. Social media is a powerful marketing tool, so take advantage of it to showcase your services and interact with your audience.
And don't think for a second that you can't get creative with what you're offering on social media and that having a superb maids service or a simple shine window cleaning service doesn't allow for a social media presence.
Just look at lawn care videos and home maintenance channels on YouTube, many of which have millions of views per video just for doing their job and showcasing their cleaning process!
Top tip: you must maintain consistent branding on both your website and social media profiles to avoid confusion!
Create a Strong Call-to-Action
Guide users toward the action you want them to take, whether it's booking a service, requesting a quote, or signing up for your newsletter. A clear and compelling call to action can make all the difference in converting visitors into customers.
And don't forget to make this call to action button as enticing as possible. Perhaps you're offering a free estimate. Perhaps a free consultation. Maybe a discount.
Remember, you want people to click your call to action button, so give them a reason to!
Track Your Progress and Make Improvements
Don't just set it and forget it!
You absolutely must make sure you're regularly monitoring your website's performance using analytics tools to see what's working and what's not. Make improvements as needed to ensure your site stays fresh and compelling.
And there we have it!
The best cleaning websites and how to go and create one yourself!
In conclusion, creating a successful cleaning service website takes a combination of clean design, clear service offerings, social proof, and easy-to-use web features. Keep these elements in mind as you build your site, and you'll be well on your way to cleaning up the competition. ]Good luck, and happy cleaning!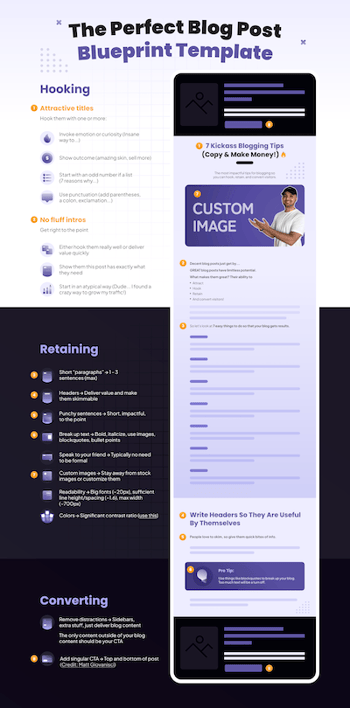 Craft the Perfect Blog Post That'll Convert Your Visitors
Download the FREE Perfect Blog Blueprint and know exactly how to hook, retain, and convert your visitors.
Download Blog Blueprint