11 Kickass Insurance Agent Websites: Make the Best Website!
Inspiring insurance agent websites and hacks to beat them.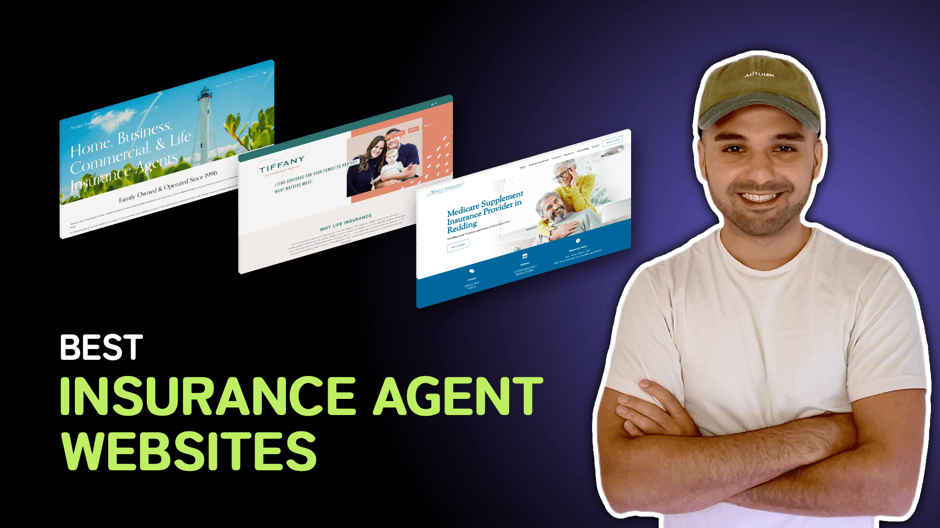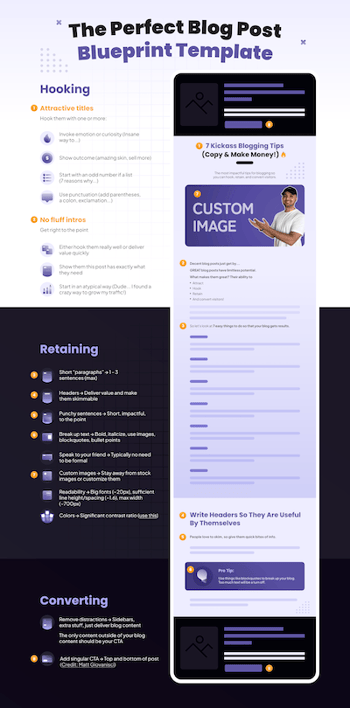 Craft the Perfect Blog Post That'll Convert Your Visitors
Download the FREE Perfect Blog Blueprint and know exactly how to hook, retain, and convert your visitors.
Download Blog Blueprint
Hey there, future web design genius! 🧠
Whether you're just starting out in the business world or you're in the process of overhauling and modernizing your online presence, every great, successful insurance agent needs a decent website.
After all, your website is where so many of your potential clients and target audience will first find you. They'll be looking through your pages, reading your content, getting information about your service, and will basically judging every part of you to see whether they want to work with you.
If your website doesn't highlight the value you have to offer or doesn't create an excellent first impression, they'll simply go elsewhere.
And, of course, we don't want that to happen. We want them to stay and use your insurance service, which means you need a good website that makes people interested in you and entices them to get in touch.
Spoilers, though, it'll take a little more than just a pretty website design.
If you're ready to create an amazing insurance agent website that'll blow your competition out of the water, well, you've come to the right place! 
Today, I'm sharing my ultimate guide to insurance agency websites, filled with inspiration from the best websites around, as well as tips and tricks to make your website a smashing success! 🚀
I've analyzed some of the best and most kickass insurance agent websites, highlighting their strengths and pointing out where they could improve. And to top it all off, I'm throwing in a complete guide on how to build a successful website! 
So, buckle up, and let's dive into the world of awesome insurance agent website examples! 🌊
Hack Alert! Start With One of My Fav Insurance Agent Website Templates
When you're trying to run your business, manage your pet insurance policies, trying to run an email marketing campaign, and grow your business alongside competitors like Haven Life, New York Life, and all the other small business owners in your local area, the chances are you don't have time to learn the skills necessary to build a website from scratch.
Fortunately, you don't have to.
All the other websites in your industry will use powerful templates to speed up their process and get fast results, whether they're using a website builder or otherwise.
Save time, get a high-quality website, and publish in a few hours when using a template. Just install the template, update the written content to suit your business, and you'll have the best insurance website possible in no time at all!
Not sure where to start?
Check out these stunning best insurance website templates and stop faffing around with building a website, and instead focus on the more important aspects of your building your business!
The Ultimate List of Insurance Agent Website Examples
The Ultimate Guide to Building the Best Insurance Agent Website In Town
Now that we've explored these kickass insurance agent websites, let's dive into the comprehensive guide on how to build your new website!
As you can see from the list of insurance agent website examples, the approach can vary dramatically in what they look like and how they operate. That's because there's no hard-and-fast way to design an insurance agency website that'll be successful.
The real trick is to figure how what your brand is like. What personality do you have? What kind of experience are you offering? Who are your ideal customers?
When you figure out these answers, then all you need to do is design insurance agency websites that fulfill their needs and expectations. It is that simple, but obviously, it'll take a little time and effort.
Fortunately, you can use the design elements below to take your answers and turn them into a viable insurance website design that gets results and converts visitors into paying customers. 
Work on Your Design
First impressions matter, and as a business owner, you want to make yours count.
Make sure your website's design is visually appealing, clean, and professional. Choose a color scheme that reflects your brand's personality and make use of high-quality images and visuals.
Remember, color can be used to make customers feel a certain way (a process known as the psychology of color. 
Green is nature. Red is passion or love (intense emotions). Blue is corporate and trustworthy. Yellow is warm and friendly. Orange is inviting and enthusiastic. And so on.
Choose your color and other design elements of your custom website wisely with the aim of connecting with your ideal customers effectively.
If you're using a website builder like Squarespace, managing your colors consistently across your website is easy and won't take more than a few clicks!
Allow for Easy Navigation
Your insurance agency website visitors will never waste their time trying to figure out how to find what they want on your website. If they can't find it easily, they'll just go elsewhere. 
Therefore, you need to make it easy for users to find what they want! 
Organize your content and services clearly and create an intuitive menu structure, and use drop-down menus for easy content access. You might even want to include a search bar.
The faster users can find the information they need, the more likely they are to stick around.
Upload Content
Ah yes, content. 
Content. Content. Content.
We hear about it all the time online these days, but for a good reason.
The content you post on your insurance website allows you to enjoy so many benefits, including;
Adding easy value to the lives of your potential customers
Boosting your SEO and search engine rankings
Becoming an authoritative business in the insurance industry
Looking professional in the eyes of others
And much more.
Therefore, you need to provide valuable, informative content that helps users understand your services and showcases your expertise. Break down complex topics into digestible pieces and consider adding a blog or resources section to provide additional value via helpful articles.
If your potential customers have a certain problem, use content to give them answers. With proper answers, they'll trust you as a reputable source of information. Thus, you can grow as a trustworthy and credible business,
Just make sure you're using correct information and valuable information at that, otherwise, it could push away a potential customer and actually have the opposite effect by harming your reputation.
Add a Personal Touch
Users want to connect with real people, not faceless brands or corporate insurance agencies. They want personal insurance agents that can allow for human-to-human relationships.
Include photos of yourself and your insurance agents (your team), and create an "About Us" section to share your story and your values. Even small changes, like changing the form fill default text, can act as a subtle change that makes a big difference.
Include Trust-Building Features
I keep speaking about trust, and that's because it's so important, especially when it comes to insurance agent businesses.
Build trust with target customers by including features like client testimonials, video content, and case studies. These elements help demonstrate your credibility and expertise. If you're a family-owned business or have been around for many years, don't be afraid to tell people this!
Highlight Your Calls-to-Action
Guide users to take the next step, whether it's requesting a quote, contacting you, or signing up for your newsletter. Use clear, concise calls to action throughout your site to improve conversion rates.
Improve Mobile Responsiveness
With more people browsing on their phones than ever, it's crucial to ensure your insurance agency website is mobile-friendly. Make sure your site looks great and functions smoothly on all devices.
Develop Your Search Engine Optimization (SEO)
Visibility is key!
A few examples of how to optimize your insurance website for search engines include;
Using relevant keywords
Creating high-quality content
Ensuring your site speed and the page loading speed is fast
Include meta descriptions in your content
This will help your site rank higher in search engines and results pages, attracting more organic traffic.
And don't forget, if you're trying to work with customers in your local area, then you'll need to work on your local SEO, such as claiming your Google My Business profile and including location-based keywords throughout your content.
Use Social Media Integration
Make it easy for users to find and follow you on social media. Include prominent links to your social media profiles on your website and consider integrating social media feeds for a more dynamic experience.
Having a well-designed website that allows for easy social media connections will help drive more traffic to your website and ultimately will help generate leads.
Install a Live Chat or Chatbot
Enhance the user experience by offering live chat or chatbot functionality. This allows users to ask questions and receive quick answers, creating a more interactive and engaging browsing experience. 
These are all the rage right now because people love being able to connect with businesses on their own times in their own time without having to wait, so make the most of it and see your conversions go through the roof!
Post Regular Updates
Keep your insurance agency website fresh and up-to-date by regularly adding new content, updating your services, and addressing any technical issues.
I personally recommend having dedicated services pages for all your insurance products, like a separate page for pet insurance, insurance terms, and so on, and then easy links, so people only have to read the information they're interested in.
This all shows users that you're an active and engaged professional, which helps build trust and credibility.
Monitor Your Analytics
Never make a random decision when it comes to improving your website. We live in the world of data, which means you can always see what works on your website, and what doesn't, by looking at the stats.
This means using analytics tools like Google Analytics to monitor the performance of your insurance website.
This is a great way to help you identify improvement areas and track your marketing efforts' effectiveness. Use the data to make informed decisions and continually refine your website strategy.
Summary
Now you're armed with these tips, tricks, and insights from the best insurance agent websites out there, you're ready to create your own kickass insurance website! 
Remember, a great insurance website combines eye-catching design, user-friendly navigation, informative content, and trust-building features. 
Keep refining and updating your site, and soon you'll have a thriving online presence that attracts clients and helps your business grow. 
So, go on and show the world what you've got! 🌐🚀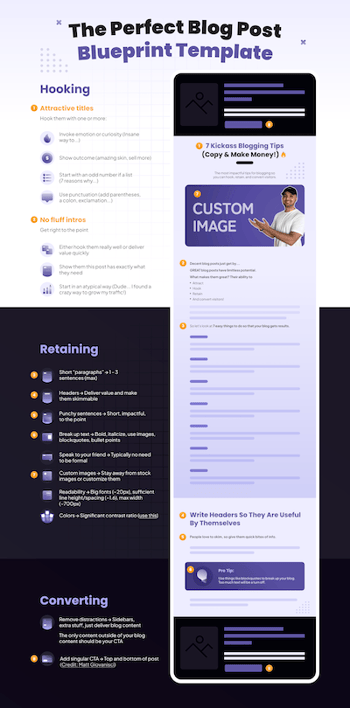 Craft the Perfect Blog Post That'll Convert Your Visitors
Download the FREE Perfect Blog Blueprint and know exactly how to hook, retain, and convert your visitors.
Download Blog Blueprint