15 Kickass Journalist Websites: Make the Best Website!
Inspiring journalist websites and hacks to beat them.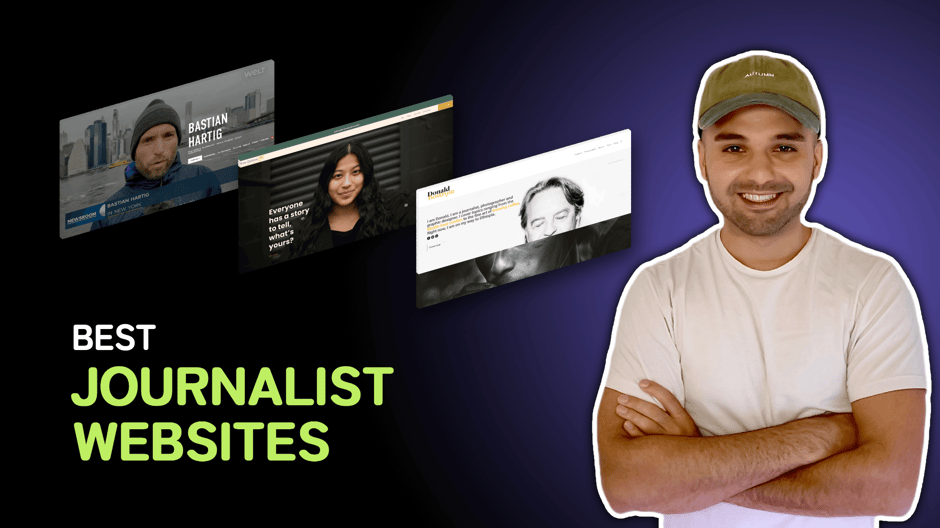 Let's get one thing straight – this guide of the best journalist websites isn't for just any "journalist."
We're talking about the real ones, not those click-hungry, divisive, truth-twisting hacks who use emotionally charged, biased content to prey on people's fears and vulnerabilities. If that's your cup of tea, do us all a favor and hit that back button faster than you can say "fake news." 
You're not welcome here.
But if you're one of the genuine truth-seekers, those dedicated and hardworking souls who believe in uncovering facts regardless of whether they align with your views, then this guide of journalist website examples is for you. Your work is vital to a well-informed society, and I want to help you build a freelance writer website that does justice to your journalistic prowess. 
So, if that sounds like you, let's dive into the nitty-gritty of creating a kickass journalist website that'll have people saying, "Now, this is what investigative journalism is all about!"
You can create a journalist website for two reasons:
A. You have a place to post your own news articles as a freelance writer
B. You're highlighting your experience as a journalist and freelance writer
Whichever represents you, your freelance writing website will need to be designed around this goal, but that's easier said than done. What does your own website need to look like? Will it look professional? What sort of features and tools do you need? 
That's why I'm here today. This complete guide is full of kickass journalist websites that you can use as some damn good inspiration when building your own.
Get ready to dive into the awesomeness and discover what makes these writer websites shine, as well as what could use a little more TLC. 
Stick around till the end because I'll be dropping a banging guide to help you build the ultimate journalist and freelance writer website around. 
Let's roll on and dive into the best journalist website examples!
Hack Alert! Start With One of My Fav Journalist Website Templates
Hold on, just one minute. ✋
If you're thinking of building your freelance writer website from scratch from a blank page, you need to consider how long this is going to take and what the final result is going to be. Do you know what your website will look like and what makes a good website tick?
At the end of the day, people spend thousands on the services of professional web designer services for a reason. It's much more complicated than it may first seem, even when you're using a professional website builder service like Squarespace.
Fortunately, you can fast-track yourself to a high-quality, fully-functioning website when using a template.
Fully optimized. Mobile-ready. All the text and image content are ready to replace with your own. It's really that simple, and you could have a functional website in literally under an hour.
Not sure where to get started?
Check out my favorite templates that give your freelancing writing and journalist website everything you need and more.
The Ultimate Guide to Building a Kickass Journalist Website
Alright, now we've covered the best journalist websites around, it's time to buckle up once again as we dive into the web developer's guide to building the ultimate journalist website. You've seen the good, the bad, and the ugly from our list of websites – now it's time to take all that knowledge and put it to work on your own.
Let's dive in.
Keep It Clean
Oh yes - the testament of a professional website. Nobody likes spending time on a messy, cluttered website, and your visitors are the same. I can't begin to tell you how many websites I've been on, and the first thing I want to do is just get off it again due to poor formatting, horrible fonts, and a cluttered design.
As a rule of thumb - whitespace is your friend. Or whatever color you choose to use (remember the psychology of color), a clean, uncluttered design helps your visitors focus on your content and makes your site look more professional. 
But don't go overboard – balance whitespace with engaging visuals and design elements. Be zen.
Make It Personal
Your website is an extension of you, so don't be afraid to let your personality shine through. 
Yes, as a journalist, you should focus on the story and highlight the truth. Your ego is what will make it all about you, but that doesn't mean you can't do this in your own way. After all, you want people to trust you, and for that to happen, they need to connect with you.
Add personal touches like an engaging "About Me" section, a captivating personal story, or even some fun design elements that reflect your writing style. Drip your personality into your website's copywriting and online portfolio, or add a quote here and there.
Usability is Key
This is just a general website function consideration that you absolutely need to be thinking about.
Your visitors should be able to find what they're looking for quickly and easily. Opt for intuitive navigation, clear headings, and a well-organized content structure.
And don't forget about mobile optimization – your site should look and function just as well on a smartphone as it does on a desktop.
Show Off Your Skills
Your website is your online portfolio, so make sure you showcase your best work in a visually appealing and organized way.
And that's really the best way to think of it. As freelance writers, this is your space dedicated to you, so don't be afraid to make it your own and talk about yourself. That's what people are there for.
That being said, people are also coming for the value you have to offer through your writing and your writing portfolio, so find a nice balance and create a unique experience that people actually want to be a part of.
Highlight your content writing, photography, video, writing services, or multimedia projects, and make it easy for visitors to explore your writing website content.
Dare to Be Different
A unique and creative writers design can set you apart from the competition and leave a lasting impression on your visitors. However, don't sacrifice usability for creativity – make sure your site remains user-friendly and easy to navigate.
Optimize Load Times
Nobody likes waiting for a slow website to load. AND I MEAN NOBODY!
Optimize your images, videos, and other media to ensure your site loads quickly and smoothly. This not only improves the user experience but can also boost your search engine rankings.
Be Social
Integrate your social media profiles and make it easy for visitors to share your content. This not only increases your online presence but also helps you network with other journalists and potential clients.
Keep It Fresh
Regularly update your website with new content, whether it's blog writing, journalism portfolio pieces, or news about your latest projects. This keeps your site looking fresh and relevant and encourages visitors to come back for more.
This is especially true if you highlight your blog post collection with their upload dates showing. If people come and see you haven't posted in two years, they'll think you're not active and will go elsewhere.
Call to Action
Think about the sort of people who are coming to your website and why they're doing that. Are they fans looking to get in touch or see what you're up to? Are they potential clients looking to give you a job?
Are they web developers looking to break down the design of your website to see what works and what doesn't? 
Whoever your visitors are, bear them in mind and encourage them to take action using a CTA. This could be any form of a call to action, from a contact page or a follow on social media to contacting an email address or calling your mobile. 
Basically, just make sure visitors can easily get in touch with you for potential collaborations, freelance work, or just to say hello.
Consistency is Crucial
You've got to make sure you maintain a consistent design across your entire writing website, including fonts, colors, and overall style. This not only makes your site look more professional but also helps reinforce your personal brand.
Keep an Eye on Analytics
Regularly check your writing portfolio website analytics to see which pages are most popular, where your visitors are coming from, and how long they spend on your site. Use this data to optimize your content and improve your website's overall performance.
Never try and make guesses as to how you can make your writer website better! Why would you? Data exists to tell you precisely what you need to do, and to ignore it is to simply make guesses that are founded on, let's be honest, not a whole lot!
Make It Accessible
Ensure your website is accessible to all users, including those with disabilities. Follow web accessibility guidelines, such as using alt text for images, providing video transcripts, and ensuring your site can be easily navigated with a keyboard.
Learn from Others
Stay updated on the latest web design trends and best practices, and don't be afraid to take inspiration from other successful freelance writer websites. Keep refining and improving your site to make it the best it can be.
Now you've got the tips and tricks to build an absolutely kickass journalist website that'll have your visitors saying, "Damn, this is amazing!"
It's time to take all this knowledge, channel your inner web design guru, and create the ultimate online portfolio that showcases your incredible work and unique style. So, go on, show the world what you've got!