9 Kickass Notary Websites: Make the Best Notary Site!
Discover the best notary websites from successful notaries and get inspired to create your own online success story. Let's get started.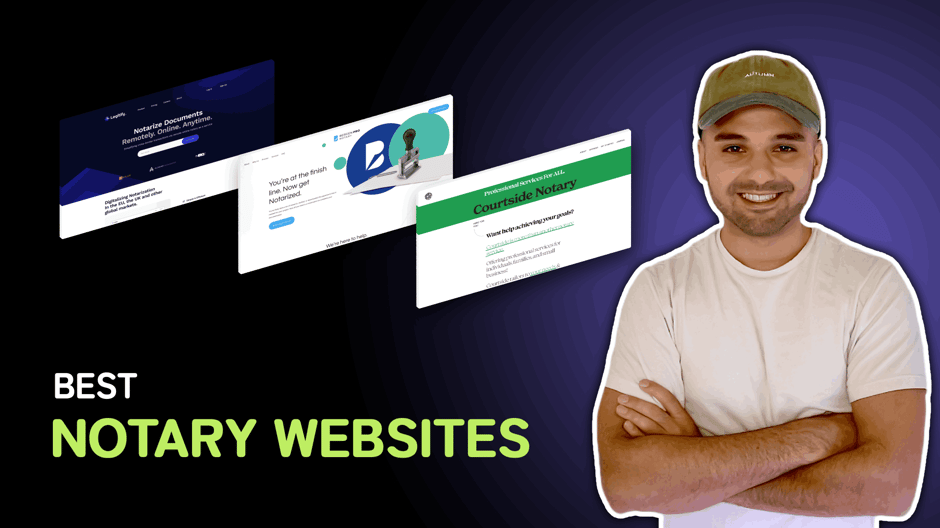 We are going to dive into the world of the best notary websites!
I know, I know, this might sound a little boring to some, but when a notary is your profession, building your new website is exciting!
However, having any old kind of website is not enough.
To truly succeed online, notaries need to have a website that is well-designed, user-friendly, and optimized for search engines.
While a good design is certainly important, it's only one piece of the puzzle when creating a successful notary website.
In this guide, I'll take you on a journey looking closer at the best notary websites out there, breaking down the different aspects of what makes them great and what could be improved upon.
I'll also chuck in some tips and tricks for building your own notary website so that you can make the best use of your online presence.
WAIT 💥 Make Your Life Easy With a Template!
When you're building your notary website, starting with a template will get you up and running and looking great very quickly.
Squarespace is an awesome platform that makes it super easy to create your website!
So I gathered a few free templates that would be great your notary site!
Note: The templates are completely customizable – it's not like if you choose one you're locked into that style. They're just very handy in getting going fast (while looking great).
The Best Notary Website Examples to Inspire You!
How to Build the Best Notary Website Possible
Okay, now that we've taken a closer look at some of the best notary websites out there, let's talk about how you can build your website to stand out and succeed online. Here are some tips and tricks to help you create the best notary website possible:
Build Your Notary Site on Squarespace
It's a solid platform for people who don't build websites as their job (meaning it's beginner friendly). And heck, even pros use it too.
Identify Your Target Audience
Before you start building your notary website, take a hot minute to identify your target audience.
Who are you trying to reach? What services are they looking for? Are they looking for a rush mobile notary or a fully remote online notary?
By understanding your audience, you can create a notary website that speaks directly to their needs and interests.
Choose the Right Template
Squarespace has a notary website template to suit you, you just need to take your time to choose the right one.
Of course, there are plenty of perfect design templates out there for all industries, so have a flick through and see which one speaks to you. The great thing about Squarespace is that all the templates can be edited as you please using the page builder.
So find yourself a web design with its own unique features and layout and make it your own.
When selecting a notary website template, don't forget to consider your branding and the message you want to convey. Make sure the notary website template you choose is professional, easy to navigate, and visually appealing.
Personalize Your Notary Website
You need to personalize your notary website to stand out from the competition.
Include high-quality images that showcase your different services (custom photos work best, but a stock image or two could work well, to begin with), and write personalized content that tells your story as well as highlights your unique skills and experience.
Remember, visitors are coming to your notary website because they're looking for value, so give it to them in a way that represents you.
The best notary websites do this through confident copy that showcases your unique selling point and different services.
Optimize for the Search Engines
You'll never get any business if your target audience doesn't find your website. So, get in front of your customers by optimizing your website for the search engines. When Google knows you're a decent notary website, they'll put you at the top of the search results pages.
At least, that's the goal.
Now, I could write an entire website just on how to improve your website for SEO, and we'd be here all day, so here are some quickfire tips to help:
Use relevant keywords throughout your website, including location data for where you operate
Create high-quality content answering common questions about your industry
Use an optimized notary website template that allows for fast loading times
Ensure your notary website is mobile-optimized
Use descriptive page titles and meta descriptions
All the best notary websites do one thing well – make sure their visitors' experience is the best it can be.
If your notary website design is clean and easy to use, visitors will stay on your website for longer, and you'll rank higher!
Make it Mobile-Friendly
I touched on this already, but it's so important that it needs to be spoken about properly.
In today's mobile-first world, it's essential that your notary website design is mobile-friendly. More than half of the internet's traffic now comes through a mobile device, meaning people will likely visit your website on one.
Squarespace templates are designed to be responsive, meaning they automatically adjust to fit any device's screen size. However, testing your website on different devices is still important to ensure it looks and functions correctly.
Include Clear Calls-to-Action
To encourage potential clients to take action, you need to include clear calls to action buttons throughout your website.
This could be a "Contact Me" button, a form to request a quote, or a link to your scheduling system.
Make it easy for clients to get in touch with you and book your services. If they have to hunt through your notary website design to find what they're looking for, they simply won't bother and will go elsewhere.
Display Testimonials and Credentials
Display testimonials from satisfied customers and highlight your credentials and experience. That's so important for building trust and credibility with new clients.
After all, you'd never buy an Amazon product with no reviews, so the same applies to notary services. Showcasing that people have worked with you before and are happy about it will help clients feel confident in your abilities and much more likely to book your services.
Summary
And there we have it!
As you can see, building a successful notary website requires more than just a good design.
By personalizing your website, optimizing it for search engines, and including clear call-to-action, you can create a website that stands out and helps you succeed online.
By taking inspiration from the websites we've highlighted and implementing these tips and tricks, you can create a website that sets you apart from the competition and helps you grow your notary business.
Good luck, and hopefully I'll be adding your website to this list soon!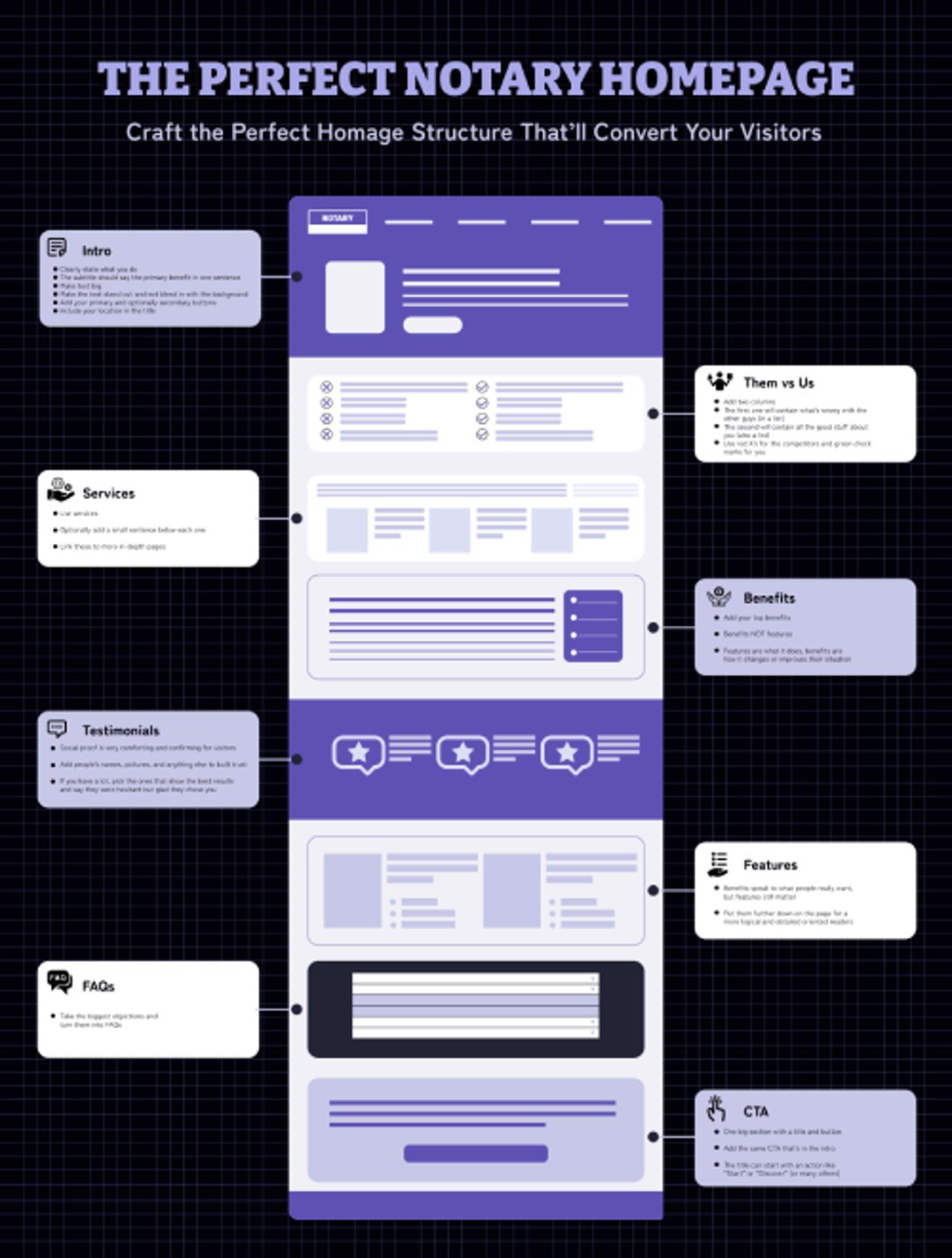 Craft the Perfect Notary Homepage Structure That'll Convert Your Visitors
Download this notary homepage cheat sheet and know exactly which sections to add in what order to increase your rank, leads, and clients.
Get the Free Cheat Sheet