Shopify Pet Stores: Best 11 Websites and 4 Shopify Themes
Inspiring pet websites built on Shopify and eye-catching Shopify pet store themes.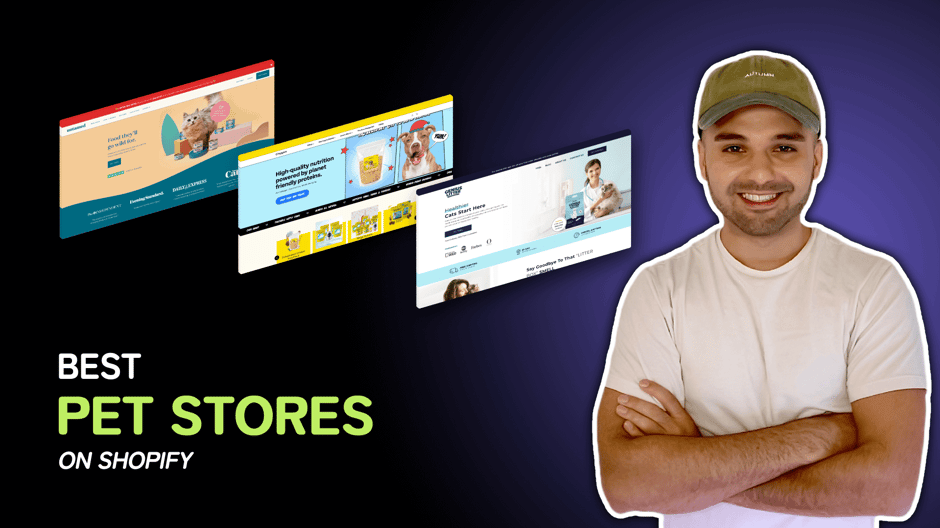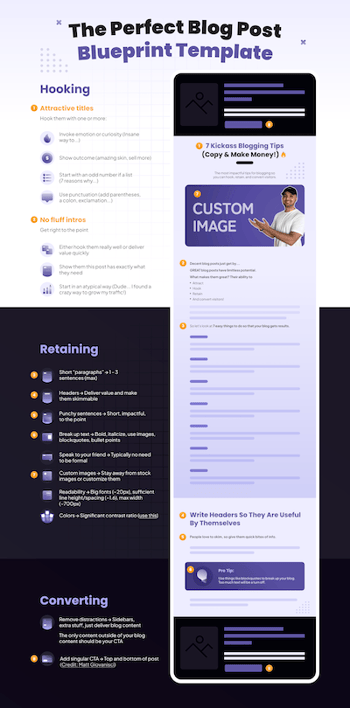 Craft the Perfect Blog Post That'll Convert Your Visitors
Download the FREE Perfect Blog Blueprint and know exactly how to hook, retain, and convert your visitors.
Download Blog Blueprint
So, you're building your own pet store using Shopify?
Congrats, you're onto something great!
Pet stores are incredibly fun to build and manage – they offer a unique opportunity to be creative with your business while also getting the chance to work with some of the most adorable creatures around. But before diving in headfirst, it's crucial to ensure you have all the right elements in place to ensure your Shopify pet store is successful.
And no, I'm not just talking about visual design!
There's no doubt you want a website and store that looks beautiful, amazing, and fits your brand, but a few more important factors go into making a successful online store.
I'm talking about things like:
Consistency in your branding
The use of custom imagery
How easy your website is to navigate
How valuable and sharp your copywriting is
How attractive your Calls to Action are
And so much more.
But don't worry, I'm going to make this easy.
To get you going right off the bat, we're diving into four of the best Shopify themes to get you and your pet store started. Then, to really get those creative juices flowing and give you some serious inspiration, I'm going to walk you through eleven of the best pet stores that are powered by Shopify.
Ready? 
Let's go!
🔥 Sweet Pricing Deal!
Hey, quick note!
If you haven't signed up for Shopify yet, they're running an EPIC deal.
👉 Click here to pay only $1 a month 👈
WAIT! 4 Eye-Catching Shopify Pet Store Themes to Boost Your Sales
Building your own website from the ground up can be hard work, and it can use up so many resources that could be spent on building other areas of your business. Using a professionally designed Shopify theme can save you time and get you fast results when it comes to making sales on your Shopify pet store.
With thousands of installations and over a decade of design experience, Boost is one of the best Shopify pet store themes from the Clean Canvas team. This pet store Shopify theme is built to handle any product and is incredibly customizable. And best of all, it comes with its own set of pet store-specific features that make running your business a breeze.
Some of the features include:
Designed for high-volume stores with lots of products
Easy design customization through the use of custom blocks and sections
Full optimization for speedy loading times and conversions
Dedicated tools for interacting with customers and sharing their stories
Get started with the Boost Shopify theme here!
Designed specifically with pet stores in mind, Minion is the perfect responsive Shopify theme for any animal lover looking to set up a pet supplies store. Not only is it incredibly easy to use, but it also offers a range of features that are tailored perfectly for pet-related businesses.
Some of the features include:
Easy customization of colors, fonts, and images
Integrated video backgrounds for product pages
Advanced options for sorting products by pet type
Dedicated tools for interacting with customers and sharing their stories
Check out the Minion premium Shopify theme here!
No matter the size of your pet store, Paper is a feature-rich, pet-orientated store theme that can handle it all. It's designed to be incredibly intuitive and user-friendly so that anyone can get their store up and running quickly and easily.
Some of the features of these Shopify pet store themes include:
A premium design curated with conversions in mind
Advanced options for sorting products by pet type
Full page optimization for the best user experience
Responsive design that looks amazing on any device
Try out the Paper pet store Shopify theme here!
If you're looking for free Shopify pet store themes to get started, then Shopify's own Taste theme could be perfect. The theme is a barebones but highly functional approach to setting up a store and is the perfect place to start for any pet business.
Some of the features include:
Clean design with lots of room for customization
Responsive design that looks amazing on any device
Full page optimization for speedy loading times and conversions
Easily customizable product pages with detailed descriptions and photos.
Explore the Taste Shopify theme here!
Feeling excited to design and build your own store? Let's dive into some of the best pet Shopify stores and Shopify pet store themes around, and let's get those creative juices flowin'!
The Ultimate List of Online Pet Shop Websites Built on Shopify
Tips for Creating the Best Shopify Pet Store Possible
Designing a good-looking, functional, success-bringing Shopify pet store doesn't have to break your brain. Instead, focus on a few key areas that will make your website stand out from the rest.
#1 - Pick the Right Shopify Theme
Choose a Shopify theme that fits with your brand and message, and don't be afraid to get creative with it. Plenty of themes out there will help you quickly and easily create a fantastic-looking website.
#2 - Optimize for Mobile
Your website should look just as good on mobile devices as it does on desktop. Investing in a responsive theme will help ensure your website looks great across all device sizes.
#3 - Have clear CTAs throughout the website
This will help guide customers to where they need to go and take action. Clear CTAs also help make it easier for customers to find out more information and ensure they don't get lost on the website.
#4 - Use fantastic imagery
It doesn't matter if you have the perfect theme – if your images aren't spot on, your pet shop website won't work.
Quality photos and illustrations can really bring your website to life. Make sure your images are high-quality and relevant to what you're selling but don't just settle for standard stock photos. Custom imagery will always work best, especially when discussing pictures and icons for your text snippets.
#5 - Use a catchy tagline
An eye-catching, memorable tagline that expresses the core of what you're doing will help potential customers understand your business and why they should choose it over other pet stores.
Hopefully, this guide has inspired anyone looking to build their own pet-themed Shopify store.
With the right design, an attractive pets shop design template or Shopify theme, some creative thinking, and a few of these tips, you'll be sure to have your customers swooning over your adorable website in no time!
That's all from me today, so good luck building your Shopify store, and I wish you all the best in your ecommerce adventures!
Happy Pet Storing! 😸🐶
FAQs
How many Shopify pet store websites are there?
At the time of writing, the official stats say there are over 37,800 pet stores in the Pets and Animals category, but don't let this put you off making your mark on the pet industry.
Many online pet shop websites will cater to local areas and may not even be in operation anymore. Many will sell pet food, while others will sell beds, accessories, pet toys, and other pet supplies.
There's always room to grow and for new pet industry businesses to come and take the top spot. Customers always look for valuable pet supplies that better their lives, so offer them to them!
Build, and they will come!
What can I sell on my Shopify pet store?
Whatever you like, in theory, although selling actual animals is debatable and illegal in many countries and states.
However, you can sell everything related to animal companions. For example, your pet supplies store could sell pet products like:
Pet foods & pet supplies
Specialist dog food
Pet sitter services
Your own pet store themes!
Pet ownership gifts, like customized bowls and so on
Pet toys
What's the best target market for online pet supply stores?
Pet owners, duh.
But no, seriously, typical shoppers tend to be between 20 and 65, although younger generations tend to buy more accessories. However, it's a good idea to narrow your marketing down to a few audiences, like young people, those looking for high-quality ingredients, older generations, and so on.
Be targeted with your branding to really appeal to those you want to sell to.
Why make my store on Shopify?
Because it's easy and gives you all the features you need to succeed.
Seriously. That's it.
You could use a platform like WordPress to build your website, but it's long, complicated, expensive, and probably a waste of time, even if you know what you're doing.
Shopify is designed to give you everything you need in one easy package. There are tons of benefits, including:
Shopify can handle as many products, pet accessories, and pet-related items as you want
There are plenty of Shopify pet store themes to choose from
The platform is designed to be SEO-friendly
Many customizable options, like Google web fonts and premium Shopify themes, are supported.
The platform can handle as many customers as you can
Everything on your pet shop can be adjusted using the simple Shopify builder and a drag-and-drop editor
The list goes on.
What makes a good Shopify website?
Many features go into making an excellent online store that sells pet food, pet supplies, and other pet accessories. Too many to list everything, so it will take some trial and error to really nail everything, but here's a quick list to send you in the right direction:
Get yourself a good-looking Shopify theme that makes your pet shop look professional
Ensure you upload SEO-optimized content that ranks well
Include standard ecommerce features, like secure payment options and shipping information
Make sure the on-site navigation of your pet shop is easily accessible
Your store must have a fast loading speed, detailed documentation of privacy info, and have a responsive theme, so it loads well on a mobile device.
Your copywriting and written content must be spot-on to grab customers' attention and make them want to know more about what you've got to offer!
Your content must also be SEO-optimized!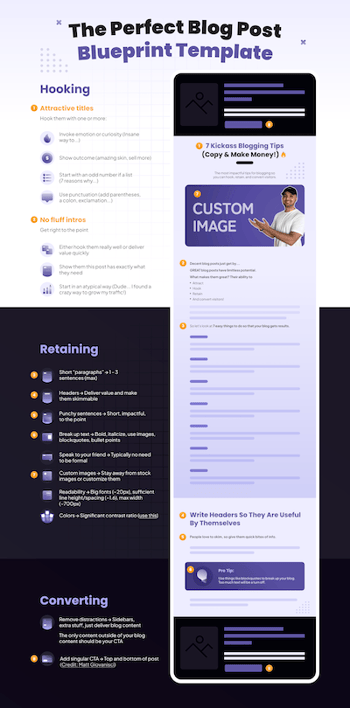 Craft the Perfect Blog Post That'll Convert Your Visitors
Download the FREE Perfect Blog Blueprint and know exactly how to hook, retain, and convert your visitors.
Download Blog Blueprint