25 Stunning Squarespace Tattoo Websites for Design Inspiration
If you're in the market for a new website and are looking for some design inspiration, look no further! These stunning Squarespace tattoo websites will show you what's possible.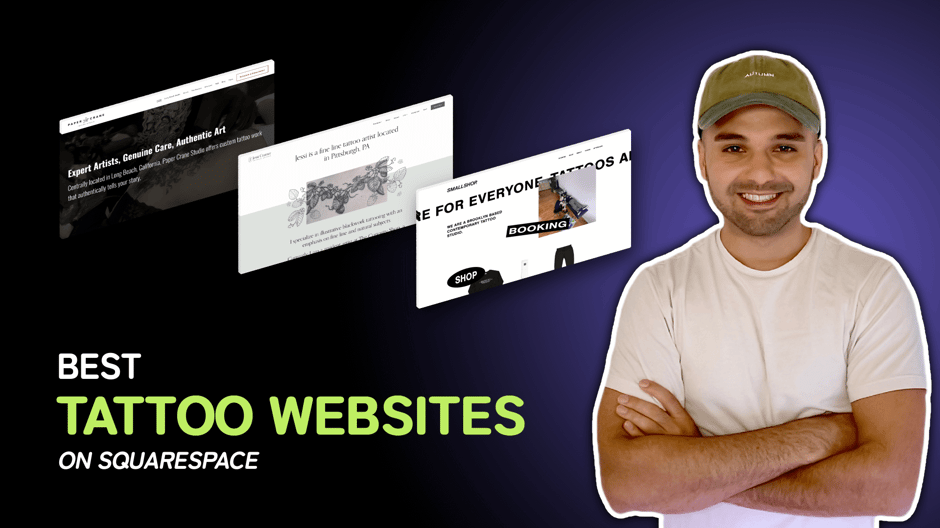 I know you're here looking for some design inspiration to help you build your own Squarespace tattoo website.
BUT WAIT.
While your website's design is undoubtedly a massive part of the website-building process, it's not the ONLY thing you need to be thinking about.
Below, you're going to dive deep with me into the very best Squarespace tattoo website examples, breaking down what makes them good, what makes them not so good, and, most importantly, what you need to consider putting into your own website to make it successful.
I'm covering all the bases today, so grab your notebook, take a deep breath, and let's dive in the best Squarespace tattoo website examples to get inspired by!
Hack Alert! Start With One of My Fav Tattoo Squarespace Templates
These are four of my favorite Squarespace templates for tattoo websites!
The Ultimate List of the Best Squarespace Tattoo Websites
Is Squarespace the right platform to build your tattoo website?
While it's evident you can build stunning websites on Squarespace, you may still be wondering whether this is the best platform for you.
When it comes to building a tattoo website, especially if you're doing it yourself, you don't want or need anything that's overcomplicated. You just need a place to show off your visuals, provide the relevant information to educate your potential customers and rank on Google, and allow for bookings, queries, and appointment scheduling.
Squarespace can do this all right out of the box, and when you're using high-quality templates, it's achievable in next-to-no time at all.
Sure, you can look into other platforms like Wix, and while they have come a long way over the last few years, it still feels very primitive compared with the experience Squarespace offers.
On the other hand, platforms like WordPress can feel attractive with all the themes and plugins they offer, but just because this is a popular platform, that doesn't mean you'll get a quality experience.
More often than not, even if you know what you're doing when it comes to using WordPress and CSS coding, you can end up investing so much time into your website and still not have a site that has anywhere near the quality or functionality that even a basic Squarespace website has.
You're going to love Squarespace's quality, features, and ease of use!
Tips for Building the Best Tattoo Website on Squarespace
Tattoos are all about imagery, meaning your work should sell itself, and you don't need much text to say how good you are. People will see your work and judge whether they want to book with you accordingly, so ensure you're giving them a clear idea of what you or your studio is capable of.
This is why black-and-white imagery and pastel colors are also used. A flashy website is far too distracting for a site where you're supposed to be highlighting imagery. You don't want the website distracting from your work, so keep things plain and muted to keep your photos vibrant.
Also, make sure you include local SEO.
SEO (Search Engine Optimization) is basically the process where you optimize your website to rank highly on the search engine results page. Basically, when someone searches for something, you want your website to be at the top of the results page.
Let's be honest, who goes to Google page two these days?
However, if you're selling tattoo services, you're not selling products around the world, but rather you want people in your area to come to you, so you want to make it clear where you are and how people can get to you.
This means you want to rank your website highly for people who are in your local area, hence the term 'local SEO'.
This means using keywords to tell Google that you're operating in whatever city or state you're in, and that you want to rank on these services as much as possible. You'll want to use keywords like 'Arizona tattoos', or 'tattoo services in Arizona' to make this happens!
In short, just be sure to include location keywords throughout the text you use.
Finally, make sure you build your credibility and reputation through your website.
Put yourself in the shoes of your potential customers for a moment and imagine you're trying to book an appointment. What are you looking for?
You're looking for tattoo studios that have good reviews and testimonials from happy customers. Customers that have taken the plunge and had a good time, therefore reducing any reservations they may have.
This is why you need to include a review and testimonial section on the homepage of your website (always avoid a 'reviews' page because it ends up just being a big wall of text that nobody wants to read), and if you have media mentions or awards, include them and link to them!
Not only does this further your reputation, but linking these external, reputable sources, will also help build your SEO!
Bonus tip: Thanks to the wonders of the internet, you can now get custom domain endings. Instead of the standard .com or .net, you get something more creative, like .studio, .tattoo, or .art, that can help your domain stand out from the crowd!
Buy your domain on Squarespace and happy tattoo website building!