7 Kickass Squarespace Wedding Websites (+ 3 Templates)
Planning a wedding is hard enough, so why not use a website builder that takes the hassle out of it all? Check out these amazing Squarespace wedding websites.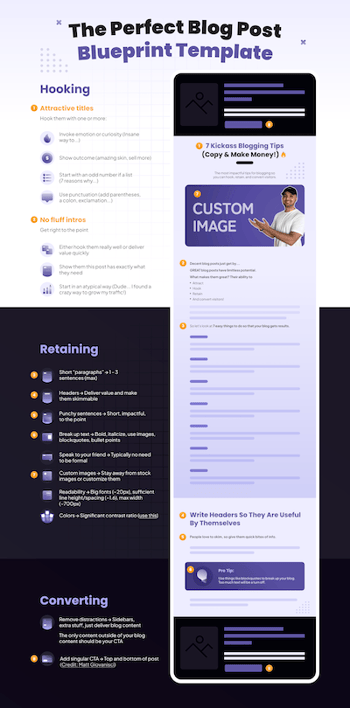 Craft the Perfect Blog Post That'll Convert Your Visitors
Download the FREE Perfect Blog Blueprint and know exactly how to hook, retain, and convert your visitors.
Download Blog Blueprint
I want to help you create a stunning Squarespace wedding website to send to your family and friends.
I'll do this by showing you the BEST Squarespace wedding websites and by breaking them down pointing out what makes them so good.
If you look at some of the best examples of Squarespace wedding websites out there, you'll find that they're not only visually appealing but also showcase all of the crucial details in an organized and succinct way.
Let's take a look at some of the best Squarespace wedding website examples, as well as three wedding templates you can use to get started on your own.
OH! And congrats on the engagement!
My 3 Favorite Squarespace Wedding Website Templates to Make the Best Site
Hold up. ✋ Were you about to start building your Squarespace wedding website from scratch?
Planning and organizing a wedding is hard enough without having to construct a website at the same time. Instead, make your life a little easier, save time, and get an even better website at the end of it all by using one of these fantastic wedding website templates.
Here are my three favorites! 😁
Squarespace Template 1: Soria
This wedding website template is one you'll see a lot in this list of examples and is a great way to create a beautiful wedding website without the hassle. Featuring large images, all the necessary pages, and some beautifully personal features, this is the quickest way to get a stunning website up and running.
Squarespace Template 2: Malcolm
If you're looking for a more edgy approach, the Malcolm fluid wedding website template is for you. I'm a big fan of the simplicity of this template, and it seriously doesn't lack features. There's literally everything you need here to create a fully functional wedding website and a ton of customization options so you can make the online space your own!
Squarespace Template 3: Rey
Rey is a tear-worthy wedding website template that focuses on love, compassion, and a beautiful aesthetic. There are all the basic features, including location info and an RSVP form, plus you can add as many or as few pages as you want with the click of a button. Great if you add your engagement story, your gift registry, or info on your wedding venue and wedding party location!
Whichever wedding website template you choose is up to you and how you want your space to be. The most important thing is recognizing that they'll save you so much time and effort. This will give you more time to focus on the more significant parts of your upcoming wedding!
Now, on to the list! 🚀
The Ultimate List of Wedding Websites Built on Squarespace
How to build the best Squarespace wedding website you possibly can!
So, now that you've seen some great examples of Squarespace wedding websites, it's time to get your own started!
The key here is to be organized. Get all the information for your website ready and keep it on hand - from the date and location right down to the registry links. This will make creating your website much easier.
Then, when it comes to design, pick a theme and color scheme that you love and make sure it matches the aesthetic of your wedding. Consider including plugins like Google Maps or a timeline to help keep guests informed and excited!
Also, personalize it as much as possible with special messages, heartfelt stories, and intimate photos/videos. It's obviously vital to include all the important details, but make it fun and exciting!
Make it your own website (and maybe you'll land on the list of the best Squarespace website examples)!
Remember, this isn't a business website where you're trying to sell an eBook or something. It's an online space that only your friends, family members, and loved ones will engage with, so don't be afraid to speak directly to them and use photo galleries to really bring the site to life!
This will really make your guests feel like they are part of the wedding day.
Finally, have fun with it!
I can't stress this enough, but wedding planning can be stressful enough as it is! Having fun with your Squarespace wedding website and finding ways of putting your personality on the page is way more fun than trying to create a wedding website or one with all the bells and whistles.
If you're a messy, kinda crazy couple, then your wedding website should reflect that because that's who you are. You don't need to try to be someone you're not.
At the end of the day, your guests will appreciate a wedding website built with love. A place for them to feel connected that makes them smile and laugh and remember why they are excited to come along on your big day.
And that's it! Everything you need to know when it comes to building a Squarespace wedding website for your big day!
Have fun and make it your own!
Good luck and happy planning! 😁
FAQs
What is the best wedding website template?
The best kind of wedding templates are the ones that suit you. While it's worth taking your time to see what's out there, it's easy to fall into the trap of only trying to find the absolute perfect one. Instead, find a basic one that ticks most of your boxes, and then completely customize it to what you want it to be!
Remember, Squarespace is a beginner-friendly platform with a ton of online support, so don't be afraid to get creative!
What makes the best wedding websites so good?
The best thing to think about during your wedding website design journey is to put your guests at the heart of everything you build. After all, they're coming to your website to get in the know.
Therefore, make sure the website's layout is nice and easy to navigate, there's an RSVP page (this is the modern way to do invitations), and include as much wedding information as your guests need to know.
This includes:
The date and time of the wedding
The venue and directional information
Couple's photos for a personal touch
Info on the wedding schedule
Informational pages about the gifts
A good website will also have a decent mobile or tablet view, meaning the site is mobile responsive. Many people will look at your site from their smartphone, so you want to ensure everything looks nice and clean on all devices. Fortunately, Squarespace's websites make this easy with their view assistant at the top of the screen!
How can I make my wedding website personal?
The easiest way to do this is to include personal notes. This could be in the form of beautiful galleries or an image slider that show off your love story via a photo gallery. You could include text quotes and jokes that you wrote yourself. You could write and post a personal message to all your loved ones.
Whatever feels good for you is usually best. Just don't be afraid to be yourselves! This is your special day!
What features can I add to my wedding website?
There are many tools and plugins out there that can help you take your wedding website to the next level. For example, a Google Maps embed with preset directions (like these guys) can really help make it easy for everyone to know where they're going for hotels, venues, and churches.
You might even want to include a timeline plugin (this one is my favorite) as you can lay out what is happening when and ensure everyone is in the know when the big day arrives. An RSVP button is always a good idea, as is a photo gallery to let people share photos of the big day after it's happened.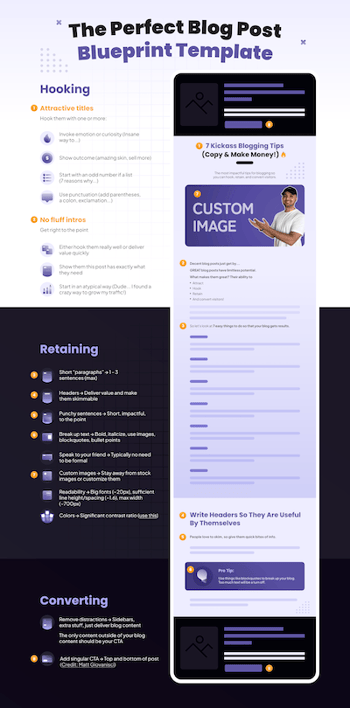 Craft the Perfect Blog Post That'll Convert Your Visitors
Download the FREE Perfect Blog Blueprint and know exactly how to hook, retain, and convert your visitors.
Download Blog Blueprint