12 Kickass Virtual Assistant Websites: Boost Clients!
Best and most kickass virtual assistant websites to inspire you to create a website that rocks!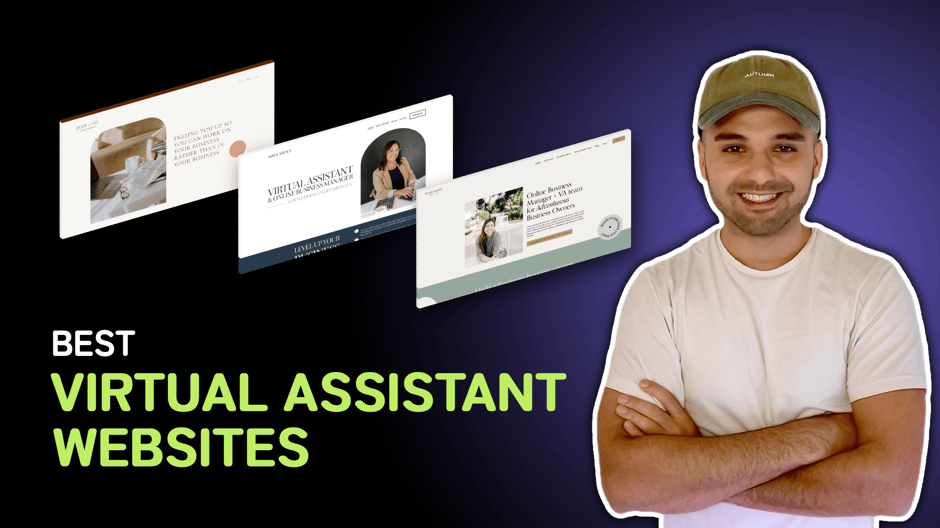 I recently hired a virtual assistant.
And 99% of their sites turned me off.
So in this post, I've gathered a the best virtual assistant websites (the 1%).
But I didn't just find pretty-looking virtual assistant websites.
Oh no.
In fact, ugly websites convert. If you have:
The exact services/software's your visitor is looking for help on
Experience, with social proof to back it up
Great communication (technically this is after the website, but it counts for something)
Great copywriting – speak to the concerns and desires
And much more that we'll get into!
You've got to have a website that's easy to use, informative, and stands out from the crowd.
That's why I've rounded up some of the best and most kickass virtual assistant websites to inspire you to create a website that rocks!
Not only that, I've included my guide that details all the tricks and tips you need to know to produce the best site that ticks all the boxes. 
From professional and polished to fun and quirky designs, we've got it all. 
So sit back, grab a cup of coffee, and get ready to be inspired by some seriously cool websites. Let's do this!
Hack Alert! Start With One of My Fav Virtual Assistant Website Templates
Hold up ✋
If you get one takeaway from this guide, let it be this:
Start with a template on Squarespace.
Instead of building your website from scratch and struggling to piece everything together and have it functional and looking nice, use a template to save time and guarantee better results.
When you use a Squarespace template, you get to enjoy all the benefits of a ready-made design and platform that makes your life way easier.
To get you started, here are some of the best virtual assistant templates you need to see!
So, whether you provide simple call and email marketing services, help book appointments, or can offer more specialist skills, like digital marketing services, graphic design, social media management, or even website designer services, these are the best virtual assistant websites around you need to know about!
The Ultimate List of Virtual Assistant Websites You Need to See
How to Build the Best Virtual Assistant Website
Okay, what an adventure! 
But the fun's not over yet – now we've taken a look at some of the best virtual assistant websites around, so let's dive into how you yourself can build the best virtual assistant website possible. 
I don't want to take up too much of your time, so here are some quick fire tips and tricks to get the best results:
Define your niche: Most experienced virtual assistants will operate within a niche. As mentioned above, a wedding assistant requires different skills than a business assistant. Make this niche clear on your website, so you attract the appropriate target market and ensure your website resonates with potential clients.
Showcase your virtual assistant services: Visitors are coming to your website looking for someone who can do the jobs they want completing. Therefore, your website should clearly communicate your services and how you help potential clients.
Think about how you outsource tasks and what your services are, including:
Social media management or social media marketing
Digital marketing
Answering calls and emails
Travel planning
Content writing and content marketing
Email marketing
Event planning
These are all services that a support team like yours might offer and the services a business needs, so ensure your prospects are aware of this. Whichever business or marketing administration they see that offers all the key features they need is who they'll typically go for, so make sure it's you!
Do this by using a combination of text, images, and videos to showcase your expertise and make sure everything is clear and easy to consume.
Include social proof: I can't stress this enough, and if you've been examining the virtual assistant websites, then you know this makes me a stick in the mud. Absolutely ensure you're posting examples of reviews and testimonials from your past clients. 
It's like shopping on Amazon. A client who sees a service with lots of reviews and happy customers is far more likely to use the service than a virtual assistants website with none. Reviews build credibility and showcase a proven track record of success! 
Keep it user-friendly: A standard website feature – everything needs to be easy to navigate and understand. Use clear menu bars, well-structured pages, and easy-to-understand language to make sure potential clients can find what they're looking for.
Use strong CTAs: A call-to-action (CTA) button should be prominently placed on your website to encourage potential clients to take action. Whether it's scheduling a discovery call or filling out a contact form, make sure your CTA is clear and compelling.
Optimize for SEO: Search engine optimization (SEO) is essential for helping potential clients find your virtual assistants website. Use relevant keywords, meta descriptions, and alt tags to ensure your website ranks well in search engines.
Keep it visually appealing: Your website should be visually appealing and reflect your brand personality. Use high-quality images, videos, and graphics to create a cohesive and engaging web design.
Make it mobile-friendly: In today's mobile-first world, your website must be optimized for mobile devices. Make sure your virtual assistants' website is responsive and can be easily navigated on a variety of devices.
Provide value: Your virtual assistants' site should not only showcase your VA services, like data entry, web development, or social media management but also provide value to potential clients. By this, I mean the value that they can come and take away whenever they like. You could host a blog, resources page, or free download section.
Keep it up-to-date: Your virtual assistants' website should always be up-to-date with the latest information about your VA services, pricing, and availability. Make sure to regularly review and update your website to ensure it's always accurate and relevant.
Monitor your analytics: Use analytics tools to monitor your website traffic and engagement. This can help you identify areas for improvement and make data-driven decisions to optimize your virtual assistant site.
On top of all this, but perhaps most importantly, it's important to think about what your unique selling point is as a personal assistant.
Ask yourself these questions:
Do you offer unique services like web development, graphic design, app development, data entry, or handling administrative tasks?
Do you offer bilingual virtual assistants as a service?
Are you experienced in project management?
Can you act as an executive assistant?
Do you offer a free consultation or have an offer for new clients?
Do you work with remote workers?
Do you specialize in working with small business owners?
Whatever your unique selling point and what value highlights your dedicated virtual assistants' business, make sure you're putting this front and center on your website.
Whatever the reason is that someone would choose your online business over another is your key selling point, so market that and really lean into what you offer.
By following these best practices, you can create a great virtual assistant website that effectively communicates your services and expertise to potential clients. 
Remember, your website is often the first impression potential clients will have of you, so it's important to make it count!
Summary
And that's all, folks! Having a killer website is crucial if you want to attract and convert potential clients as a virtual assistant business. 
But hey, it's not just about the looks, baby! 
You've got to showcase your skills, provide social proof, and make it easy for clients to navigate your site on any device.
By using these virtual assistant websites as inspiration and following my tips and tricks, you'll be well on your way to creating a virtual assistant website that not only looks great but helps you land those dream clients.
So go ahead and create the website of your dreams, my friends – I can't wait to see what you come up with!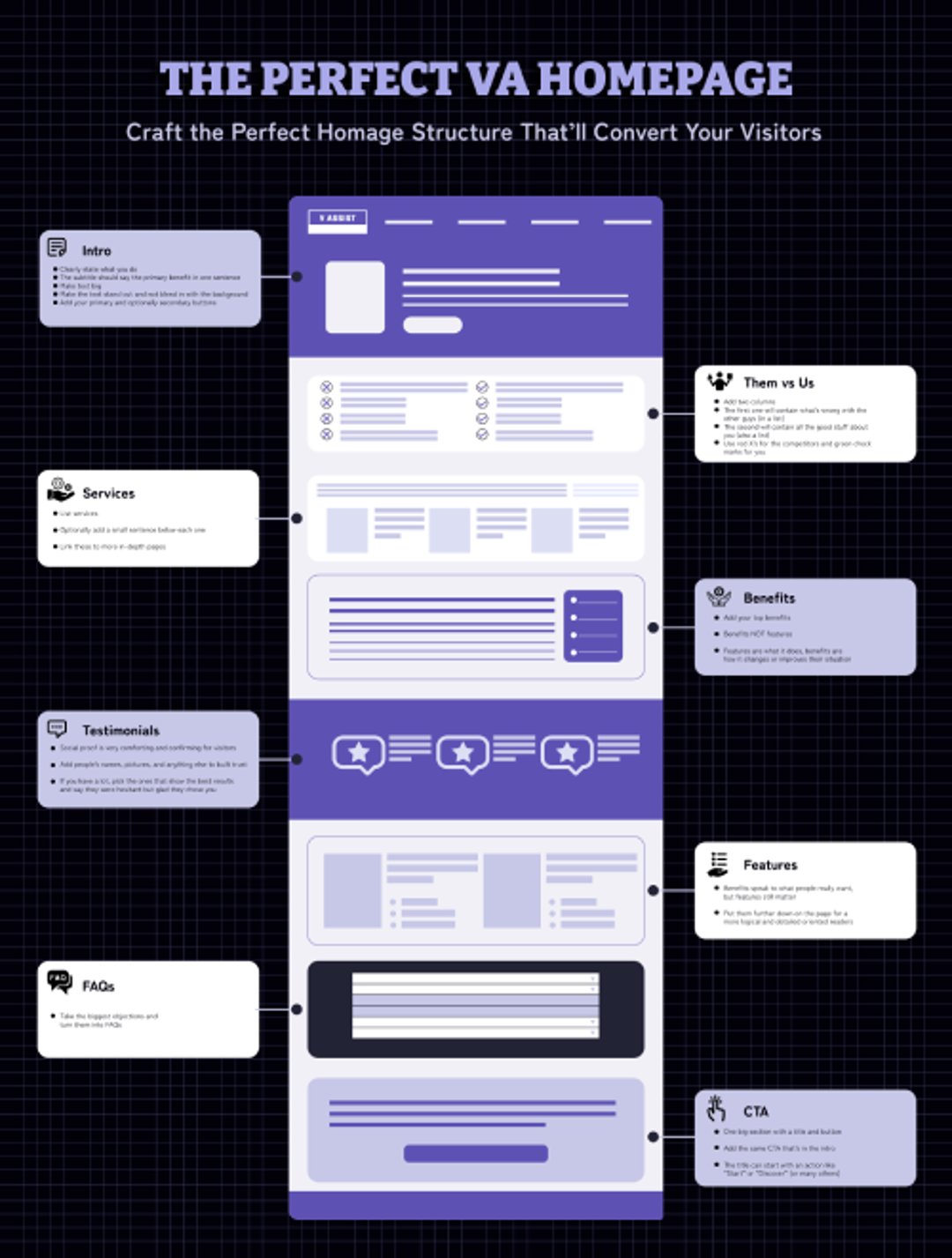 Craft the Perfect Virtual Assistant Homepage Structure That'll Convert Your Visitors
Download this virtual assistant homepage cheat sheet and know exactly which sections to add in what order to increase your rank, leads, and clients.
Get the Free Cheat Sheet