15 Kickass Music Producer Websites: Make the Best Site!
Inspiring music producer websites and hacks to beat them.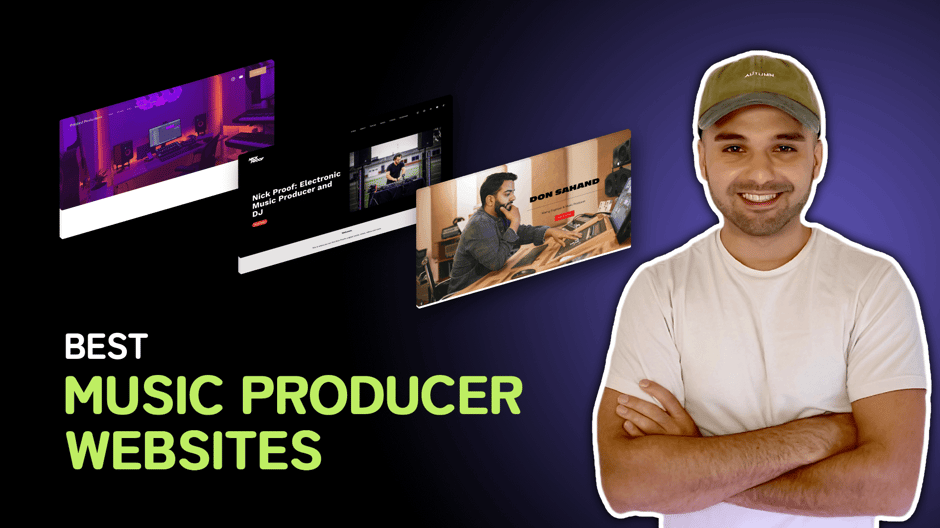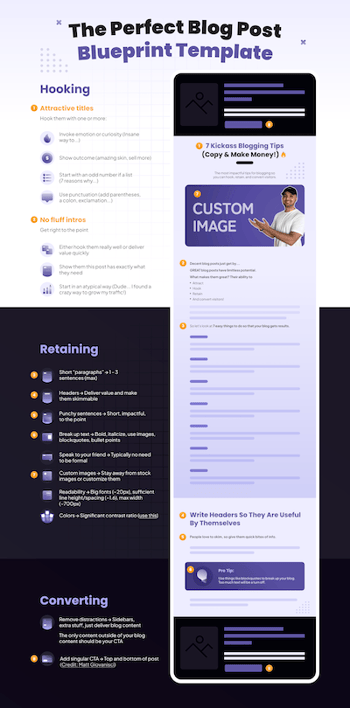 Craft the Perfect Blog Post That'll Convert Your Visitors
Download the FREE Perfect Blog Blueprint and know exactly how to hook, retain, and convert your visitors.
Download Blog Blueprint
Ready to showcase your dope music production skills to the world and make a name for yourself?
Then excellent choice seeking the best music producer website examples.
Building a successful website is your key to reaching more people and creating that buzz you want.
In this jam-packed guide, we'll explore some of the best and most kick-ass music production websites to give you all the inspiration, tips, tricks, and comments you need to create your very own virtual masterpiece. 
After that, I'll take you into a little dive into my comprehensive guide on building a website that'll have people flocking to your beats in no time. 
So, let's get this show on the road! 🚀
Hack Alert! Start With One of My Fav Musician Website Templates
Wait just one second.
Building a musician website from scratch is an admirable venture, but there's a problem.
When you're trying to run your business, manage clients, market yourself, and do the production work itself, there's already a lot on your plate. The chances are you won't have time to learn about the nuances of successful web design, which puts you at a disadvantage when building your own music producer website.
Fortunately, there's a way around it.
When you use templates to build your professional website, you get access to a ready-made website that's fully optimized, mobile-friendly, and perfectly designed to be successful. All you need to do is add your content and high quality images, and away you go!
You save a considerable amount of time and energy and get access to a fantastic-looking website that your clients will love.
Not sure where to get started? Here are some of my favorite musician website templates you'll love!
The Ultimate List of Music Producer Website Examples
The Ultimate Guide to Building Your Own Kick-Ass Music Production Website 🌟
Alright, my friends, now that we've dissected these badass websites, it's time for the grand finale: the full guide on how to build a successful music production website of your own. Are you freakin' ready? Let's do this! 🚀
While there's no hard-and-fast way to build a website, and literally any design could have the potential to work, there are some rules that will increase your chances of having a successful, converting, high-ranking website dramatically.
Bear these in mind when building your studio website, but don't be afraid to be yourself. 
These aren't design rules that will dictate how your website will look, but rather you should define how your website looks based on the style, tone, and branding you want to go for, using these rules to guide how you implement that style.
Whether you're a jazz musician or anyone with experience in the music industry, let's get into it.
Make a killer first impression
Your website's design should reflect your unique style and personality. Choose colors, visuals, and layout that'll make your visitors go, "Wow!" Remember, you only have a few seconds to grab their attention, so make it count! 😎
User-friendly navigation
Ain't nobody got time for confusing websites! Make sure your navigation is straightforward and easy to use. Clearly label your menus, link to all the important pages, and organize your content in a logical way.
Whether a guitarist, pianist or any musician with their talents is seeking your resources and services, they must be able to find what they're looking for without breaking a sweat. 💦
Showcase your work
Your website is your virtual stage, so put your music front and center! Use an audio player to let your visitors sample your tracks, and create a portfolio to highlight your best projects.
All platforms, like SoundCloud and Apple Music, all allow plugins to make this easy, so there's really no excuse for not using this feature! Make sure your music is easy to find and play – after all, that's why they're here! 🎶
And, if you're looking to build a community around your brands, allow people and producers to put comments on your work. This connectivity is a great way to engage people!
Present your services
Are you offering mixing, mastering, or beat-making services? Do you grant VIP access to events or content platforms? Whatever you offer, make it crystal clear on your website!
Clearly outline your services, pricing, and any other relevant info. Don't forget to include a strong call to action to encourage potential clients and artists to get in touch. 📞
Tell your story
Let your visitors get to know the genius behind the beats! Share your background, experience, and musical journey in an engaging "About" section. People love connecting with the artist, so don't be afraid to show your personality and share your passion. 🎤
Stay connected
Social media is your BFF for building a fanbase and engaging with your visitors. Make sure to include prominent links to your social media profiles, and consider integrating a feed of your latest posts on your site.
Whether you use FaceBook, Instagram, YouTube, or whatever, put those links in and make them easily accessible.
Let's get that party started! 🥳
Keep your audience engaged
A regularly updated producers blog or news section is an interesting way to keep your fans (or any website visitor, for that matter) coming back for more.
Share updates on your latest projects, industry news, or even tips and tricks for fellow music producers. Just make sure your content is fresh and relevant to your audience. 📰
Optimize for mobile
With more and more people browsing the web on their phones, ensuring your site looks and works great on all devices is crucial. Choose a responsive design that automatically adapts to different screen sizes.
Bear in mind this also needs to be the case if you feature video content, embed YouTube videos, host your musicians albums and songs, or include any of features or plugins on your page.
Trust me, every visitor you have will thank you! 📱
Make it easy to contact you
Don't make your visitors jump through hoops to get in touch!
Include a clear and easy-to-find contact section, complete with an email address, phone number, or even a contact form on your home page. Being accessible and responsive to inquiries will lead to more producer and singer gigs and collaborations! 🤝
SEO is your friend
You want artists and musicians to find your site, right?
Make sure to optimize your site for search engines by using relevant keywords, creating engaging content, and following SEO best practices. The higher you rank in search results, the more eyeballs on your music! 🚀
Test and tweak
Building a successful site doesn't stop at launch. Monitor your site's performance and listen to feedback from your visitors. Don't be afraid to make changes and improvements along the way.
After all, Rome wasn't built in a day – and neither are the kick-ass best websites! 😉
And there you have it, my music-loving pals! Follow these tips and tricks, and you'll be well on your way to building your very own badass music production website. Now go forth and conquer the digital space with your dope beats! 🎧🚀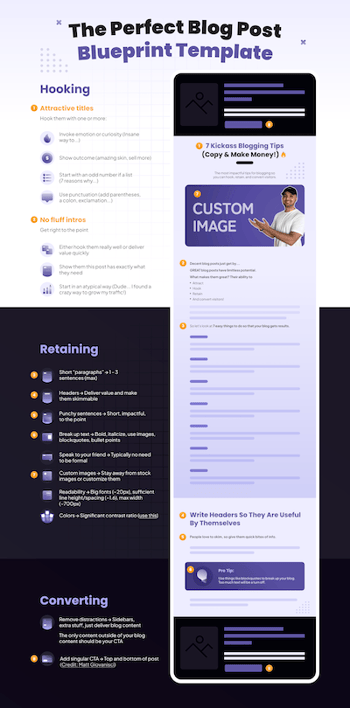 Craft the Perfect Blog Post That'll Convert Your Visitors
Download the FREE Perfect Blog Blueprint and know exactly how to hook, retain, and convert your visitors.
Download Blog Blueprint