29 Squarespace Nonprofit Website Examples
Inspiring nonprofit websites built on Squarespace and hacks to beat them.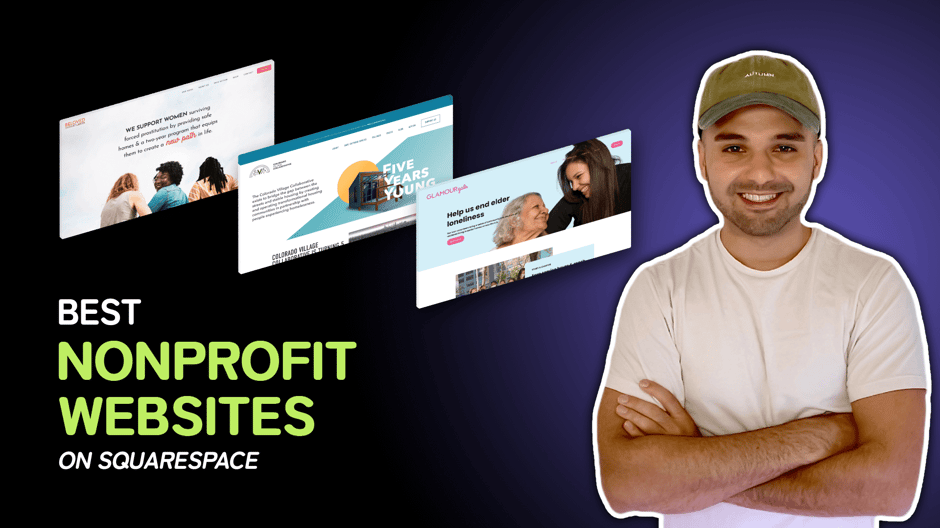 Alright, I know you want to see the best nonprofit websites built on Squarespace (and you will).
But...
Design is not the only important thing (although I used to think it was).
So the best Squarespace nonprofit websites also do the following well:
They sound good (copywriting)
They are optimized for search engines (SEO)
They include all necessary content
They drive you to take action!
And maybe most importantly, they have great homepage titles!
Make a Bigger Impact With this Easy Title Trick
Very few nonprofits get the titles right.
Let's quickly go over bad and good titles for nonprofit websites...
Bad Nonprofit Homepage Titles
Make a Difference
Providing Hope for Children Everywhere
Vision Inspires Change
Together We Can Achieve More
Empowering People Since 1984
All the bad ones are vague! So let's look at how to create a perfect title...
Good Titles
Good titles clearly state what you do, how you do it, and where you do it (if you're local)! Easy enough.
Let's look at my favorite title from this list...
"We Support Women surviving forced prostitution by providing safe homes & a two year program that equips them to create a new path in life."
Great titles leave the visitors understanding your nonprofit and will more likely get involved.
Hack Alert! Start With One of My Fav Nonprofit Squarespace Templates
Here are my favorite and most impactful Squarespace templates for nonprofits:
Template 3 (has an animal gallery great for rescues and other nonprofits)
The Ultimate List of Nonprofit Websites Built on Squarespace
Tips to Create the Best Nonprofit Website on Squarespace
Nonprofits see something wrong with the community and I see stuff that is wrong with websites.
So I've gathered some of the most common issues and suggestions and put them in this list...
First off, thanks for not choosing WordPress. It's 9/10 times the wrong tool for the job, is filled with bad practices, and will cost you more time, money, and hair loss.
Squarespace is an excellent platform, especially for non technical people. Your nonprofit can build and maintain your website at a very low cost. The website builder is very easy to use with a drag and drop editor.
In order for your nonprofit to get found, you must include keywords that people search for within your content. You can use Google's autocomplete to see what keywords/phrases people are searching and scatter them throughout your site. Also add your location if you are providing local services.
Make your font size large and easy to read.
Reference the heck out of these best nonprofit Squarespace websites.
Use custom images wherever possible. If you use stock photos, show a picture either depicting what people achieve via your nonprofit or what they avoid.
Make the intro/hero of your homepage clearly state what you do, how you do it, and where you do it. For example, "We help stray cats by recusing, rehabilitating, and adopting them in Phoenix, AZ".
Happy nonprofit Squarespace website building and community improving!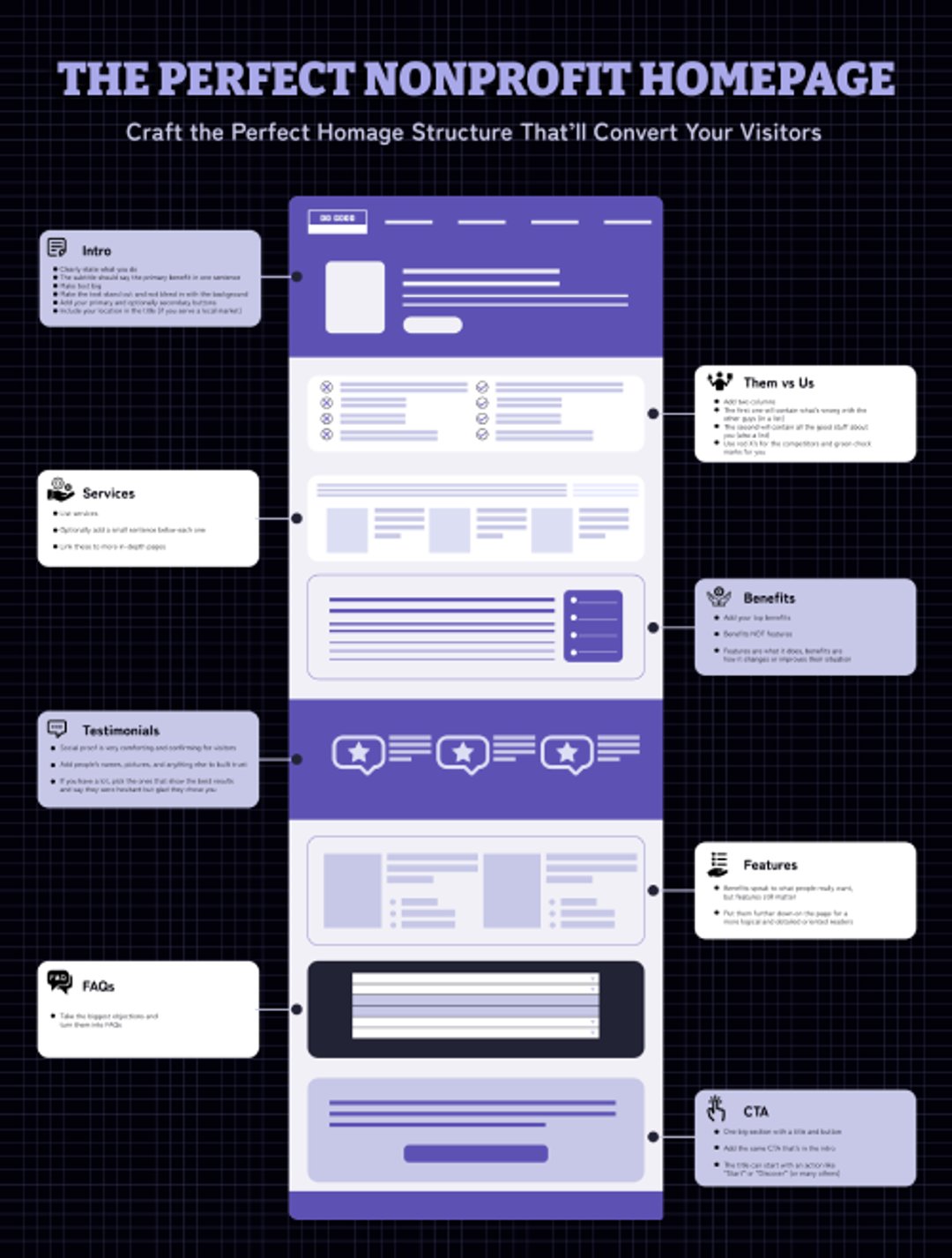 Craft the Perfect Nonprofit Homepage Structure That'll Convert Your Visitors
Download this nonprofit homepage cheat sheet and know exactly which sections to add in what order to increase your rank, leads, and clients.
Get the Free Cheat Sheet