15 Kickass TikTok Ad Examples (+ 3 BAD Ones!)
The best TikTok ads to inspire you to create your very own.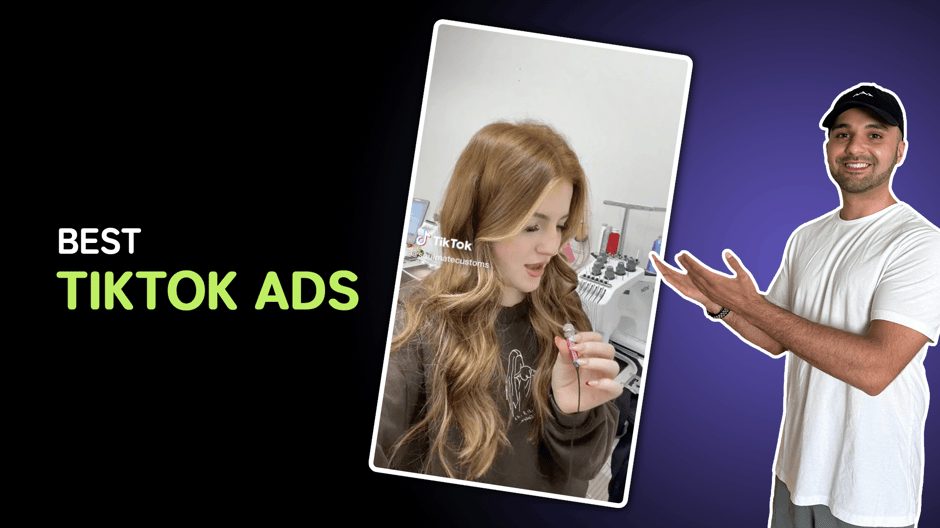 Most TikTok ads are garbage 🗑️...
They are the most skip-worthy pieces of crap out there.
Why? BAD TikTok ads are:
Unauthentic
Over salesy
Looks too much like a commercial
Looks gimmicky AF (but that's just a product issue)
So I found the best TikTok ads to help inspire you. I also found some bad TikTok ad examples (not hard to do) to show you what to avoid.
I'll break down all of the TikTok ad examples with why they work. Let's go!
🔥 Reach Your Exact Audience Instantly
Hey quick tip, you can use the TikTok Ads platform to promote your ads to your exact audience. It's pretty damn cheap too.
The Ultimate List of The Best TikTok Ad Examples
3 Bad TikTok Ad Examples
While it's evident there are a lot of great TikTok ads out there, there are some downright awful ones that you'll absolutely want to avoid. Let's take a look at them.
Okay, for this one, I'm talking about the product itself, not the ad, but that's an important take to consider since you always need to start with your product. If your product sucks (or the morals behind it are bad), you need to go away and work that out.
So, focusing on this "ad", if you're selling something gimmicky and or that imposes body image stuff - especially by some dumb trick and not just being healthy - then find a different niche.
If your message to girls is that you need to "suck it in" to look good, you've got a shitty business. Go and do better. Don't use some "good-looking" girl to try and make girls think they need to look like that to have value or be confident.
No one wants that.
I actually really like the idea of the Rad Power bikes, but this ad is just way too commercial for TikTok. TikTok is all about low-budget to perform some creative ideas. It's for people by the people, not the brands. That's why influencer marketing content does so well here.
Try again, this time with a less edited video that speaks more to people rather than being a brand trying to sell. Yawn.
This ad straight-up sucks.
No shade to the producers or the product designers - I'm sure the product's great, but there's no video content, and the text on the screen is way too small. The content and title are too salesy, the video is super boring, and you can bet that the vast majority of people will just skip this.
If people skip your content, you've wasted your time making it.
I couldn't even make it to the end, so there we go.
The Different Types of TikTok Ads
Okay, with all that in mind, it's time to really start thinking about your own TikTok ads, highlighting what you can do and what direction you should take your content. Let's start with the different types of TikTok ads you want to be thinking about.
In-Feed Ads
These are native ads that appear in the For You feed as people scroll through the app.
In feed ads typically look like regular TikTok videos and can be up to 60 seconds long. In Feed Ads can include various call-to-action" (CTA) buttons, such as "Shop Now" or "Learn More," to encourage TikTok users to take action directly from the ad.
The vast majority of the ads above and that I talk about below are just standard in-feed ads. Just content that you record, edit, and upload to your page to appear, as the name suggests, in the feeds of your target audience.
If you're actually running an ad through the platform's advertising channel, then you're going to be using the Spark ads network. You'll still upload content and be in the feed, but you won't be shown as an explored video but rather an ad between videos.
Both have pros and cons, but in-feed content should be what you're aiming for, especially when you don't have an ad budget.
Brand Takeover Ads
Brand Takeover Ads are full-screen ads that appear when a user opens the TikTok app. They are highly visual, and can include images, GIFs, or short videos. TikTok advertisers can link these ads to their website or a Hashtag Challenge to drive engagement.
Top View Ads
Similar to Brand Takeover Ads, Top View Ads are fullscreen videos that appear when a user opens the app. However, unlike Brand Takeover Ads, Top View Ads are in video format and can last up to 60 seconds. They are visually prominent and grab the user's attention immediately.
Branded Hashtags & Challenges
In this ad format, advertisers create sponsored challenges using specific hashtags. When users click on the hashtag, they are directed to a dedicated page featuring the challenge's details and user-generated content.
Branded Hashtag Challenges encourage users to participate and create content related to the challenge, thus increasing engagement and brand visibility.
Branded Effects
Also known as AR (Augmented Reality) Effects, these ads allow brands to create interactive and immersive experiences for users. They can use filters, stickers, and special effects that users can apply to their videos, adding a branded touch to the content.
Branded Hashtag Challenge
Out of all the TikTok ad formats, this one combines the Branded Hashtag Challenge with In-Feed Ads. It allows advertisers to promote their Branded Hashtag Challenge to a broader audience by including a preview of top-performing challenge videos in the In-Feed Ad section.
Kickass List of Tips to Create Successful TikTok Ads
Alright, strap on your rocket boots, peeps, and get ready for a mind-blowing ride; here's your ultimate list of rad tips for creating insanely engaging Tit'sk ads that will leave your competition in your pixelated dust.
Let's get it!
1. The "#ad" Shizzle – Don't Skip the Small Print!
Alright, let's address the elephant in the room first. As much as we'd love to just dive headfirst into the pool filled with colorful inflatables, there's something massively important we need to address.
Slap that "#ad" onto your advertising content like it's your fav band merch sticker on your rickety old laptop. It ain't just a trend, it's an FTC requirement, my friends!
Being transparent isn't just good karma; it's a no-go-around, do-or-die kinda thing in our ad world. Legal and ethical - talk about killing two bureaucracies with one hashtag!
2. Be Bold, Be You! Authenticity Rules OK
TikTok audience can smell a fake from a mile off - and they sure aren't quiet when they find one. So drop that airbrushed, professionally polished, corporate-y vibe and just be your weird and wonderful self. That's what TikTok's all about - unleashing your you're creativity without getting bogged down by the suits!
3. Stop! Research Time Hammer Pants Optional
Invest time in some solid research time before creating your ad. Discover your audience's likes, dislikes, and (here comes the scientific bit) psychographics to bring your A-game. This is the key to successful TikTok advertising.
It might feel like you're stumbling in the dark, but, trust me, you want to make sure you're creating the kind of content that the people who will like your business actually want to see. OtherwisIt'shat's the point?
4. Capitalize on That TikTok Impact
According to those smarty-pants statisticians, TikTok users are 5x more likely to go out and buy something they discovered on TikTok compared to other social media platform users. The vast majority of TikTok users say video content influenced their recent purchase.
And with TikTok ad recall (the ability for someone to remember an ad they've seen) way higher than the ad recall of TV and radio advertisements, you're already onto a winner just by marketing on the platform.
So, think about how you can tap into that magic and make it work for you!
5. Product Discovery - It's a TikTok Thing
Keep in mind TikTok is 1.7x more likely than other platforms to be the source for product discovery! It's the modern-day equivalent of wandering through a mall, the OG method of product discovery - only it's in your pocket and doesn't close at 9 on a Friday night. You just need to figure out how to capture that wandering eye.
6. Return On Ad Spend? Yes, Please!
Need some tantalizing stats to add to your morning brew? Here on TikTok, we see a 2.0x return-on-ad-spend against other media on average, and $1.7 total return-on-ad-spend for paid media. A double whammy! With that kind of numbers, your ads could be your next cash cow, if you milk it right!
7. Be a Storyteller, not a Salesperson
Sure, your endgame is to sell your product, but nobody likes being SOLD to, ya get me? Be a storyteller instead. Involve your audience in your brand journey. Make them root for you! Hook them with your "why," and they'll be more than happy to buy your "what".
Remember, the key to a kickass ad on any social media platform, but especially TikTok, is understanding the platform's culture and users. Blend in first, then stand out!
Think of the goals you want to work toward. What are your Tiktok campaign objectives? Are you selling? Are you increasing brand recognition? Are you looking for followers? Have this in mind and create content to help you get there.
Sounds simple? It is when you know. Now put the work in and go for it!
Wrapping It Up 🌯🎉
Alright, rocketeers, we've been through an epic TikTok ad journey. From cringe-worthy flops to kickass success stories, we've picked up a goldmine of insights! 💰
Remember, use that "#ad" hashtag for the sake of all ye ethical advertising practices.
And inject your video ads with authenticity like a super-soaker at a summer BBQ party! This isn't a game of hide and seek. Your followers want YOU! The real, unfiltered, cereal-at-midnight, laughing-at-your-own-jokes, rebel-with-a-marketing-plan you! 🕶️
Discover your audience like Lewis & Clark and tailor your ads to hit 'em right in the feels. Santa called, he left your statistics under the tree! 🎅 TikTok users are not just scrolling aimlessly. They're more likely to buy, they're discovering fresh products, and you get solid returns on ad spending.
So, Turbo, are you ready to charge ahead and make the big bucks? 💸
Our last stop in this power-packed joyride?
The ad itself.
Your audience isn't looking for the next hot salesman. They're eyeing the bard spinning tales in the corner. Be the region's Shakespeare. Involve them in your saga, make them your heroes. Connect first, coin later!
Well, peeps, that's our jam-packed guide to scorching hot TikTok ads done and dusted! But remember; Rome wasn't built in a day – and neither will your killer ad success story. It takes some trial and error, some rockin' all-nighter brainstorming sessions, and a whole lotta heart. But trust us, it's gonna be worth it.
So get out there, TikTok champs, and rock those awesomely effective ads that turn viewers into customers quicker than a cat video blows up the internet! 🚀🐈💥
Until next time fam, keep it fun, keep it real, and keep on TikTok'in!