7 Kickass Squarespace Blog Templates: All For Free!
My favorite Squarespace blog templates ranked.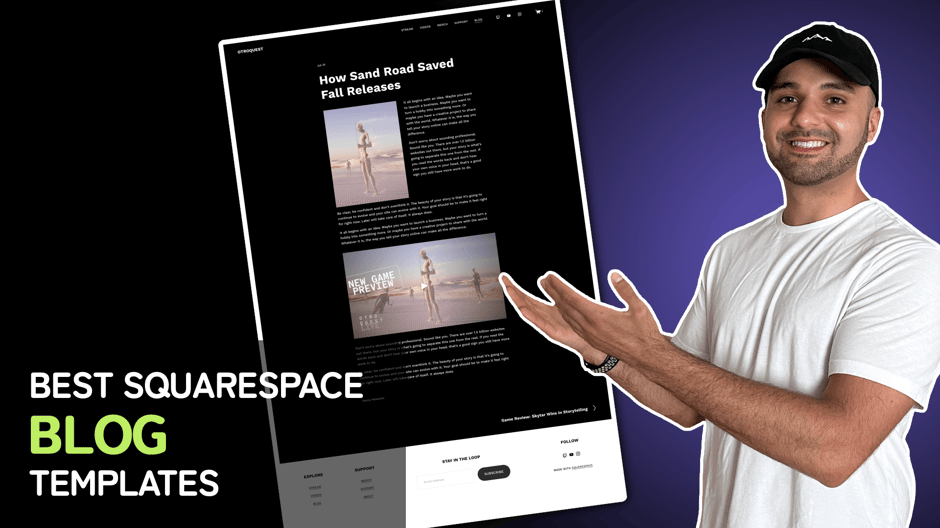 Creating a blog can be overwhelming.
Using the following Squarespace blog templates will let you focus on publishing content (instead of building a design from scratch).
I went through every Squarespace template and found the ones that are best aligned for blogging!
Here's my rundown of the best Squarespace blog template designs you can use to build an engaging, stylish, and unique blog.
The Ultimate List of Best Squarespace Templates for Blogs
If you want to check out any of these best Squarespace templates for yourself, hit up the demo site for each one and have a look!
My Favorite and Most Inspirational Websites Built on Squarespace
I also put together a list of Squarespace website examples. These are super helpful when designing your website!
As you can see, this coveted platform offers a diverse range of Squarespace blog templates designed to accommodate different blogging styles and niches. 
From Degraw's immersive storytelling capabilities to Cadere's content-rich layout, there's something for everyone. But choosing the right Squarespace blogging template is just the beginning. Setting up and running a successful blog on Squarespace requires a little more effort and strategic planning. 
Whether you're new to the platform or looking to enhance your current blog, our upcoming guide sections will provide you with some essential tips. 
From setting up your blog to crafting a successful blogging strategy, we're here to help make your Squarespace blogging journey as smooth as possible. 
Let's dive in!
How to Get Your Blog Set Up on Squarespace
Now, with the best Squarespace templates in mind and an idea of what your blog could possibly look like and form into, I want to take the remainder of this guide to actually talk you through what makes a successful blog.
After all, there are over 600 million blogs out there on the internet, with over 4.4 million blogs uploaded daily.
Take a moment to really think about the opportunities and the types of blog, or blogs, you could run. Your portfolio could include the following:
Review blogs
Lifestyle blogs
Fashion bloggers
Photography blog
Travel blogs
Online stores
Influencer-style affiliate marketing sites
The thing is, out of all the blogs out there, some of them will thrive, and some not so much. The trick is to make sure know how to make it work. And there's no hard-or-fast answer to this.
Even if you follow what all the best Squarespace websites do, there's no guarantee it will work for you and your target audience.
While setting up a blog on Squarespace is a straightforward process, even if you're not the most tech-savvy individual, running a blog is not always a sure-fire thing. Here's a concise guide to help you get started:
Step 1: Sign Up and Select a Plan
Head to the Squarespace website and hit the "Get Started" button. 
You'll need to create an account if you don't have one already. Then, choose a plan that best fits your needs. For most bloggers, like lifestyle or food bloggers, the Personal or Business plans are often enough. 
However, if you plan on selling products through your blog, you might want to consider a Commerce plan.
Step 2: Choose Your Squarespace Template
Select a Squarespace template that resonates with your blog's vision and purpose. Remember, you're not just picking a design you like. Your Squarespace template should enhance your content and make it accessible to your readers.
Use the earlier section in this article as a guide to select a template that matches your blogging needs. And maybe even take a moment to jot down your needs and what kind of thing you're looking for.
For example, if you're a photography blog, then you make want to choose a great template that gives you the option to display thumbnail images, have a gallery page or image gallery, host featured posts, and maybe even have an online store for selling some of your prints and merch.
You may want to connect your Instagram feed (or link your other social media accounts), have a service page for your small business services, run a blog section, or host an events calendar.
Whatever you want with your website, having the best Squarespace template makes it easy, but you have to know what you want so you know what to aim for.
Step 3: Customize Your Site
Once you've chosen your template, it's time to make it yours. 
Squarespace allows you to adjust fonts, colors, page configurations, and much more. Aim for consistency with your brand's visual identity. Don't forget to add your logo and favicon for an extra professional touch.
And, MOST IMPORTANTLY, all the other best Squarespace templates I spoke about today run on the Fluid 7.1 engine. This new Squarespace feature allows you to drag and drop components into your Squarespace site, depending on what you want.
Let's say you want thumbnail images here, to feature images here, to list your category pages in another section, then add a contact form and an about me section, and then you want to easily publish your blog content around that.
This is all made easy thanks to the content blocks system Squarespace uses, essentially allowing you to take your favorite best Squarespace template and then turn it into the perfect template for you with minimal effort.
Long story short, the content blocks are well worth a play around to see what you can create.
Step 4: Create Your Pages
Blogs typically have a few key pages: Home, About, Contact, and of course, the Blog page. Create these pages and populate them with relevant content. Your Home page should give a brief overview of what your blog offers. 
The About page shares your story, while the Contact page makes it easy for readers to get in touch.
Step 5: Start Blogging
You're now ready to add blog posts. 
Navigate to the Blog page and click "+ Add Post." Write your content directly into the editor, or copy and paste it from another document. You can add images, embed videos, insert links, and format text just the way you want. Make sure to add tags and categories for better searchability.
Step 6: Publish Your Blog
Done with your first blog post? 
Hit "Publish," and you're live! You should be able to find your content on your blog page. Now it's all about consistency. Regularly posting fresh, engaging content is crucial to grow your audience and keep them coming back for more.
Squarespace provides the tools you need to make a beautiful, functional blog. It's up to you to fill it with content that brings value to your readers.
Now you just need to rinse and repeat the writing process, making sure you upload consistently (it's suggested you post between one and three times a week for the best growth), interact with your fans on social media, and network to connect with other blogs so you can rise together!
And, most importantly, have fun!
Top Tips for Running a Successful Squarespace Blog
Running a successful blog on Squarespace combines many factors, including consistent and quality content, effective SEO practices, reader engagement, and making the most of Squarespace's features. Here are some top tips to help you maximize your blogging success:
1. Consistent and Quality Content
The heart of any blog is its content. Whether you're running food blogs, news sites, a photography blog, or anything in between, make sure you're providing valuable, well-written content that your audience will find informative, interesting, or entertaining. 
Consistency is key – establish a regular posting schedule for uploading new blog posts and stick to it.
Your readers will appreciate knowing when to expect new content. People really get to know and connect with their personal bloggers these days, and it's very easy to create fans who love your work as long as you're putting the work in.
Don't let them down!
2. Effective Use of SEO
To increase your blog's visibility, you'll need to master the art of Search Engine Optimization (commonly known as SEO optimization) or making it so your website appears on the front page of Google.
There are endless ways to go about this, but you'll mainly be looking at keyword research and using relevant keywords in your blog sections, meta descriptions, page content, and URLs. 
It doesn't matter if you're a food blog or one of many travel blogs, or even if you're running more than one blog, every successful website needs to do some kind of SEO, so your site visitors can actually find you.
Squarespace has a robust built-in SEO tool that you can use to your advantage. This means there are tools to track your SEO ranking, and the best template for you is already optimized for the best results.
Don't forget to use tags and categories on your posts, which not only helps with SEO but also with the organization of your content, and add a search bar to improve your user experience. You should be able to find this feature in your template options.
3. Engage with Your Readers
Interacting with your readers helps to build a sense of community around your blog. Encourage comments on your posts and take the time to reply. 
Let's say you're a travel blog. It can be worth taking the time to interact with your fans, to give them travel advice, and spark conversations around the world.
You could also consider adding a newsletter sign-up form on your blog to keep your readers updated about new posts or exclusive content.
4. Leverage Squarespace Features
Squarespace provides a wealth of tools and features to optimize your blog. Make the most of them:
Integrated Analytics: Squarespace's built-in analytics can provide valuable insights into your blog's performance, such as blog page and blog feed views, visitor demographics, and more. Use this information to understand what content resonates with your readers and refine your strategy.
Customization: Squarespace offers extensive customization options. Experiment with different layouts, fonts, and colors to find a design that complements your content and brand. There are lots of other Squarespace templates out there, so look around for the best Squarespace template to act as your foundation.
Social Media Integration: Connect your blog to your social media profiles to promote your content to a broader audience. Squarespace supports integration with various social platforms like Facebook, Twitter, and Instagram. This is also good for boosting your ranking in the search engines.
Mobile Optimization: With more people accessing blogs via mobile devices, it's important to ensure your blog is mobile-friendly. Fortunately, all the best Squarespace templates are designed to be responsive and look great on any screen size.
5. Explore Monetization Options
Once you've built a solid reader base, consider monetizing your blog. Squarespace supports various monetization options, like eCommerce capabilities for selling products or services, membership areas for exclusive content, and even the ability to accept donations.
For example, food bloggers can sell recipes or eBooks, have affiliate marketing links to books and products, and run courses that tie into the content on your blog section.
But you can think outside the box and try to find the best Squarespace template to help you achieve your vision.
Remember, running a successful blog is a journey, not a sprint. It takes time, dedication, and a little experimentation to find what works best for your unique blog and audience. 
With these tips and the robust capabilities of Squarespace, you're well on your way to creating a standout blog. 
Happy blogging!