7 Kickass Squarespace Coaching Templates: All for Free!
My favorite Squarespace coaching templates ranked.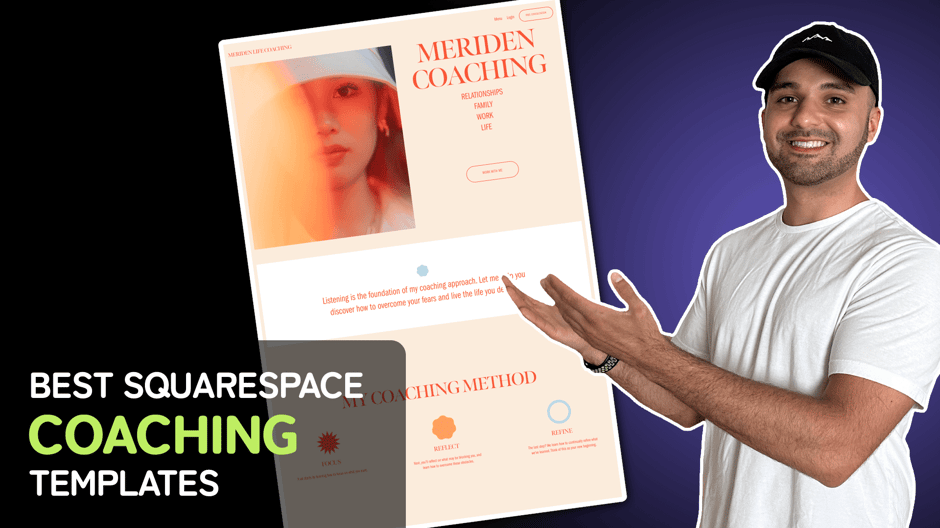 Creating an online coaching platform can be a formidable task. Whether you're offering courses, 1-to-1 mentorship, e-meetings, or all of the above, there's a lot to think about, and it can feel like there's a lot of infrastructure to set up.
However, thanks to these Squarespace templates for coaches, you can concentrate on developing impactful coaching programs instead of wrestling with website design. With everything technically taken care of, you can focus on delivering the value that people will get to know you for.
To make life even easier, I've sifted through the entire Squarespace template catalog to identify the best choices for coaching professionals.
Here's my shortlist of the best Squarespace coach templates for creating a captivating, stylish, and unique online coaching platform.
Let's jump in!
The Ultimate List of Best Squarespace Templates for Coaching
For a first-hand experience of these top Squarespace coaching templates, check out the demo site for each one!
My Favorite Squarespace Coaching Website Examples
I also put together a list of the best Squarespace coaching website examples. These are super helpful when designing your website!
A Comprehensive Guide on Choosing the Best Squarespace Template for Your Coaching Business
Choosing the right Squarespace template for your coaching service can feel like a Herculean task, given the multitude of choices available. However, the process can be simplified if you understand your business requirements and how to align them with a suitable website template.
This guide is designed to help you navigate through the decision-making process and select a template that will resonate with your brand and audience! Of course, you'll need a Squarespace account for all of this, so make sure you sign up for one!
Note: if you already have an existing Squarespace site and Squarespace account, you can still use these same details! Just create a new site from scratch, and you can have both this new website and your existing website.
However, you'll need to pay for a unique website paid account subscription for both!
Understanding Your Brand and Audience
The first step towards selecting the ideal Squarespace template is understanding your brand aesthetic and audience. Consider what your brand represents and how you want to communicate that visually.
For example, a clean and simple template like Degraw would work well if your brand has a minimalist aesthetic.
Also, keep your target audience and ideal clients of your website in mind.
What appeals to them? If your coaching services are for busy professionals, they might prefer a sleek, professional design with easy navigation. If you're a lifestyle coach targeting a younger demographic, a more colorful, dynamic template could be more suitable.
Deciding on the Content Types
What type of content will you be sharing on your new site? This will significantly influence your choice of template. If you plan to share a lot of video content, for example, you'll need a template like Agaro that supports multimedia.
If your website content is mostly text-based, with in-depth blog posts or articles, a template like Degraw that emphasizes text would be ideal. For a more balanced mix of text, images, and videos, Almar could be a good fit.
Be sure to choose a template that complements your content strategy.
Assessing Your Technical Abilities
While Squarespace is known for its user-friendly interface, some templates require a higher level of technical proficiency to customize effectively. If you're comfortable tweaking the design, you have more flexibility in your website template choice.
If not, opt for templates requiring minimal customization or hire a Squarespace web designer.
Customizing Your Squarespace Template
Once you've chosen a template for your new site, it's time to make it your own. Here's an essential step-by-step guide to customizing your Squarespace template:
Add your logo: Your logo is a crucial part of your brand identity. Make sure to add it to your website header.
Choose your colors and fonts: Squarespace provides a range of color palettes and fonts. Choose options that align with your own branding aesthetic.
Add and arrange your pages: Start adding the necessary pages to your website, such as 'Home,' 'About,' 'Services,' 'Blog,' and 'Contact page.' Arrange them logically in your navigation menu.
Customize page website content: Add and format your text, images, and training videos. Remember to break up text with headings and bullet points for easier readability.
Test and tweak: Preview your website, test the navigation, and make any necessary tweaks.
Remember, customization isn't just about website aesthetics. It's also about creating a user-friendly experience for your visitors.
Optimizing User Experience
A well-designed website is user-friendly and easy to navigate. Here are some tips to optimize user experience:
Mobile optimization: Ensure your new and existing site looks good and functions well on mobile devices.
Clear navigation: Keep your navigation menu simple and intuitive. It should be easy for visitors to find what they're looking for.
Fast load times: Large images or videos can slow down your site. Optimize your media files to ensure fast load times.
Call-to-action: Guide your website visitors towards a specific action, like booking a session or signing up for a newsletter. Make sure your call to action is prominent and compelling.
Don't forget to do all the other things that can help you sell your service, such as including the testimonials of past clients to prove you know what you're doing and making even adding tutorial videos to give insight into the type of value you have to offer.
Why Use Squarespace?
Squarespace is a popular choice among entrepreneurs and businesses worldwide and for good reasons. Its standout features include a stunning collection of professionally-designed templates, user-friendly interface, and built-in SEO tools.
These combined elements allow you to create a visually appealing and functional website without any coding or design experience. Plus, its templates are highly customizable to align perfectly with your brand aesthetic and functionality needs.
This all-in-one platform also comes packed with comprehensive features such as blogging tools, e-commerce capabilities, email marketing, appointment scheduling, and a free new trial website so you can get started with building your beautiful website for no cost.
These built-in website tools streamline your website management, saving you from the hassle of integrating multiple separate services.
Furthermore, Squarespace's focus on digital nature and SEO ensures that search engines easily index your content, increasing your online visibility. However, there's no free domain option, but Squarespace does handle the domain buying process!
To top it all off, Squarespace provides reliable 24/7 customer support to service-based businesses, ready to assist you with any technical issues or customization queries via their online live chat and through the free email support channels.
It also offers a vast knowledge base and user forums for self-guided support.
As your coaching business grows within the coaching industry, Squarespace scales seamlessly with you, allowing you to add more advanced features as your needs evolve. In essence, Squarespace offers a powerful, user-friendly solution for bold business coaches seeking to establish an impactful online presence.
Conclusion
Choosing the right Squarespace template for your coaching venture is an exciting journey of aligning your brand identity with your online presence.
By understanding your brand, audience, content type, and technical abilities, you can select and customize a new template that resonates with your vision. It's time to let your coaching business shine online!
Remember, no website template is set in stone. Thanks to the Fluid Squarespace 7.1 engine, Squarespace's flexibility allows you to experiment, tweak, and change your website design as your coaching service evolves.
Happy designing!