7 Kickass Squarespace Nonprofit Templates (Start With These!)
My favorite Squarespace nonprofit templates ranked.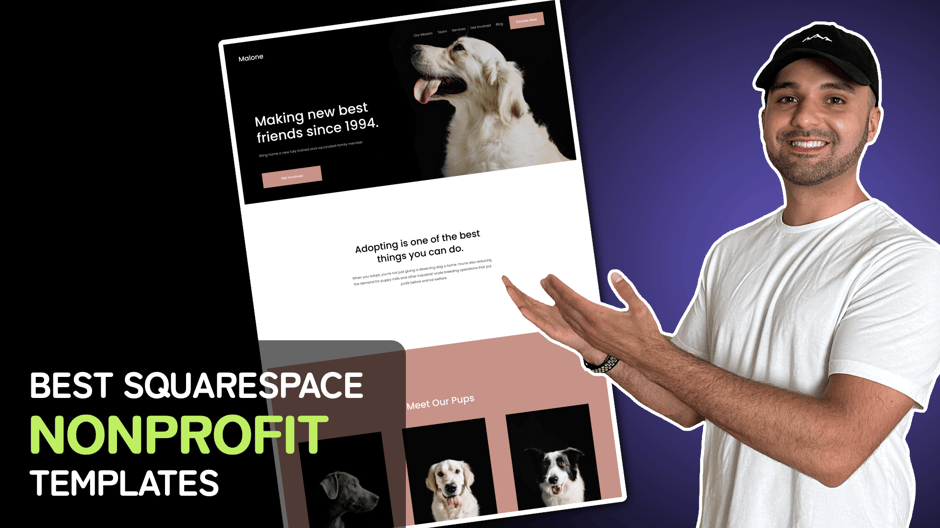 I went through every Squarespace template and found the best templates for nonprofit websites!
FYI on some considerations for the following templates:
They are just a starting point – you can customize them and build whatever you see in any of the templates. Like something from two different templates? You can build them easily in one.
They are all free!
Not all of them are strictly nonprofit templates, but I liked the structure of them so I included them
So, whether you're a nonprofit organization aiming for a strong online presence or a web designer on the hunt for fresh ideas, you're in for a treat!
Alright, let's dive into the best Squarespace templates for nonprofits!
The Ultimate List of the Best Squarespace Templates for Nonprofits
My Favorite Squarespace Nonprofit Website Examples
I also put together a list of the best Squarespace nonprofit website examples. These are super helpful when designing your website!
Tips for Getting Started with Squarespace Nonprofit Templates
Squarespace is an intuitive website builder platform and is designed to be as friendly as possible, but that doesn't mean it can't be overwhelming if you're just getting started. Here are some tips to help you get the most out of your chosen Squarespace nonprofit template:
Understand your needs
Before diving into template customization, get clear about your needs. What kind of content will you be sharing? What functionality is crucial for your organization? Answering these questions will help guide your design decisions.
Optimize for mobile
Ensure your site looks great on mobile devices, not just desktops. Squarespace's templates are automatically mobile-responsive but always double-check to ensure all elements display correctly. If you're using video backgrounds, this is even more important!
Make use of Squarespace's resources
Squarespace has extensive help resources, including a knowledge base, webinars, and a community forum. If you get stuck, help is just a click away. remember, Squarespace is literally designed to keep your audience engaged, so use the features that are made available to you!
These ready-made templates are tried and tested for a reason!
Incorporate calls to action (CTAs)
Make it easy for visitors to donate, subscribe, volunteer, or otherwise engage with your organization or business. Most Squarespace templates include built-in features for creating CTAs—use them! Whether you're hosting events,
Showcase your story
Use images, videos, and narratives to share the story of your organization and the impact it makes. Make it personal and authentic to connect with your audience emotionally.
Simplify navigation
Take a moment to think about how you use websites. Do you spend ages hunting around browsing for what you're looking for, or are you quickly in and out? Usually the latter, which is why you always need to make sure your site is easy to navigate. Keep menus simple, and ensure important information is easy to find.
Test and tweak
Once your site is live, don't just set it and forget it. Regularly test different aspects, from the user interface to the donation process, and make adjustments as necessary. The best way to build a website like this, especially one that'll last for years to come, is to build the foundation, set everything up, and then keep adding and taking away over time!
You'll never get everything spot on the first time. It's just impossible. Remember, perfect is the enemy of good and done!
Conclusion
There you have it, the best Squarespace templates for nonprofits that'll take your nonprofit website to new heights.
With the tips above and the power of the Squarespace website builder behind you, you're well on your way to creating a digital presence that resonates with your audience, enhances your organization's mission, and even encourages donations.
Remember, the power of well-designed nonprofit websites can't be understated—it's a digital era, folks, and your website can be the cornerstone of your organization's success.
Happy building, friends, and let's make a difference, one Squarespace site at a time!