7 Kickass Squarespace Photography Templates: 100% Free!
My favorite Squarespace photography templates ranked.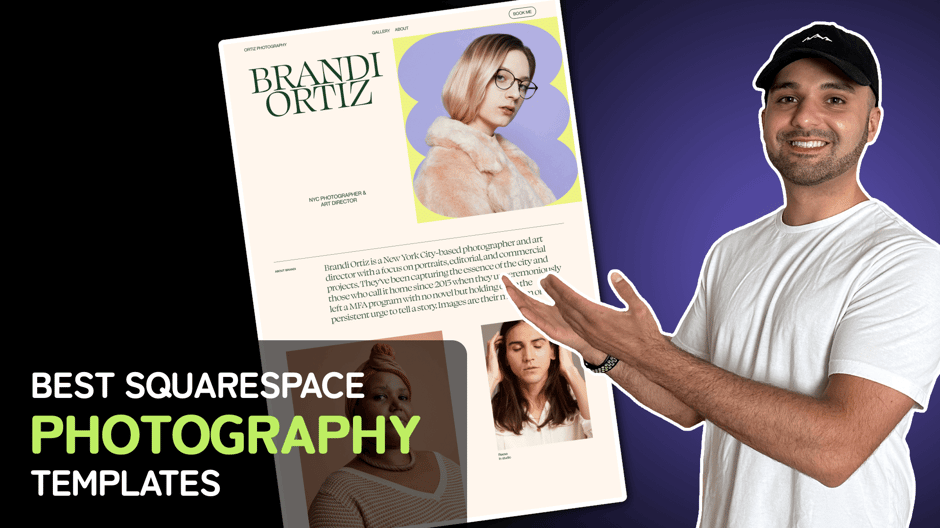 Hey photographers! 📸
Looking for the best Squarespace templates for photographers to get your website set up quickly while looking to make sure it looks the part and actually sells your business in the way that's true to you?
You've come to the right place.
Setting up a photography website is a big decision, but with the right Squarespace template, you can showcase your work and services and create an amazing online presence. 
Let's dive in! 😎
The Ultimate List of Squarespace Photography Templates
Note: The following Squarespace templates are all available on the 7.1 Fluid Engine!
Top Squarespace Photography Website Examples
Get inspired by looking at the best Squarespace photography websites!
Tips to Succeeding With Squarespace
Finding the Perfect Template for Your Photography Website 🖼️
As you can see, these templates are designed with photography websites in mind, striking a great balance between design and visuals while allowing room for you to highlight your business, products, and services.
But which Squarespace template should you choose?
Let's break it down:
Visual approach: If you want to let your photos do the talking, templates like Nevins and Minetta are ideal.
Balanced approach: If you're looking for a mix of visuals and text, Ortiz and Balboa could be perfect.
Personal brand: If you want to connect with your audience personally, Tepito is your best bet.
What is Squarespace's Fluid Engine? 🌊
Squarespace's Fluid Engine is a game-changer. 
Instead of being locked into one Squarespace template, you can mix and match blocks and sections across different themes. This means you can showcase your services the way you think is best. 💪
Choosing a Squarespace template like the ones above gives you a fully structured website that you can replace with your own content and launch quickly. 
As you grow and scale, you can tweak and improve on the fly with ease, and it means you're never just restricted to one Squarespace template but can pick and choose what you need, depending on the direction your business goes.
Can You Change Templates When You've Chosen One? 🔄
Absolutely! 
Squarespace allows you to change templates without losing any content. This means you can test out different designs and layouts until you find the perfect fit for your photography website.
How to Set Up and Use a Squarespace Template for Your Photography Website 🛠️
Creating a stunning photography website using a Squarespace template is a breeze. This means whether you're a wedding photographer or involved with fashion photographers, portrait photographers, or in any way work on producing a professional picture, you'll spend less time worrying about your website and more time focusing on your work.
To make life easy, here's a step-by-step guide to help you set up and customize your photography website using a Squarespace template:
1. Sign up and choose a Squarespace template 📝
First, create a Squarespace account if you haven't already. Once you've signed up, browse through the available templates and choose the one that best fits your photography style and needs.
Remember, the Fluid Engine is fully customizable, so you can always change to another one of the best Squarespace templates later if you change your mind.
2. Customize your Squarespace template 🎨
Now you've chosen a Squarespace template, it's time to customize it.
Squarespace's intuitive drag-and-drop editor makes adding, removing, and rearranging sections on your website easy. You can easily change fonts, colors, and other design elements to match your photography brand.
Don't forget to replace the demo content with your own text and images!
3. Create your portfolio 🖼️
It doesn't matter whether you're a group of wedding photographers or fine arts photographers or get involved in event photography, product photography, or even an indie studio, your portfolio is the heart of your photography website.
Therefore, you must create a portfolio page or detailed gallery section showcasing your best work. This is typically on the home page since your work should be the first thing your visitors see,
Organize your large images into galleries or categories, so visitors can easily find what they're looking for. Make sure to include high-quality images that represent your photography style and expertise.
4. Add essential pages 📄
In addition to your portfolio page, there are a few essential pages you should consider adding to your photography website:
About: Introduce yourself and tell your story. Share your experience, your photography style, and any awards or recognition you've received.
Services: Clearly outline the services you offer, along with the pricing and package details of your photography business. This is the best way to help potential clients understand what they can expect when working with you and ensure no offputting surprises.
Contact: Provide a way for visitors to get in touch with you. Include a contact page or form, and include your email address, phone number, and links to your social media profiles, usually in the top right corner.
Blog: A blog section is an excellent way to share your latest projects, industry news, and photography tips. Regularly updating your blog can also help improve your website's search engine ranking.
You may also want to add detailed sections throughout your website for easier conversions, such as booking calendars and a map of the area you're based in and serving.
5. Optimize your website for search engines (SEO) 🔍
Hand in hand with the point above, make sure your website is easily discoverable by search engines. This means you should use relevant keywords in your website content (including locational keywords for highlighting the area you'll serve), image alt tags on all your photos, and meta descriptions.
Squarespace has built-in SEO tools that can help you optimize your website for search engines, so make sure you're taking your time to familiarize yourself with them to take full advantage of them.
6. Connect your domain 🌐
If you already have a custom domain, connect it to your Squarespace website. If you don't have a domain yet, you can purchase one through Squarespace or another domain registrar.
7. Set up analytics 📈
Connect your website to Google Analytics or use Squarespace's built-in analytics tools to track your website's performance. This will help you understand how visitors interact with your website and identify areas for improvement.
8. Launch your website 🚀
Once you're happy with your photography website, it's time to launch it! Share your new website on social media, with your email list, and through any other marketing channels you use.
By following these steps, you'll have a professional-looking photography website that showcases your work and helps you attract new clients. Remember, you can always update and tweak your website as your business grows and evolves.
Tips for Setting Up a Squarespace Website 🛠️
And to finish off this comprehensive guide, here are a few tips to help you really make the most of your new Squarespace website, ensuring your photography business is set up correctly and ready to secure clients.
Plan your content: Before diving into design and website builder features, outline your website's structure and decide what content you need. This will make your life a lot easier when it comes to creating the content.
Choose the right Squarespace template: Pick a Squarespace template that suits your photography style and business needs.
Customize your design: Make use of Squarespace's design tools to personalize your site and create a unique look. Whether you're graphic designers, wedding planners, a publishing company, or anyone who handles visual media, your website needs to showcase your skills!
Optimize for SEO: Use keywords, meta descriptions, and image alt tags to improve your website's search engine ranking. Don't forget to use location keywords to highlight the areas you'll be working in.
Test on multiple devices: Ensure your website looks great on desktop, tablet, and mobile devices. Most people use mobile devices to access websites, so prioritize this!
Connect your domain: Set up a custom domain to create a professional online presence. Make sure the name is easy to remember and isn't too complicated to spell out.
Launch and promote: Once your website is ready, share it with the world and promote your photography services. Use social media to spread the link, collaborate with other photographers, attend local events, and do what you can to get your name out into the world.
Final Thoughts 🌟
Creating a photography website with Squarespace is an exciting journey. With the right Squarespace template and some customization, you'll have a stunning site that showcases your work and helps you grow your business.
So go ahead, dive into the world of Squarespace templates, and let your photography shine! 📸✨