7 Kickass Squarespace Therapist Templates (100% Free)
My favorite Squarespace therapist templates ranked.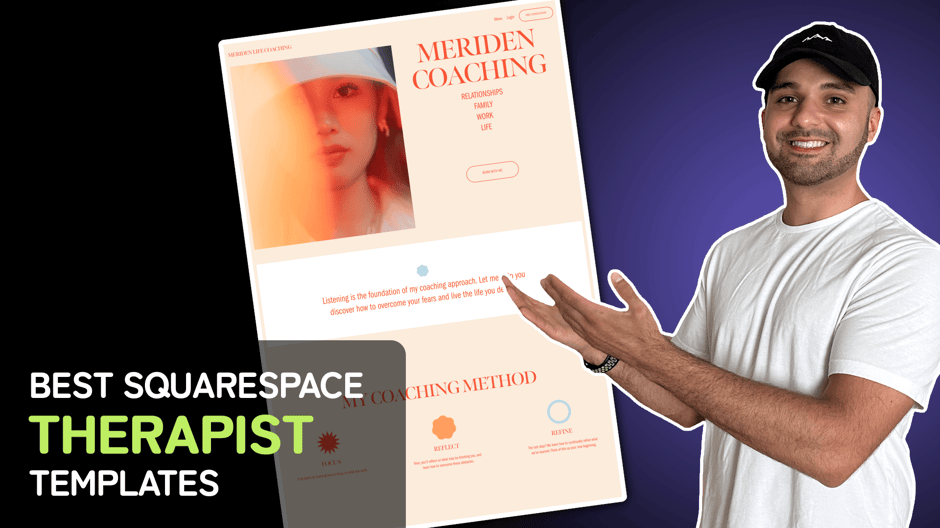 Looking for the best therapist Squarespace templates to give your therapy website a sleek, professional vibe that truly mirrors your unique services? 
Well, you've hit the jackpot! 
I know setting up a therapy website can feel like a big step, but trust me, the right Squarespace template can make all the difference. 
It lets you showcase your work, advertise your services, and build an impressive online footprint. 
And a quick note before we start, all the following templates are available on the Squarespace 7.1 Fluid Engine. More on this later!
The Ultimate List of Squarespace Therapy Templates
Top Squarespace Therapist Website Examples
Get inspired by looking at the best Squarespace therapist websites!
How to Set Up and Make a Successful Squarespace Website
Creating a website on Squarespace and, ultimately, a beautiful online presence can be an exciting journey, offering endless creative possibilities for service-based businesses.
This is especially the case with the launch of the new Fluid Squarespace 7.1 engine that allows you to customize your template pretty any way you want.
That's because the templates now work in blocks, so if you want to add a newsletter sign-up section, a new testimonial section, and so on, you can simply pop in the block for that feature wherever you want it.
Why am I telling you this?
Because these are transferable blocks across all the templates running the Squarespace 7.1 Fluid engine (like all the templates above). However, all your styling, like the colors, fonts, and design, will automatically match your chosen template.
So, whatever template you like, you don't need to think you'll be stuck with it. You're simply picking the colors, styles, and designs you're interested in and then building your private practice website up from there.
However, these Squarespace templates are designed so you can pick them up and install them in a few minutes, then change out the content to your own, and you're good to go.
Whether you're building a portfolio, a blog, an e-commerce shop, or a website for your business, Squarespace's versatile platform provides various tools to help you design a professional and effective website.
So, let's break this down a bit further and make it easy with this step-by-step guide on how to set up and make a successful Squarespace website:
Step 1: Sign Up for Squarespace
The first step is to sign up for a Squarespace account. Visit the Squarespace website and click on 'Get Started.' 
You'll be prompted to input your email address and create a password. Squarespace offers a 14-day free trial period for you to explore the platform and its features. 
No credit card is required for the trial, so you can get building right off the bat without having to spend a cent! And don't worry if you're not confident in what you're doing, Squarespace has a ton of video tutorials to help you develop your new site.
Step 2: Choose a Website Template
After signing up, the next step is to select a template that fits your needs. 
Of course, we went through the Squarespace therapist templates above, and as you can see, you can't really go wrong. They're all designed to be as SEO-optimized as possible, look good, and provide your clients with a positive experience, so it all comes down to what style you like.
Just take a moment to review the Squarespace templates and select one that aligns with your desired website functionality and aesthetic.
And never fear, all templates for therapists are installed directly to your site automatically, so you won't need to do a thing!
Step 3: Start Building Your Site
Once you've selected a website template, it's time to start building your new website. 
Squarespace uses a drag-and-drop interface that makes adding and arranging elements on your site easy. Since you're using a website template, the best thing you can do is to simply swap out the text existing in the site to your own (headers, address, phone, email, etc.), and then you're done!
However, it's your new site, so don't be afraid to make it your own. Some of the primary sections you might want to include are:
Home Page: This is the first page visitors see when they visit your site. Make it engaging and clear about what your site or business offers.
About Page: This is where you tell visitors about yourself or your business. It's a chance to share your story and build a connection with your audience.
Services Page: If you're selling products or services, this page is where you provide details about what you offer.
Contact Page: This page should include information on how visitors can reach out to you, such as an email address or contact form.
Blog Page: If you plan to share regular content updates, a blog page can be a great addition to your site.
Of course, if you already have an existing website, then you already have the content written that you can just pull over into the template, making it incredibly easy to set up your website.
Step 4: Customize Your Site
Squarespace is known for being highly customizable, and this part of the process is strategically designed to be as easy as possible, so you need to make sure you're taking full advantage of it.
After you've added the basic structure of your site, it's time to customize it to reflect your brand. Squarespace offers several customization options, including:
Style Editor: You can change the site's fonts, color palette, and other design elements here.
Logo & Title: Add your logo and the name of your site here.
Pages: Add, delete, or rearrange pages here.
Marketing: Set up SEO, social sharing, and other marketing features here. Also, make sure your mobile site is working as intended, as most people will use their phones to check you out.
Step 5: Add Content
Next, you'll want to start adding content to your site. All Squarespace websites are nothing without their content that conveys all the information you wish to share with your visitors.
Ensure you're diversifying your content, using text, images, videos, and any other media you want to share to send your message effectively.
Be sure to keep your content clear, engaging, and relevant to your audience. If you're taking content from an old site, make sure you're updating it to represent your business correctly.
Step 6: Optimize Your Site for SEO
Squarespace has built-in SEO features that can help your site rank higher in search engine results. Be sure to make use of these tools.
This includes writing clear, descriptive page titles and descriptions, using relevant keywords in your content, and structuring your content in a way that's easy for search engines to understand.
Squarespace templates are set up to be SEO-friendly from the word "Go," so you won't need to worry about changing any of the design features. Of course, if you're looking for a custom design, this will come with a custom design price tag, and you'll need to speak with a professional Squarespace designer for that kind of service.
Step 7: Set Up a Domain
Before launching your site, you'll want to set up a domain. You can buy a domain directly through Squarespace or connect a domain you already own. You can ask tech support to help simplify this process.
Step 8: Review and Launch Your Site
Before launching, review your site to make sure everything works as it should.
Click through all the links, check the formatting on different devices, and ensure your own website looks and functions correctly. This is also a good time to double-check your SEO settings.
Once you're satisfied with everything, it's time to publish your site! Squarespace provides a 'Site Visibility' setting which you can change from 'Private' to 'Public' when you're ready to go live.
Step 9: Monitor and Update Your Site
Launching your site is not the end of the process. Regularly updating your content and checking your site's performance is key to maintaining a successful website.
Squarespace provides analytics tools that can help you understand your audience and how they interact with your site. Use this information to refine your content and improve user experience.
Furthermore, stay engaged with your audience. Respond promptly to their comments and inquiries, and consider integrating social media to maintain a consistent presence and interaction.
Step 10: Utilize Squarespace's Features
Squarespace is not just a website builder; it also offers a variety of features that can help you grow your online presence. Here are some you might want to explore:
E-commerce: If you plan to sell products or services, Squarespace has robust e-commerce capabilities, including inventory management, a secure checkout process, and tools to sell digital products.
Blogging: Squarespace's blogging platform is robust and easy to use. You can schedule posts, add tags and categories, and even allow visitor comments.
Email Campaigns: With Squarespace Email Campaigns, you can design, send, and track email marketing campaigns directly from your Squarespace site.
SEO Tools: As mentioned earlier, Squarespace has built-in SEO tools that can help improve your site's visibility on search engines.
Integrations: Squarespace integrates with various third-party services, including social media platforms, email marketing services, and analytics tools.
And that about wraps things up!
As you can see, building a successful Squarespace website involves careful planning, a good understanding of your audience, and the effective use of the tools that Squarespace offers.
It may take some time and experimentation to find what works best for your site, but with patience and persistence, you can create a site that not only looks great but also serves your goals effectively.
Good luck!