15 Kickass Actor Websites (Examples + Tips to Make the Best Site)
Inspiring actor websites and hacks to beat them.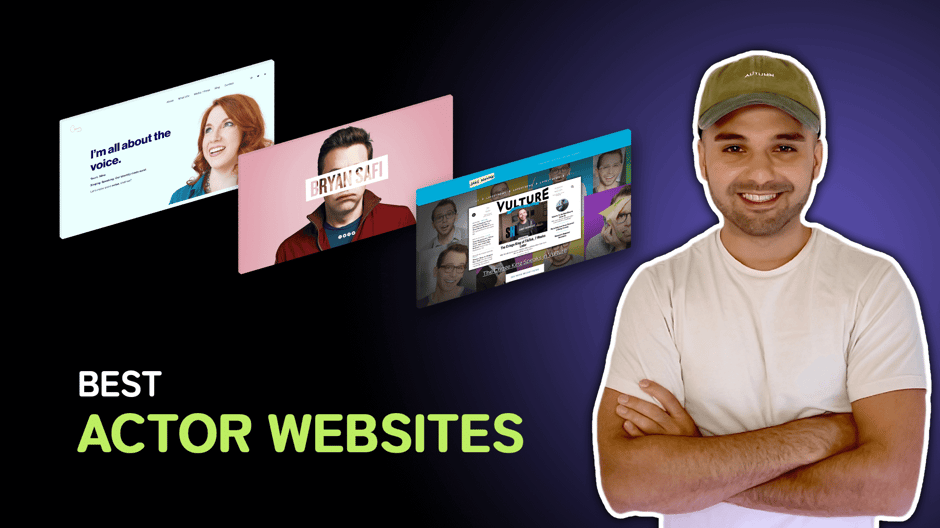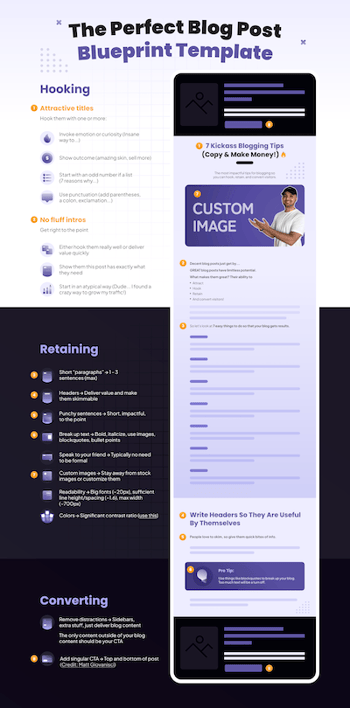 Craft the Perfect Blog Post That'll Convert Your Visitors
Download the FREE Perfect Blog Blueprint and know exactly how to hook, retain, and convert your visitors.
Download Blog Blueprint
Hey there, professional actors and actresses! 🎭
Ready to see kickass actor website examples so you can create an actor website that showcases your talent and helps you land those dream roles?
Of course you are, so it's time to get out there, pick a pretty theme, add your photos, and publish. It's that easy, right?
Right?
Well, not exactly.
Designing a professional actor website is a little bit more work than just having a nice-looking online space.
You've got to think about how you're presenting yourself and your personal brand. You need to think about functional bits and pieces, like SEO, loading times, and creating an exciting experience in which people who want to hire you are excited to connect.
And there's way more to it than that.
To help you get in the know, today I'm taking you on a journey into how you create an actor website that ticks all the boxes.
Think of this as the ultimate guide that will not only inspire you by showcasing some of the best examples of acting websites and their various pages but also provides tips and tricks to make your website a smashing success! 🚀
I've included a handpicked list of fantastic actor websites that are stealing the spotlight. For each one, I'll break down what makes it good and what could be improved, and we'll wrap up with a guide to building a successful website that'll leave directors wanting more! 😎
Ready?
Let's get into it. 💪
Hack Alert! Start With One of My Fav Actor Website Templates
Hold up, before we get into the best actor website examples, don't think for a second that you need to build your website from scratch.
This will take wayyyy too long, and you can't even guarantee a good finish at the end. Instead, save time and enjoy a fully-optimized website by using a specially designed website template.
Just pick a template for your website, change the content to represent you, upload your own photos, and publish.
You'll have a professional-looking website in a few hours that you can evolve as your career progresses!
Not sure where to start?
Check out these top templates that will help your online presence sing!
Okay, now let's get into the best actor website examples!
The Ultimate List of Actor Website Examples
The Ultimate Guide to Building a Successful Actor Website 🌟
Now that we've explored these fantastic inspirational actor websites, it's time to dive into our ultimate guide to building your own website that will highlight your acting career in the most engaging and most successful way!
Define your personal brand
Your website should be a reflection of who you are as an actor and person. Consider the image you want to convey and create a consistent brand identity through your site's design, color scheme, typography, and tone of voice. Think about your unique strengths and acting style, and let that guide your branding choices. 🎭
Make a strong first impression
Every web designer will tell you that the success of a good actor website, and any website for that matter, comes down to whether or not it makes an excellent first impression.
Casting directors and fans alike will form an opinion about you within seconds of visiting your website, so grab their attention with a striking hero image, bold visuals, or even a background made of video clips that showcase your acting talents.
Remember, you want to stand out from the crowd, so grab their attention and highlight everything you want them to know quickly! 🌟
Once you have their attention, then you can provide more information and more detailed pages that can tell them more. Just don't overwhelm them with data, to begin with.
Keep it clean and organized
A well-organized actor website is visually appealing and easy to navigate. Make sure your site has a clear menu that directs visitors to your work, resume, contact information, and any other relevant sections.
At the end of the day, no website visitor will stick around on your website for long if they're quickly getting lost and can't find what they're looking for.
Opt for a clean and modern actor website design that focuses on your content. 🧹
Showcase your work
Every kind of actor website design should be a comprehensive portfolio of your work, including headshots, video reels, voiceover samples, and other materials highlighting your skills and achievements.
After all, people are coming to your website to see exactly what you're capable of, so you need the value you're offering to be front and center.
Organize your work in a way that is easy to browse, and make sure to keep it up-to-date with your latest projects. This is an essential, unmissable element of a fantastic website, so make sure you make your first impression count! 🎬
Engage your audience
Whether it's through a blog, vlog, podcast, or social media integration, make sure to connect with your fans and keep them engaged with your latest news, thoughts, and your acting experience. Providing regular updates and personal insights will help you build a loyal following and show casting directors that you're an active and dedicated professional. 💬
Optimize for mobile
Nowadays, many people browse the web on their smartphones and tablets. The statistics say that more than half of all internet traffic is. Therefore, you must ensure your actor website design is mobile-friendly and looks great on all devices.
This will not only improve the user experience but also help with search engine rankings. 📱
Include a call-to-action
Encourage visitors to take action on your website, whether by signing up for your newsletter, following you on your social media accounts, or contacting you via a contact form. Whatever action you want your visitors to take, make it clear, obvious, and unmissable.
This makes it easy for casting directors and fans alike to stay connected and engaged with you. 📨
Don't forget SEO
Search engine optimization (SEO) is essential for driving traffic to your website because when people search for actors, you want to be coming up on the front page of Google as many times as possible.
Of course, SEO is a complicated game with ever-changing goalposts, but there are some hard-and-fast techniques when it comes to actor website design that will always ensure you get good results and set yourself up for the best chance of success.
These techniques include;
Optimizing your site's content with relevant keywords, meta tags, and descriptions
Having user-friendly URLs and a sitemap.
Ensure your actor website design and pages load quickly
Images are compressed and optimized
You have blog content and use relevant keywords within your content
All of this will improve your site's visibility on search engines like Google and help attract more visitors. 🔍
Track your success
Keep an eye on your website's performance by using tools like Google Analytics, but don't get obsessed.
Use your metrics to help you understand how visitors are interacting with your site, which pages are the most popular, and where there's room for improvement across your actor website design.
Use this data to optimize your website and make it even more successful. 📈
Keep it fresh
Other actor websites are uploading regular content, and if you're not, then you'll fall behind.
Regularly updating your website with new content, projects, and news will show that you're an active and committed professional. It will also keep your audience engaged and coming back for more.
Make a habit of reviewing and updating your website and web page content to ensure it remains a compelling representation of your brand and work. 🔄
Over to you!
There you have it!
By following these ten steps and using these best actor websites as your inspiration, you'll be well on your way to creating a successful actor website that showcases your talents, engages your audience, and leave directors and producers no choice but to hire your services.
Break a leg! 🎭🎉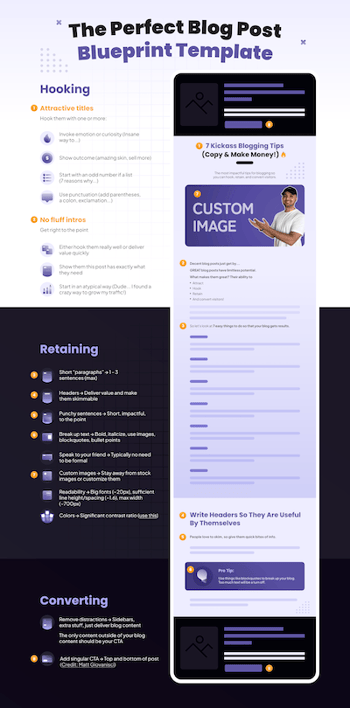 Craft the Perfect Blog Post That'll Convert Your Visitors
Download the FREE Perfect Blog Blueprint and know exactly how to hook, retain, and convert your visitors.
Download Blog Blueprint