15 Kickass Framer Website Examples: Design the Best Site!
Inspiring Framer websites and hacks to beat them.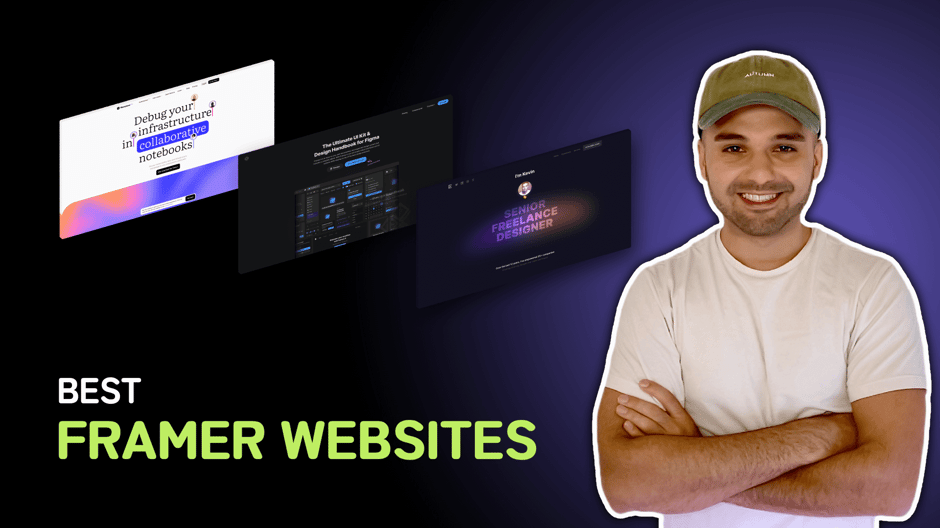 Is Framer up to the task of creating kickass websites?
This list of Framer website examples will show you yes, amazing sites are created with Framer.
Thanks to the fact that Framer's primary audience is designers, the Framer sites on this list are truly inspirational.
After I dove into the tool, I understood what all the hype was about... the UI is clean and friendly and it's built so a designer can output a website!
Let's dive into the best Framer website examples!
Get 3 free months on a Framer Pro annual subscription using code "partner25proyearly" and signing up with this link.
The Ultimate List of the Best Framer Websites You're Going to Love
An Introduction to Framer - The AI-Powered Website Design Tool Everyone's Talking About
Hey there, fellow web warriors! 
Have you been tirelessly hunting for a design tool that ticks all the boxes? A tool that caters to your wildest design whims while also allowing you to dip your toes into the code pool? Well, buckle up because you're about to meet your match.
Enter Framer.
Framer is like a Swiss Army Knife in the world of design tools, jam-packed with features that make creating interactive and hyper-realistic prototypes a piece of cake. Whether you're designing the next addictive mobile app or an engaging website, Framer's got your back.
What is Framer?
In a nutshell, Framer is a playground for digital designers. Born in Amsterdam and launched in 2014, it's been making waves with its intuitive design interface and impressive capabilities ever since.
Framer lets you design and code in one place, making it perfect for designers who love getting their hands dirty with a bit of coding, as well as for coders looking to venture into design. From responsive layouts to interactive components, it's all possible with Framer.
Now powered by AI technology, Framer is taking website design to the next level, putting industry-leading power and technology in the hands of everyday people.
Why Should You Use Framer?
Glad you asked. Here are a few killer reasons to get you excited:
Create Interactive Prototypes with Ease: With Framer, you can bring your designs to life with interactive elements, animations, and dynamic content. And the best part? You can test them in real time.
No Coding Skills? No Problem: Framer offers a rich set of design tools that are easy to use, even for those with little or no coding experience. Plus, there's an option to view and edit the code behind your design, which is a fantastic learning tool for budding coders.
Collaboration is a Breeze: Framer allows you to collaborate with your team in real time, get feedback, and iterate on the fly.
It's All About the Details: With Framer's micro-interaction capabilities, you can add those little interactive elements that make a user experience feel more natural and intuitive.
Seamless Handoff: Framer's integrations with popular tools like Sketch, Figma, and Photoshop make importing designs a cinch. Plus, its ability to generate CSS, iOS, or Android code for your designs smooths the handoff to developers as silk.
So, is Framer the tool you've been dreaming of? 
Well, there's only one way to find out. Dive in and start exploring what Framer can do for your design process. And remember, a tool is only as good as the person wielding it, so keep those creative juices flowing and let your designs shine.
Tips for Getting Started with Framer
Let's get down to business. Ready to dive into Framer but not sure where to start? Here are a few tips to get you up and running:
Tour the Interface: Start by familiarizing yourself with the Framer interface. Get to know where the tools and panels are and what they do.
Start with Templates: there'sThere's no shame in taking a shortcut as a beginner or startup company. Framer offers a variety of ready-made templates that you can use as a starting point for your designs.
Play with Interactions: One of Framer's standout features is its interaction capabilities. Start by creating simple interactions like button clicks or hover effects. As you get more comfortable, you can venture into more complex interactions.
Explore the Code: Don't be scared of the code. Although Framer is a no-code platform (so I get this sounds silly), there are ways that Framer's unique design-meets-code approach is a valuable opportunity to learn how your designs translate into code. 
Start by observing the auto-generated code and try tweaking it to see how it affects your design.
Learn from Others: Framer has a vibrant community of designers who share their work and offer valuable insights. Check out the Framer gallery to learn from their designs.
Practice Makes Perfect: As with any new tool, the more you use it, the better you'll get. So, start designing, making mistakes, learning, and iterating.
Conclusion
And there you have it!
 Your primer into the exciting world of Framer. This versatile design tool, equipped with many capabilities, will spark your creativity and take your design skills to the next level.
From creating stunning Framer sites to building highly interactive prototypes, Framer is your new sidekick in the design world. And remember, it's not just about having the right tool – it's also about your willingness to experiment, your commitment to learn, and your creativity that truly makes a design shine.
As we've seen from the top Framer websites we've explored, the possibilities with Framer are genuinely limitless. 
So, what are you waiting for? Roll up your sleeves, fire up Framer, and let your creativity run wild.
 I can't wait to see what you'll come up with!