15 Kickass HubSpot Websites: Make the Best Site!
Inspiring websites built on HubSpot and hacks to beat them.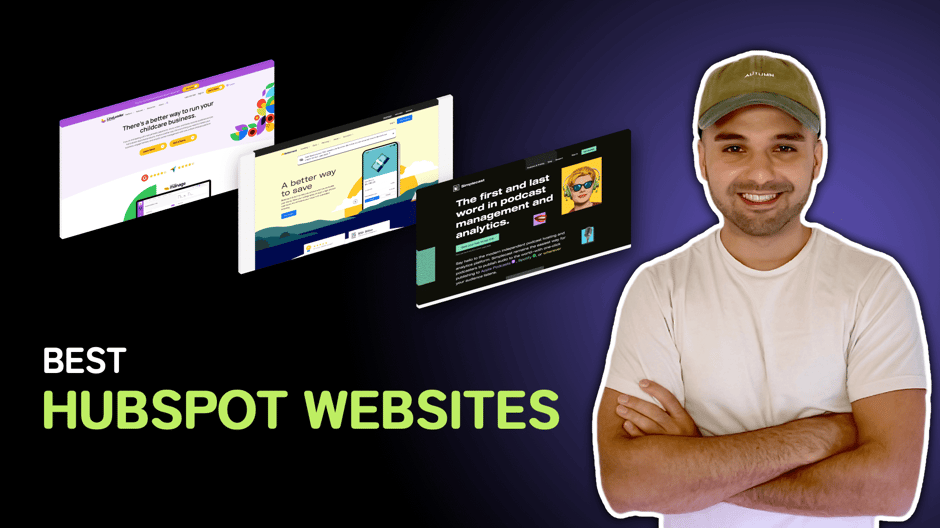 How good is the HubSpot CMS/website builder??
In this list of HubSpot website example, you'll see exactly how good and what it's capable of (and what it's not good at).
Beyond showing you these HubSpot CMS websites, I'll also:
Break down what's good and bad about each HubSpot site
Tell you about my first-hand experience building a website on HubSpot CMS Hub
And share some tips, tricks, and words of caution to help you build the best website possible!
Word of Caution
Real quick, when you build a website on HubSpot, you'll need to use a HubSpot theme.
There are plenty of free ones that will do great.
Your HubSpot theme will make all the difference (unless you are custom coding templates).
Make sure you do your due diligence in understanding and picking a theme/template for your HubSpot website.
Nough said! Let's jump into these truly kickass and best HubSpot websites on the world wide web and see what these websites built on the platform are made of! 😉
The Ultimate List of HubSpot Website Examples
My Thoughts On Using HubSpot to Build a Website
I was extremely impressed with the quality of websites I found built on HubSpot, and it just goes to show that this is truly a powerful content management system.
A low-key overlooked one, at that.
But don't assume it's easy to build a site that's nice as these ones. These are some of the top businesses in the world and have some serious time and investment behind them. Teams of people work together to produce that kind of content and product pages.
Let's explore some of the limitations of using HubSpot CMS Hub.
The "Type" Of Builder You'll Work With
I like to put website builders into two distinct categories:
It allows you to add rows, columns, and fill those up with widgets and site features
The sections are premade, and you work within the fields
The first you might create a two-column layout, then add an image to the left column, and some text to the right.
The second basically says the following section has an image left and text right, if you want to move that stuff around, tough, you can't.
Which category does the HubSpot CMS Hub fall into?
Mainly the first (which I like), BUT, it's still rather limiting.
And when you hit these limitations, break out the custom code.
Using Custom Code
Many of the websites on this list are using custom code (or a modern theme that's very aligned with what they need).
On one hand, it's great they provide access to the templating system to create custom code (primarily HTML and CSS).
However, it also comes with frustration when I need to use custom code to just align two buttons next to each other (technically, you can do this through the UI, but the spacing is usually off).
It's kinda bittersweet.
On the "sweet" side, the CMS hub does give you access to create custom modules (aka widgets – the building blocks of HubSpot websites).
In these custom modules, you can add custom fields, HTML, CSS, and JS.
Then, you can reuse those modules throughout your site. For example, adding a card designed a certain way. This can be great for creating unique landing pages that can assist with business growth, but if you're not technically minded, then it's just another investment to think about.
Is the HubSpot Website Builder Worth It?
Well, technically you can build a website for free.
But two things:
If you do go with HubSpot, I'd recommend a paid tier (use of themes, drag and drop editor, etc.) The HubSpot CMS cost starts at around $21 per month. The Enterprise tier is about $12,000 a year.
I personally would choose to build on Webflow (here are some Webflow SaaS examples). I enjoy the flexibility of it while not using code. Plus you can embed the HubSpot script and do all your tracking that way.
That being said, there are some SEO tools available within HubSpot's CRM features list and, as you can imagine, it's fully integrated with the rest of the HubSpot platform.
With features like having an interactive map for connecting with local customers and a ton of digital elements, like a digital library and integrated digital security, there's certainly potential if you know what you're doing.
It's having the know-how to use the core technology and having an understanding of what you want to do, how you're going to do, and how to make that happen.
There are certainly easier and more powerful platforms out there, so make sure you're researching to see what best suits you.
But that doesn't mean HubSpot doesn't have what you need.
All in all, HubSpot CMS (Content Management System) is very successful for many companies.
Heck have you seen who is using it in these HubSpot website examples??