15 Dope Leadpages Websites: Build a Kickass Website
Inspiring websites built on Leadpages and hacks to beat them.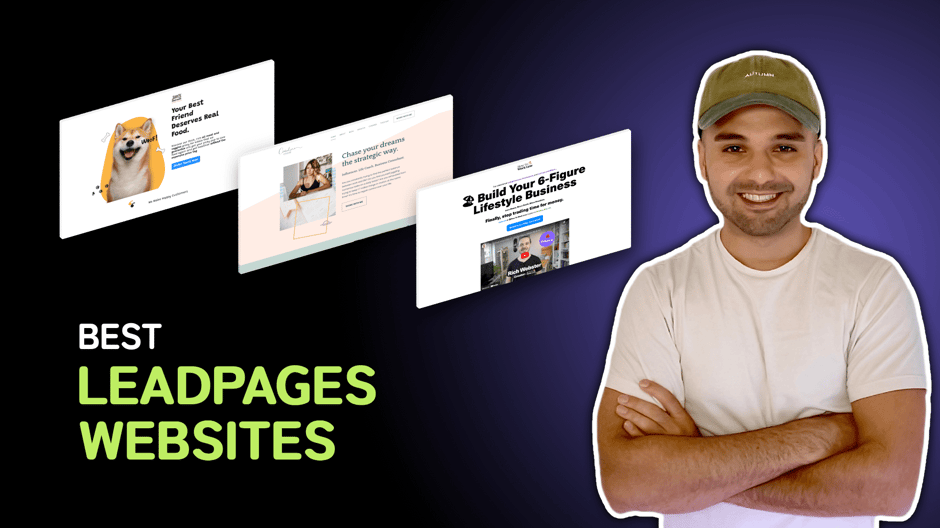 Want inspiration?
Or to see if Leadpages can actually handle making kickass websites?
This list of the best Leadpages website examples will knock your socks off.
That's because the platform has evolved significantly since it's debut in 2012. Now jam packed with pop-ups, alert bars, mobile responsiveness, and...
The ability to build full blown websites.
So yeah, it's kicking ass.
You're in for a treat because I've got the ultimate guide to inspire you, make you laugh, and offer you tips and tricks to ensure your Leadpages website stands out from the pack.
Hack Alert! Start With One of My Fav Leadpages Templates
Leadpages has a bunch of kickass landing page templates.
Here are some of my favorite ones broken out by landing pages and full blown websites.
Free Landing Page Templates
Free Website Templates
And FYI, templates aren't just for people who aren't familiar with this landing page builder, but also seasoned pros that are looking at getting a jump start at creating an effective landing page.
Now, back to our best Leadpages examples!
The Ultimate List of the Best Leadpages Examples
The Super-Duper Guide to Building a Successful Leadpages Website (Or Landing Page)
Now we've explored the world of Leadpages and all the best Leadpages website examples that showcase what you can do with the platform, let's dive into the nitty-gritty of building a successful website/landing page. Follow these tips and tricks, and you'll have kickass web pages in no time!
Design matters
A website's design is like the cover of a book – it's the first impression you make on your visitors. Make sure it's visually appealing, with bold colors, engaging visuals, and a clean layout. Remember, a picture is worth a thousand words, so choose your visuals wisely!
And don't forget that managing your design doesn't have to be difficult. The drag-and-drop editor is a great way to put advanced features where you want them so that you can enjoy a fully-optimized website in minutes!
Headlines are king
Your headlines should be catchy and compelling, making your visitors want to read more. Use engaging language and action words to entice your audience and keep them scrolling. Try to encapsulate your value into as fewer words as possible.
Using a landing page builder like Leadpages, making your content stand out is as easy as clicking a button, so don't be afraid to try out different styles that fit your brand and create the most impact.
And clear content is queen
Your landing page should be easy to read and understand. Use clear, concise language and break up your content with headings, bullet points, and images.
Nobody wants to read a wall of text, so keep it digestible!
Even if you have a lot of content, try not to ram it down your visitor's throats. Instead, use Leadpages features and their simple drag-and-drop editor to break everything down into chunks, and don't be afraid to guide people through step-by-step.
With simple content that holds value, your conversion rates will go through the roof!
Show your expertise
Showcase your skills and expertise through case studies, testimonials, and examples of your work throughout your landing pages - it's just essential.
Consider how you shop around for products and services on the internet. If there are no reviews, testimonials, or Trustpilot ranking, do you trust the company with your money?
Probably not.
Include some kinds of social proof to help build credibility and trust with your audience. Video content works best for active lead generation and enhancing conversion rates!
Use a strong call-to-action
Just like all the great Leadpages website examples we looked at above, your pages should have a clear purpose, and your call-to-action (CTA) should guide visitors toward that goal.
Whether it's signing up for a newsletter, booking a consultation, or making a purchase, make sure your CTA is clear and visible. This is a core element of making landing pages of any kind, so don't underestimate this!
The common CTA button typically has a conversion rate of 6.5% higher than images, and 380% of people block a CTA in a video than in a sidebar, so bear this in mind!
But don't forget you have access to a ton of other Leadpages features too!
Leadpages features like pop-ups that trigger automatically whenever someone gets to a certain point on the page. You could add enticing content to the left sidebar of your website. You could place pop-ups wherever you wanted. You could add alert bars to highlight discounts and sales you're running.
The best way to approach this is to simply log into your Leadpages account, take a look through the Leadpages drag-and-drop builder and look at all the Leadpages features and Leadpages integrations that are on offer.
Be creative with how you grab your visitor's attention. This is how you boost your conversion rate and close sales.
Have a blog or free resources section
Everyone wants something for nothing these days, but that's not necessarily a bad thing.
Providing valuable content, such as blog posts or downloadable resources, can help establish your authority in your field and keep people coming back for more.
When people know you have the answers and you have an idea when it comes to what you're talking about, they're far more likely to invest in your premium services.
Don't shy from social media integration
Make it easy for your website explorers to share your content and connect with you on social media. After all, over four billion people use social media worldwide, so the chances are some of them are your potential customers.
You can include social sharing buttons on your website and links to your social media profiles. This is essential for small businesses as it shows you're active and ready to engage with people!
Absolutely be mobile-friendly
With more and more people browsing the web on their smartphones, it's crucial your website is mobile-friendly. (Around 60% of internet traffic is mobile traffic) Ensure your site is responsive and looks great on all devices. Test this before launching!
You just simply get more leads when people can actually see your website properly, whatever device they're using.
Focus on SEO optimization
Optimize your website for search engines by incorporating relevant keywords, writing high-quality content, and using proper meta tags. This will help your site rank higher in search results and attract more visitors.
Actually, Use Your Analytics
You know those graphs and stats you see on your landing page?
Use them to your advantage to make data-driven decisions when it comes to making your landing pages better.
The worst thing I see is the owners of landing pages making random decisions about things they can do to improve their landing pages but having no foundation on why they are doing that.
That's how you break the features of your website that work and don't improve.
Instead, track your website's performance using analytics tools like Google Analytics. This will help you understand your audience, see what content resonates with them, and make data-driven decisions to improve your site.
But, if you want to keep things easy, Leadpages, as a landing page builder, has its own built-in analytics system, which is a great place to get started.
Speed it up
Nobody likes a slow-loading website, so make sure your site loads quickly by optimizing images and making sure you're testing your website using online tools.
The average Lead pages load in around 2.4 seconds, which is ideal. Just watch your content to make sure you don't go too far over this!
Make Navigation Easy Again
Make it simple for users to find what they're looking for by organizing your content into clear categories and using a logical site structure. Include a search function and a well-designed menu to help visitors navigate your site with ease.
The best examples always showcase easy navigation, with more explanation to the more complicated concepts deeper into the website.
Test, test, test
Regularly test your website to ensure it's functioning correctly and providing a positive user experience. Check for broken links, ensure forms are working, and test your site on different devices and browsers.
If you find something that doesn't work, fix it as soon as possible, as you don't want to lose customers!
Make regular updates
Keep your website fresh by regularly updating your content, design, and technology. Staying up-to-date with the latest trends and best practices will help your site remain relevant and engaging.
Don't forget about security
Protect your website and your users' data by implementing strong security measures, such as SSL certificates and secure passwords.
And that's all, folks!
No more final thoughts today!
By following these tips and tricks, you'll be well on your way to creating a successful website that stands out from the competition.
Remember, the key to a great website is a combination of strong design, engaging content, and a seamless user experience. Keep your audience in mind, and you'll have a website that not only looks good but also delivers results.
Try out the new Leadpages features as they come up,
and don't be afraid to experiment with the drag-and-drop features. Remember, Leadpages is a code-free experience, so have fun, even if you're new to all this!
So, what are you waiting for? Get started on building your kickass website today!