15 Kickass Podia Websites (Copy & Make Money!)
Inspiring websites built on Podia and hacks to beat them.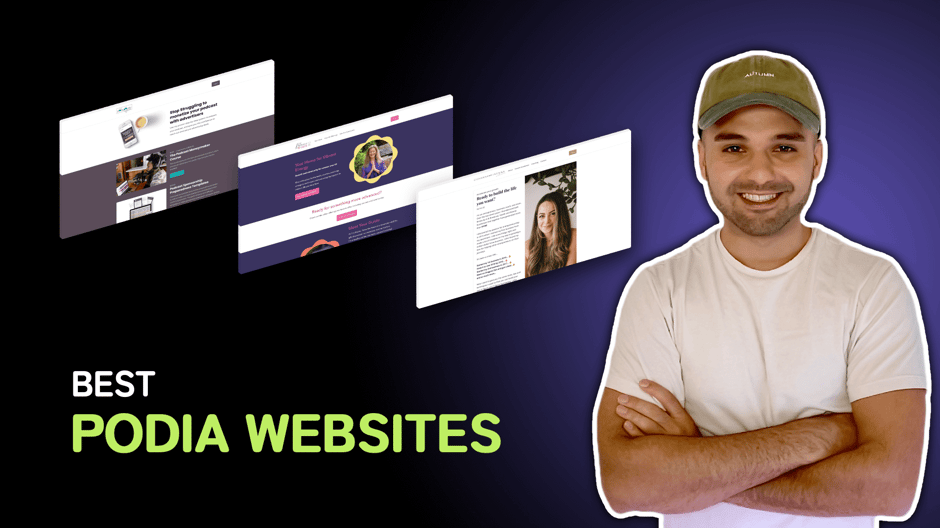 Podia is low key a pretty solid website builder.
You'll see exactly what I'm talking about in this list of the best podia website examples.
The people drawn to Podia typically do really well with copywriting (something I used to ignore, then realized the potential of it).
So beyond pointing out, "I like this Podia website," I'm also going to list out why it's great and what tactics they're using that work (aka sell a shit ton of online courses, digital downloads, and other digital products).
And at the end, I'll talk a bit more about the Podia website builder along with screenshots. That way, you can see the building blocks of these Podia website examples.
Let's dive into the best Podia website examples so you can:
See what the builder is capable of
Get design and content inspiration
And copy what other creators are doing so you can make some money!
The Ultimate List of Podia Website Examples
This is What the Podia Website Builder Looks Like
Now that you've seen kickass Podia website examples, let's look under the hood and see what the builder and Podia's tools look like and why this is considered such a great platform.
Creating a New Podia Courses Website
(Or any other website type, for that matter)
Simplicity, speed, and hand-holding to the max!
When creating a new (free) website on the Podia platform, you're presented with four different paths:
Blank site – "I want to start from scratch and build everything myself."
Email lander – "I want a simple page that collects emails from my audience."
Link page – I want a simple page with links to the rest of my online presence.
Full website – "I want to create multiple pages, each with different layouts and sections."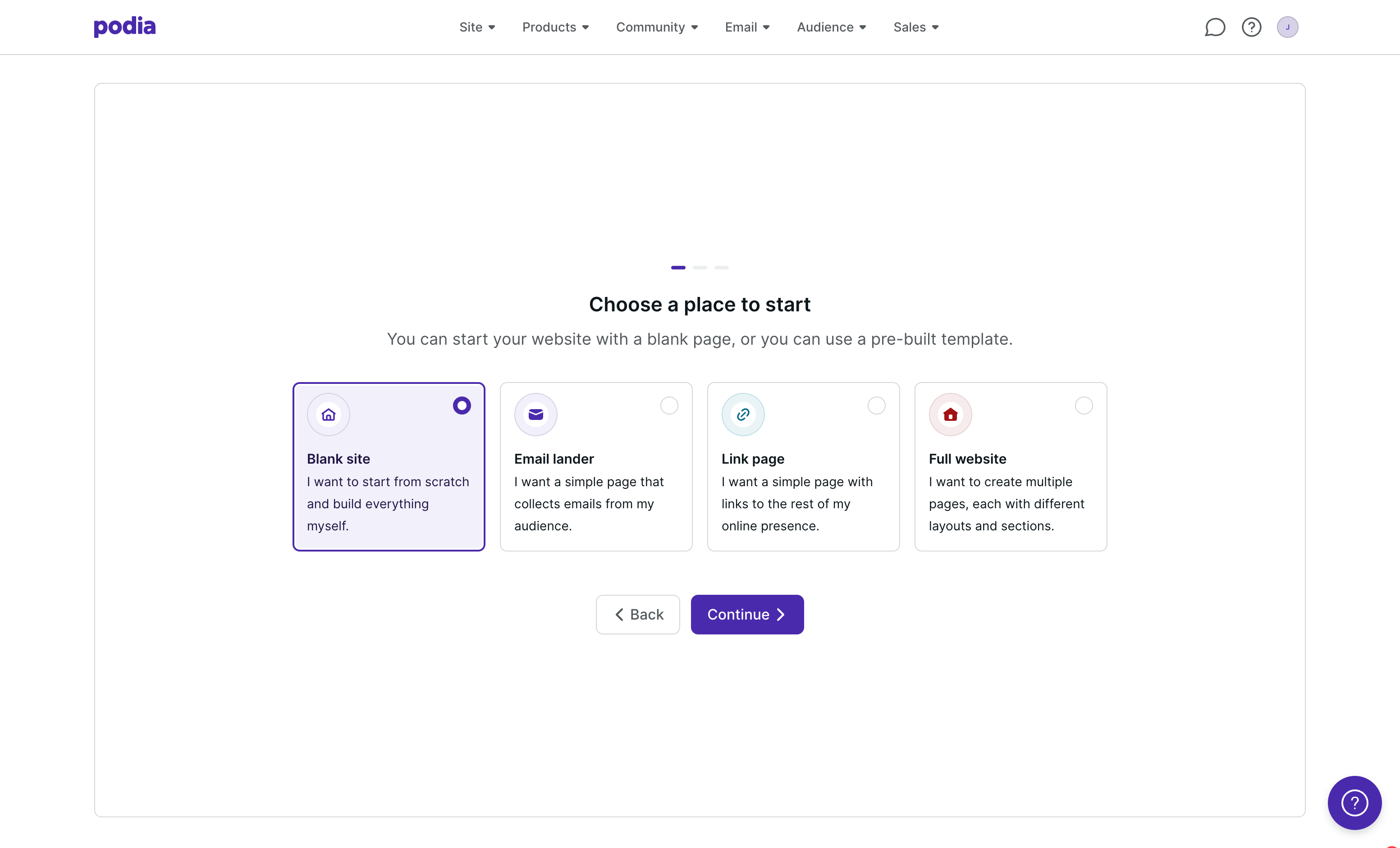 I'm a website-building snob and like starting with a blank site, but to save yourself the time and effort (and certainly if you aren't experienced with using such a platform), I recommend starting with an email lander or full website.
All the Sections/Widgets Available
I'm pretty impressed with the available sections and how customizable they are (while remaining easy).
In Podia, a "section" is the basic building block of the website. A section might be simple, like a block of text, or have much more to it, like a testimonial section.
In order to create a testimonials section on other builders, you'd need to add a section title, a testimonial title, body, images, and repeat that.
On this platform, all the fields are already put together for you.
Here's what that looks like: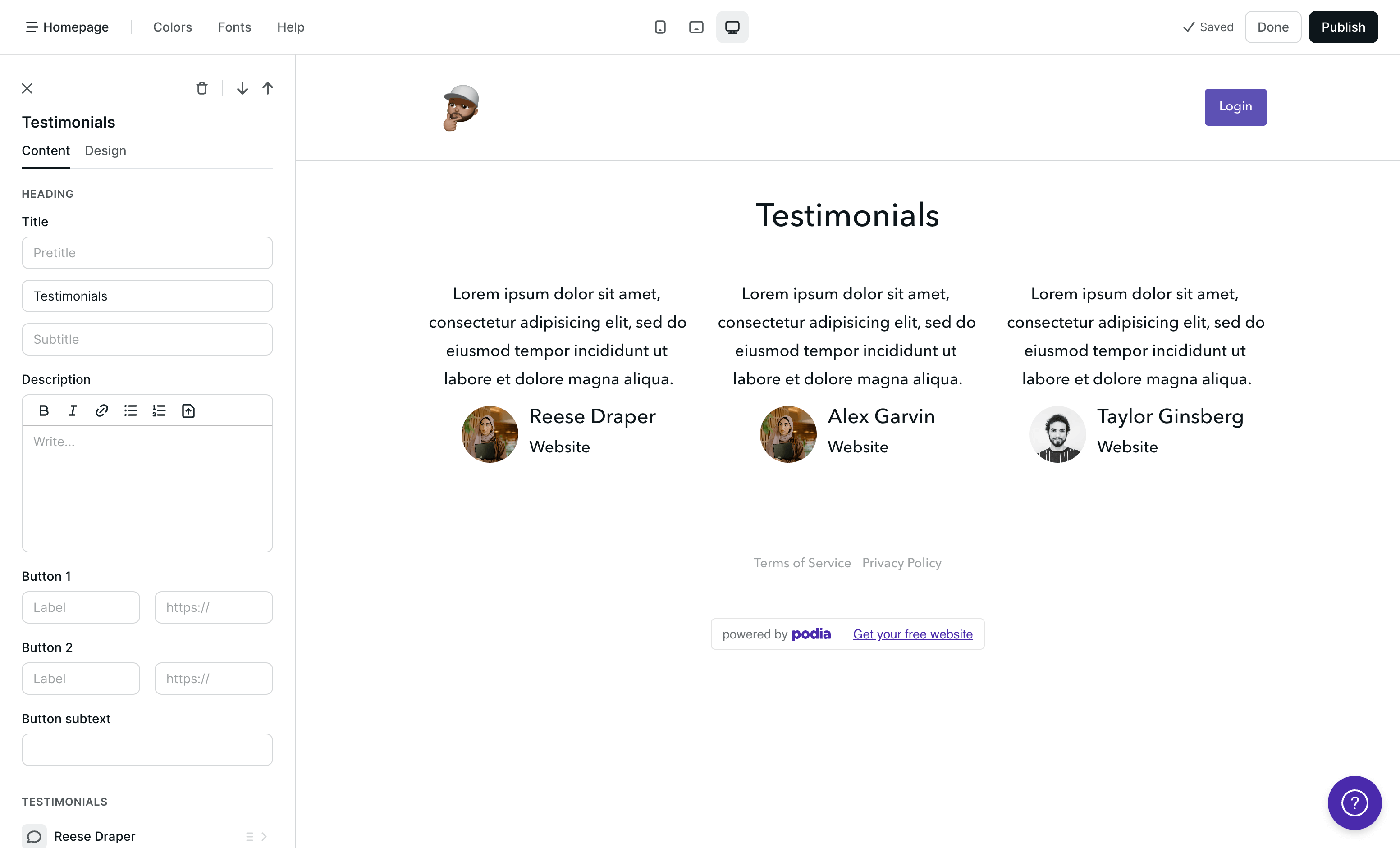 And here are the rest of the sections: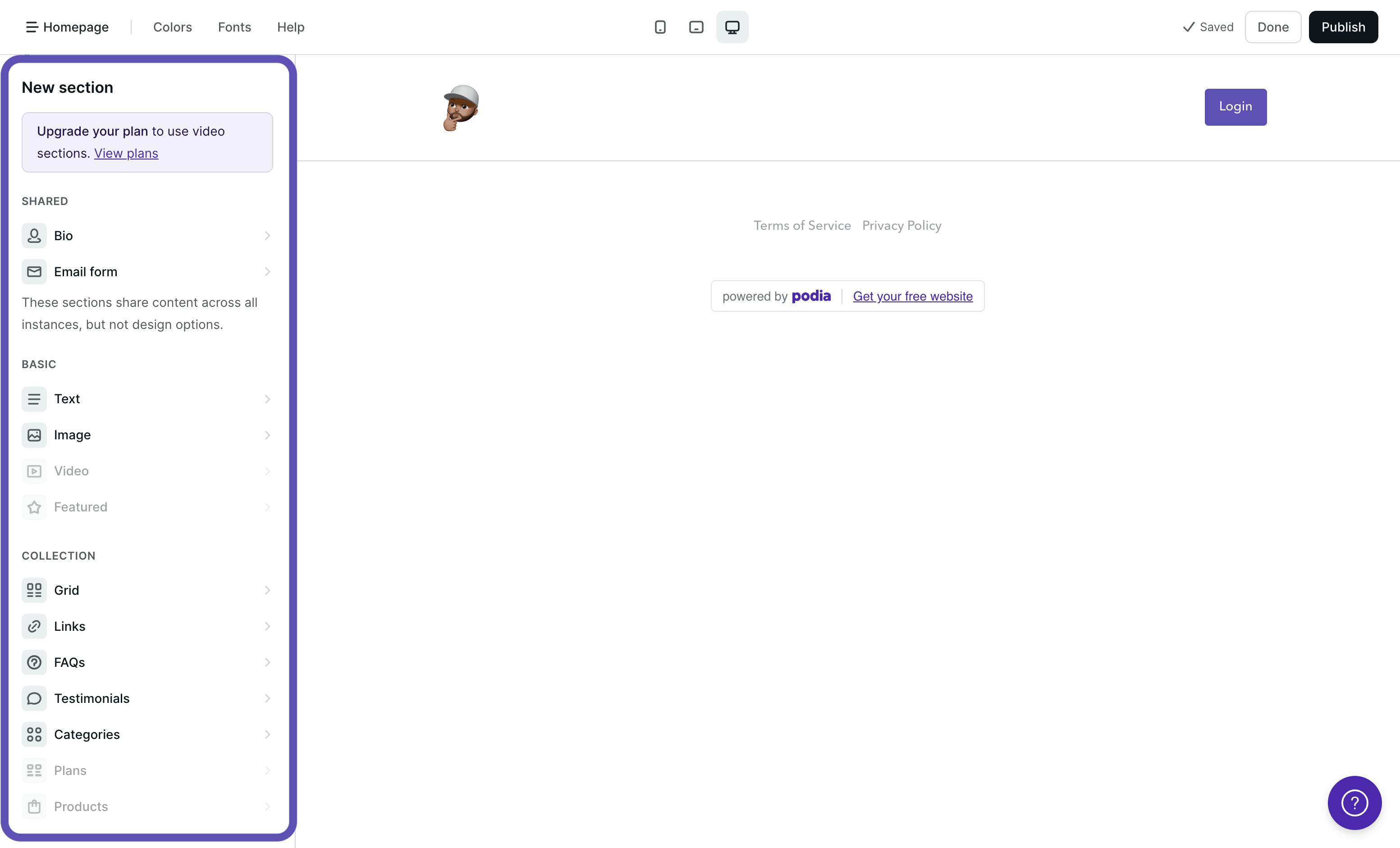 Podia put together a page using all the sections if you want to see them.
Design Capabilities
Surprisingly flexible, Podia is a joy for creators to build websites on (as long as your needs are aligned with its capabilities).
Modifying the design is done in two places: section styles and global styles.
Section Styles
The exact styles available in each section will depend on what the section has. But here's an example of the styles section on Podia: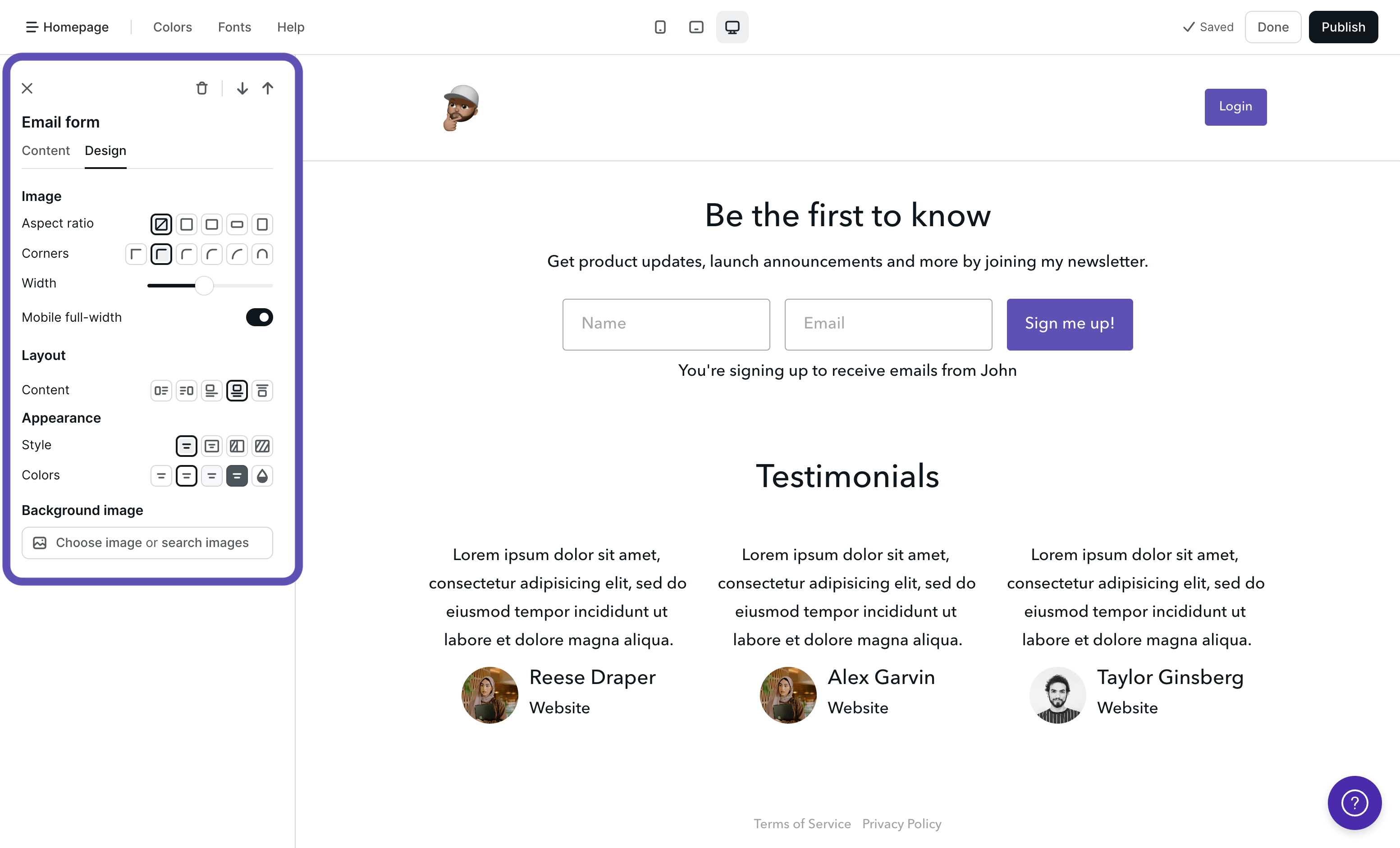 I love how you can modify the entire theme of the section with one click. For example, you can toggle it between a light and dark section, automatically pulling in your global colors.
Speaking of which...
Global Styles
In global styles, you set your business colors, fonts, and other branding settings. Your sections will automatically use whatever you define in the global styles.
Here's what global styles in Podia look like: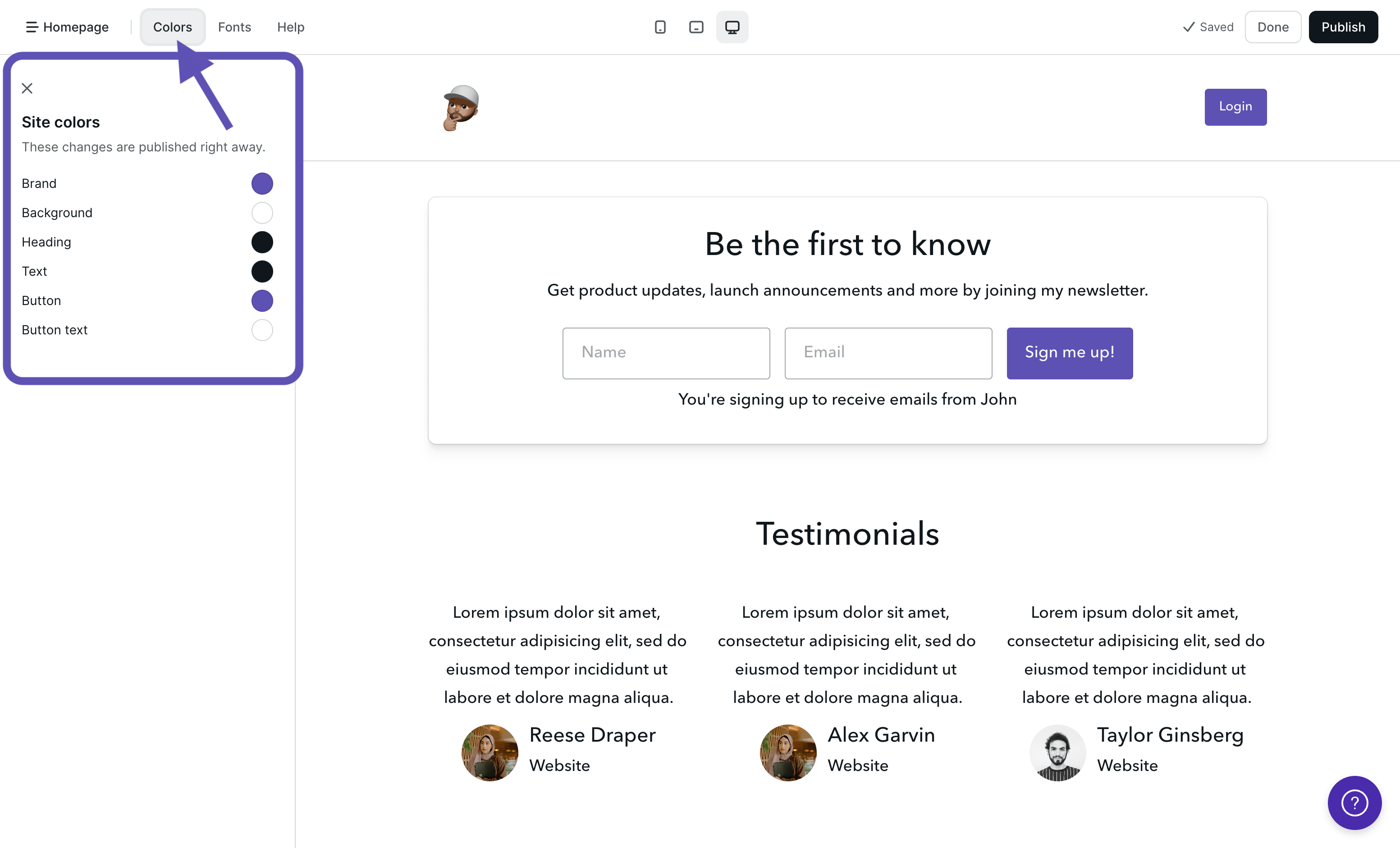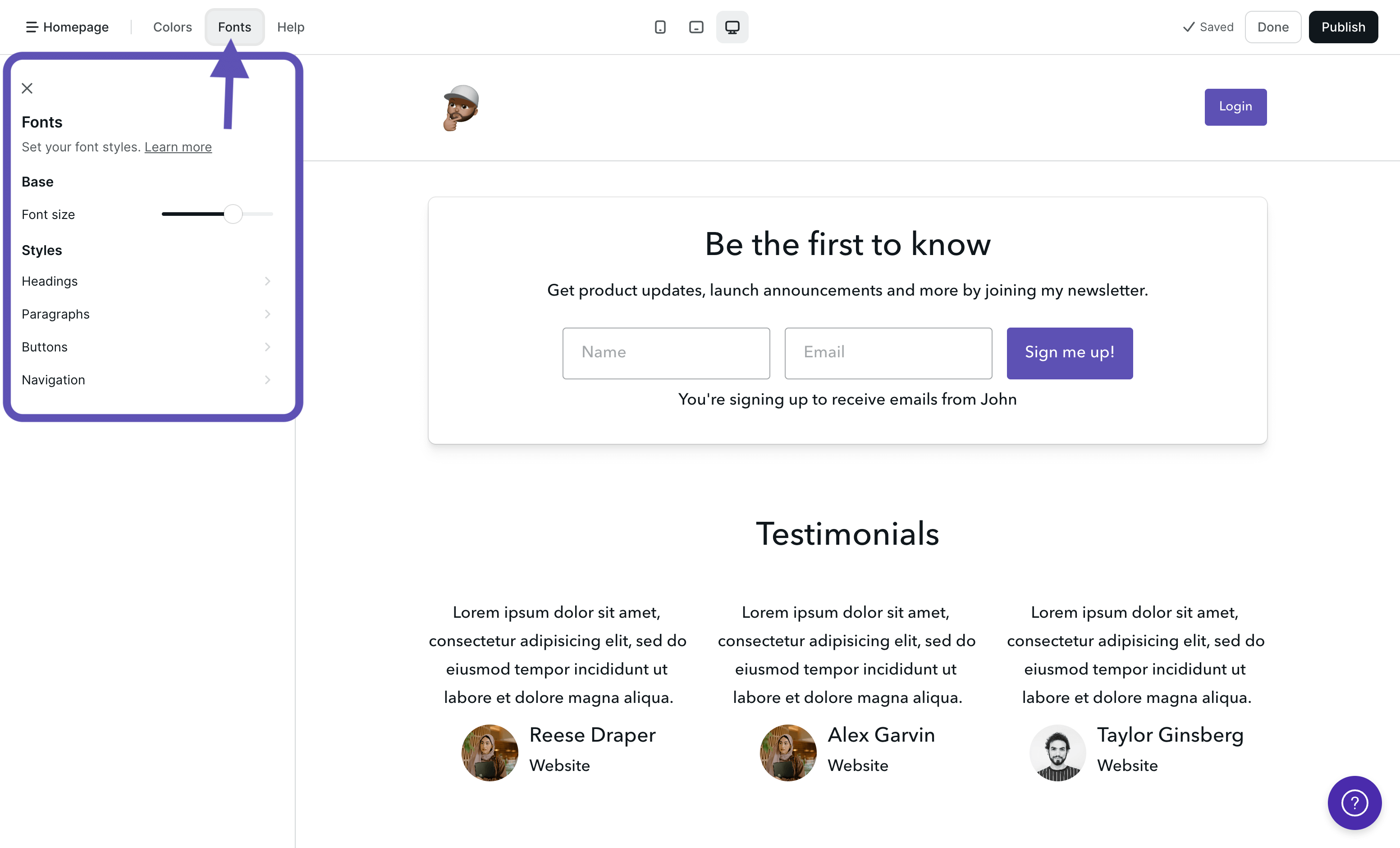 FAQs About Podia Sites & the Podia Platform
Is the website included in the free tier?
Yes, the free tier includes a fully functional website. But on the free tier, you have to use a Podia subdomain. All paid tiers allow you to add your own domain. If you want to market your online courses professionally, it's probably worth upgrading to the professional-looking domain.
Can I use the Podia checkout on my own website?
You can link to your Podia online courses, digital products, and services if you want to use your own website. On the "Shaker" tier, you have the added feature of embedding the checkout on your website (if you choose to go with a different website builder).
How good is the Podia platform builder?
It's surprisingly good.
Now, as a website-building snob, I wouldn't flock to it as my first choice UNLESS I was also selling digital products like an online course and wanted the entire experience on one platform.
That makes it suuupppper easy and efficient to launch and sell without worrying about gluing together a shit ton of systems like:
Website builder/landing page builder
Email platform
E-commerce/checkout system
Affiliate marketing system for pushing other online courses
Online community management system
Online course delivery
And any of the other tools creators need to deliver their digital products
So yeah, if you want to sell digital products, like online courses, create websites, and basically grow the presence of your online business, and not think about the gazillion systems you need to glue together, the Podia platform is freakin awesome (have you seen the Podia websites on this list?!).