15 Kickass Squarespace Portfolio Websites: Make the Best Site
Check these amazing Squarespace portfolio websites for creative and effective web design inspiration.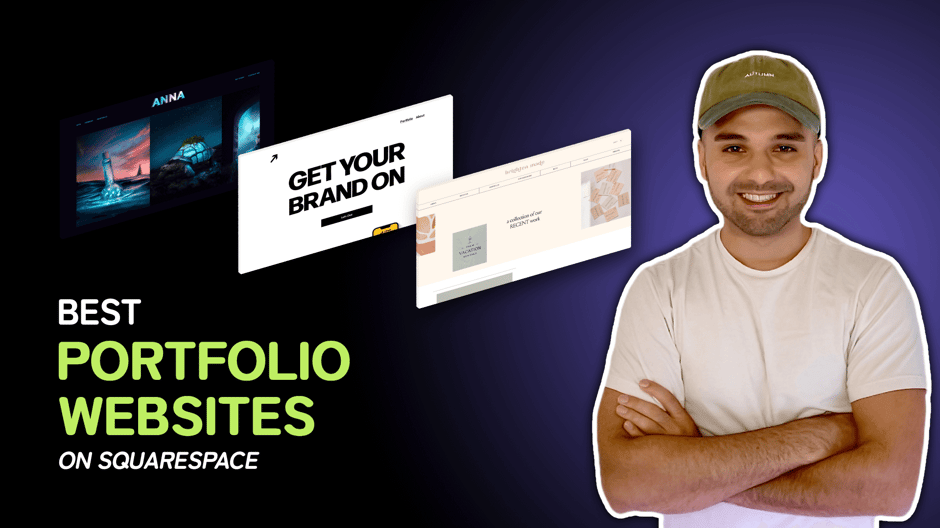 Designing an online portfolio on Squaresapce?
Hey, I'm John 👋, and I know what it's like to toil over building your own online portfolio.
From trying to make your portfolio look good to figuring out the best ways to navigate people around your page while actually proving you can bring value to your customers – things can quickly get tricky.
Of course it is!
You're literally trying to present yourself and your work in the best possible way, so you can pretty much guarantee you're always going to have a criticism or two, even if your site is as close to perfect as possible!
Ah, the human condition.
Anyway, my job is to help you create the best version of your portfolio possible, and we'll do this in two ways. 
First, we're deep diving into some of the best Squarespace portfolio websites out there right now for some lovely inspiration on what Squarespace is capable of.
Then, we'll tie it all together by sharing the good, the bad, and the ugly in the form of tips and tricks to remember when creating your own Squarespace portfolio website.
Sounds good? Let's get started!
Hack Alert! Start With One of My Fav Squarespace Portfolio Templates
Woah, hold up ✋!
You weren't going to start building your portfolio site from scratch, were you? Unless you're experienced and know what you're doing, it'll take a hot minute. Even then, you can't guarantee the quality will be there.
Instead, save time and set yourself up for the best chance of creating a high-quality portfolio website with these Squarespace portfolio templates. Customizable and fully optimized for the best experience, these are the best Squarespace templates you need to know about!
There are plenty of other portfolio templates around, but when you're working with the best Squarespace templates (like these 😁), you'll be amazed by what you can achieve!
Now, onto the list! 🚀
The Ultimate List of Squarespace Portfolio Examples & Websites
Top Tips for Building Your Own Squarespace Portfolio Website
Now you've seen some great examples of Squarespace portfolio websites around, it's time to jump into a few hard-and-fast tips to help you create your own:
Use large images and bold colors – these will grab the viewer's attention and make them want to explore your work further.
Don't forget about typography – your copy should always be easy to read and understand.
Make sure the website design reflects your unique personality and approach – this will help you stand out from other Squarespace portfolio examples and websites.
Don't forget about interactivity – add animations, scrolling images, and other features to make your website more engaging.
Showcase your creative work in a way that's easy to understand – Categorize your projects, and ensure the information you provide is concise.
Use portfolio templates – there are plenty of amazing Squarespace portfolio templates out there, no matter what style or aesthetic you're looking for. Using portfolio templates will help massively when building a professional-looking website, saving you time, money, and other resources!
With all this in mind, we hope you better understand how to create a compelling and attractive portfolio Squarespace website that will help you get noticed!
It really doesn't matter what you're building, whether it's a photography portfolio, a space for design studios, or a portfolio for creative agencies, web designers, interior designers, logo designers, fashion designers, or your own first website, take your time to create an online space that showcases your personal work in the best possible way.
That's all from me today. 🎆
I'm John, your friendly neighborhood web guy, and I'll be back soon with more design tips to help you build the best websites possible, whatever platform you're using. Don't forget to check out the Squarespace portfolio templates to kickstart your site!
Until then, happy designing! 🚀
FAQS
What is the best Squarespace template?
There's no such thing as a best Squarespace portfolio template because your portfolio needs are your own. It's always best to get out there and see what kind of design, aesthetic, and functionality you want and then be prepared to customize that template until you get the design you want.
However, don't think you need to rush the process. You're well within your rights to install a dedicated Squarespace portfolio template, add your own information, and launch your website as is. You can continually update it later as and when you need to.
What do I need to include on my portfolio site?
You should always include a contact page because it's all well and good creating a fantastic portfolio, but if you don't give anyone a way to contact you, how will you land your dream job?
Project galleries are also a good idea for hosting your past projects, a nice-looking home page to greet visitors, and if you want to start a blog, then Squarespace's online content management system is pretty good for it!
How do I make my portfolio stand out?
While it depends on your industry and what the essence of your role is, an image gallery with eye-catching, large images is usually a win. Don't forget to include an enticing project title to make people want to click on your work, and add any additional pages that will help detail what you want people to know about you.
Your portfolio design must be crisp, clear, and easy to navigate. Fortunately, all the templates in this list highlight what good portfolio design looks like. Just take the winning elements, and put your own twist on them. This is how you'll stand out.
What happens if I have no work to put in my portfolio?
Everyone starts someone, so don't be too disheartened if you don't have any work. The best thing you can do is to create examples of your work that can showcase your skills and abilities and then put this work on your individual page.
For example, if you're a website designer, build websites and add screenshots to your other pages. If you're a photographer, take at least three images to show what you can do!