15 Kickass ThriveCart Examples (High Converting Checkouts!) 🚀
Inspiring websites built on ThriveCart and hacks to beat them.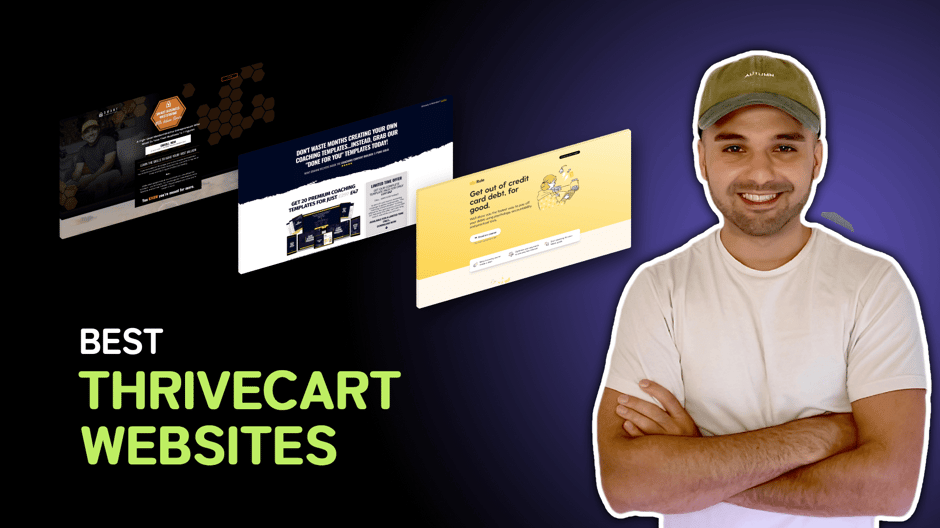 Selling things online is somehow harder yet simpler than ever.
There are so many options for setting up a store, so many ways to generate traffic, and tons of places to get leads, yet there's more content, competition, and knowledge out there than ever.
Figuring out the approach you'll take when it comes to your business is, therefore, easier said than done.
Specifically, setting up a funnel that can generate sales effortlessly from your existing, hard-earned traffic.
This is where Thrivecart comes in – a platform considered one of the best for building high-converting checkouts and funnels for your venture (with no monthly fees!).
Thinking of building your own?
Buckle up because we're gonna dive into the best ThriveCart templates and kickass website examples that'll leave you inspired, energized, and ready to conquer the digital world! 😎
I'll be breaking down each website, giving you a description of what's hot (and what's not), a takeaway with the main highlight when it comes to building your own upsell pages and a pros and cons list for each site.
And to top it all off, we'll hit you with a comprehensive guide on building your own successful website in this niche.
So, let's get this damn party started and dive in guns blazing! 🎉
Hack Alert! Start With One of My Fav Thrivecart Templates
Hold up, you mean to tell me you're planning to build your Thrivecrat checkout page from scratch?
I mean, you can, but if you have no experience, chances are you'll spend hours creating a sales page that looks mediocre at best.
Instead, save yourself some time, maximize how optimized your pages are, and have it look the part with a ThriveCart template.
Easy to install and built to generate the highest number of conversions possible, using a Thrivecart template saves you time and gets you a better result, giving you more resources to spend on other areas of your business.
Get started with a Thrivecart template today, using my top picks of the Thrivecart templates below.
Enjoy! 🚀
Nice. Right, back to our regularly scheduled programming with the best Thrivecart template examples around! 💥
The Ultimate List of Thrivecart Websites for Stunning Inspiration
The Ultimate Guide to Building a High-Converting ThriveCart Website
Okay, phew. 
That was a lot to take in, but hopefully, you're now feeling super inspired and ready to create the ThriveCart website of your dreams for your own business.
But wait just one more second.
Seeing these fantastic websites is one thing. Actually, building your own, well, that's a whole other ball game.
You see, it takes a lot to build a successful website, and while it can feel a little overwhelming, I've taken my decades of web design experience and am here to share some top tips you can use to ensure your website is as successful as possible.
You pick your own ThriveCart design or ThriveCart templates and build your space, and these tips will ensure it all works on a technical level.
Grab your favorite beverage, and let's get this party started! 🎉
Know your audience
Before you think about designing your website or choosing a ThriveCart template, it's essential to know your audience.
Research your target market and create buyer personas. This will help you tailor your website's content, design, and user experience to meet their needs. 🎯
Choose a visually appealing design
As we've seen in the examples above, a visually appealing design can make all the difference. Choose a design that reflects your brand's personality and appeals to your target audience.
Don't be afraid to get creative with contrasting colors, visuals, and typography – just keep it consistent and on-brand! Use custom CSS if you're technically minded!🎨
Prioritize user experience (UX)
A user-friendly website is a must. Ensure your site and checkout template is easy to navigate, loads quickly, and are responsive on mobile devices. No one wants to stick around on a website that's confusing or frustrating to use. So, make your site a pleasure to use, and watch those conversions roll in! 📱
Create engaging, valuable content
Your website's content is the heart and soul of your online presence. Make sure it's engaging, informative, and valuable to your audience.
Use a mix of formats across your sales page – articles, videos, infographics, etc. – to keep things fresh and interesting. And don't forget to optimize your content for SEO to help drive organic traffic, and think of this across your pages, including your upsell page!📚
Make it interactive
Interactive elements, like quizzes or calculators, can help keep your audience engaged and coming back to your Thrivecart template for more.
These other features are also a great way to collect valuable data on your visitors, which can help inform your marketing efforts.
So, think about how you can incorporate interactive elements into your website. Don't forget you can use custom CSS if you need it!🧩
Social proof is your friend
Yes, I know I go on about this all the time, but that's because it's so important!
Including social proof – like case studies, testimonials, or reviews – can help build trust and credibility with your audience. It shows that other customers have had success with your product or service and can help tip the scales in your favor when potential customers are deciding whether to buy.
So, don't forget to showcase your happy customers! 😁
Optimize for conversions
You've put in all this effort to create an amazing website, so make sure it's optimized for conversions. Use clear calls-to-action (CTAs), make your sales funnel easy to navigate, and test different elements (like headlines, purchase button colors, and landing or checkout pages) to see what works best for your audience. 💰
Moreover, don't forget to offer packages that will get people even more interested in what you're offering.
For example, you can offer lifetime access to your digital and physical products, enable payments from all payment processors and payment options (like Google Pay), offer an affiliate system and more.
The more customized you can make the experience, the more conversions your landing page will make.
Keep it fresh and up-to-date
A stale, outdated website won't do you any favors when it comes to attracting and retaining customers. Regularly update your content, add new blog posts or resources, and keep an eye on design trends to ensure your website stays fresh and relevant. 🔄
All the best ThriveCart templates will constantly refine their design and process, seeing what works and what doesn't, and tweak it to keep perfecting the sales journey for your leads.
ThriveCart design features allow you to make these changes quickly and easily, even adding in custom CSS if you want or need it. Remember, the checkout template you're using now isn't the one you have to stay with, nor should you.
Your online space for selling your digital products and services should be evolving with your business all the time, so spend time making that happen.
Since you're selling digital resources, you have access to landing page data, so use it!
Measure, analyze, and improve
Hand in hand with the consideration above, ensure you regularly track your website's performance using tools like Google Analytics to see what's working and what's not. Use this data to inform your decisions and make improvements to your site.
Continuously analyzing and iterating on your landing page and checkout template will help you stay ahead of the competition and ensure your site delivers the desired results. 📈
Don't be afraid to show your personality
Your website is an extension of your brand, so don't be afraid to let your personality shine through! Inject some humor, use emojis, or write in a conversational tone – whatever feels authentic to your brand.
This will help you stand out from the competition and create a memorable experience for your visitors. 😎
Utilize email marketing
Capture your audience's email addresses with lead magnets or opt-in forms, and use email marketing to nurture those leads and turn them into customers.
Email is a powerful tool for building relationships with your audience (actually considered one of the best, even compared with social media), promoting your digital products or services, and driving sales. 💌
Leverage social media
Promote your website and its content on social media platforms where your target audience hangs out. This will help drive traffic, boost brand awareness, and create opportunities for engagement and interaction.
Don't forget to share user-generated content or collaborate with influencers to increase your reach! 📣
Invest in SEO
Optimizing your website for search engines is crucial for driving organic traffic. Research relevant keywords, create high-quality content, and build backlinks to improve your site's search engine ranking. Remember, SEO is a long-term strategy, so be patient and stay consistent. 🔍
Test and optimize your website's speed
A slow website can be a conversion killer. Make sure your site loads quickly and efficiently by optimizing images, minifying code, and using a content delivery network (CDN). Regularly test your site's speed and make improvements where necessary. ⚡
Be mobile-friendly
More and more people are browsing the web on their mobile devices, so it's essential to ensure your website is mobile-friendly. Use responsive design, optimized for touch interactions, and test your site on various devices to provide the best user experience possible. 📲
Now you've got the scoop on building a successful website in the ThriveCart niche – it's time to put these tips into action and create a site that's not only kickass but also drives conversions and delivers results. 
Happy website building, folks! 🚀